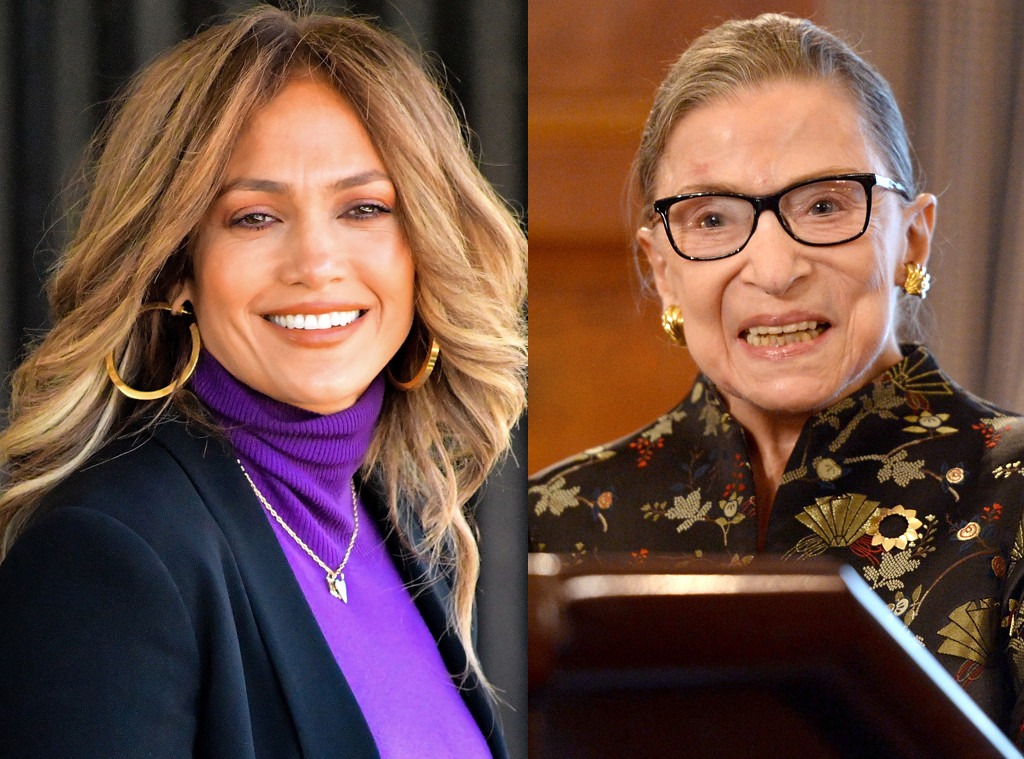 Getty Images
Love don't cost a thing and, luckily for Jennifer Lopez, neither does love advice.
As she plans her upcoming vows to Alex Rodriguez—what will be her fourth marriage—the Hustlers actress was on the hunt from some wisdom. So, she turned a notorious expert: Supreme Court Justice Ruth Bader Ginsburg, who was wed to husband Martin Ginsburg for more than 50 years before he passed away in 2010.
"I was called about a month or so ago by Jennifer Lopez and she said she would like to meet me and introduce her fiancé, Alex Rodriguez," Ginsburg shared during her talk at the Library of Congress National Book Festival. "She mostly wanted to ask if I had any secret about a happy marriage...Now, A.Rod is traveling with her to concerts all over the world."
Still, the trailblazer passed along the sage advice given to her by her mother-in-law on her wedding day.
"She took me aside and said she wanted to tell me what was the secret to a happy marriage," Ginsburg recalled. "I said I would be glad to hear it. 'What is it?' And she responded, 'It helps sometimes to be a little deaf.'"
More than five decades on and that LOL-worthy wisdom turned out to be valuable.
In March, just a month after their two-year anniversary, A.Rod proposed to J.Lo with a sparkler worth an estimated $1 million. 
"I'd like a big wedding and I'd like to get married in a church this time," the mom of two has since teased of their nuptials. "I've never been married in a church and I've been married three times, and once was nine months and once was 11 months, so I don't really count those. But I was married to Marc [Anthony] for 10 years, with the kids."
"I felt like if I got married, I felt like I would always have somebody," she recalled. "But that's not how life works. That's not how it goes. It's a bad reason to get married. Not the right one. The wrong one. The right one is when you find somebody who really makes you better."