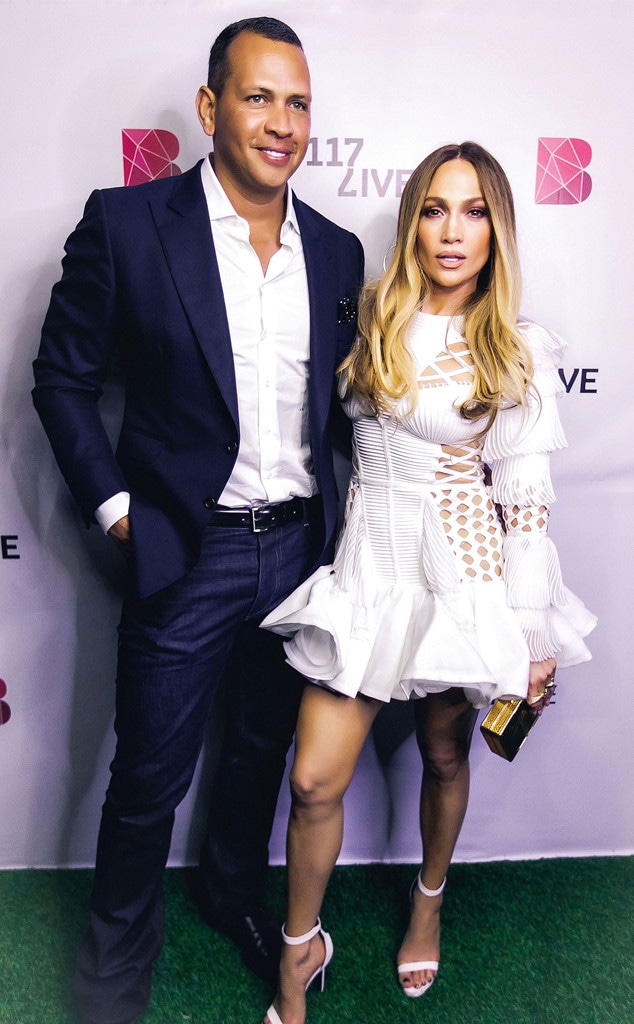 Katch International/REX/Shutterstock
Jennifer Lopez and Alex Rodriguez are engaged! A-Rod popped the question on Saturday night and, according to his Instagram, "she said yes."
Both J.Lo and A-Rod posted photos of the former New York Yankee holding her hand, which bore a massive diamond sparkler on it. Plus, her nails were appropriately painted white.It looked as if there was a bonfire going in the background. How romantic!
The couple is currently on a romantic getaway in Bakers Bay where their days are filled with white sand beaches, palm trees and warm weather. A-Rod perhaps hinted at his engagement on Saturday in one of his Instagram Story moments. He shared an excerpt from a poem called "Soulmate" that was most definitely in honor of his now-fiancée.
"A soulmate isn't someone who completes you. No, a soulmate is someone who inspires you to complete yourself," the poem says. "A soulmate is someone who loves you with so much conviction, and so much heart, that it is nearly impossible to doubt just how capable you are of becoming exactly who you have always wanted to be."
J.Lo's longtime manager Benny Medina told E! News, "Jennifer and Alex are engaged!" and confirmed the news.
The happy couple has been together for about two years and hardly shy away from professing their love for each other on social media and in public. On their two-year anniversary, J.Lo posted a sweet tribute to her man on Instagram. It said, "You make my world a more beautiful safe and stable place... in the midst of our ever-changing, ever-moving life...you make me feel like a teenager starting out all over again..."
A-Rod offered up just as much of a loving account on his Instagram profile on their big anniversary. "I can't believe it's been two years. Only 730 days, which have flown by, but it feels like we have been together forever. We are meant to be, and how much you mean to me cannot be put into words," he wrote out. "From baseball games, to traveling across the world to shows in Vegas. We have done it all together and every moment with you is cherished. Where this road will take us next is unknown but there is no one else I would rather have by my side. The journey is just beginning and I am excited for what's ahead."
She even referred to the "twin" comment during the 2018 MTV VMAs when she accepted the Michael Jackson Video Vanguard award. She thanked her "twin soul" during her speech and added, "The universe is infinite, as what we can accomplish together, with love, trust and understanding."
Indeed, their journey is just beginning!
In late 2018, the couple appeared on Vanity Fair's December cover and opened up about their relationship. "We are very much twins. We're both Leos; we're both from New York; we're both Latino and about 20 other things," Rodriguez told the magazine.
She added, "I understand him in a way that I don't think anyone else could, and he understands me in a way that no one else could ever."
In January, the 49-year-old talked about her past relationships with Harper's Bazaar and how she blames herself for some of her failed ones.
"For me, the relationship journey has been very up and down. But it didn't have to do with anybody else but me—it was about me figuring out me," she said. 
J.Lo continued, "Until you learn to love yourself, you can't completely love [someone else] in a way that is pure and true. Once you do that, you can have relationships that are based on love and respect, that are supportive and nourishing. There's an evolution there that had to happen for me. I feel like I'm in a better place now."
Lopez also hasn't been afraid to gush about her man. 
"We complement each other, and there's really pure, true love," she told HOLA! USA for its October/November 2017 issue. "Just wanting to support the other person and make them happy. So there's a different selflessness in the love that's beautiful and different. And healthy!"
The couple's love story started over two years ago when Lopez approached Rodriguez at the Beverly Hills Hotel. However, the "On the Floor" singer told Vanity Fair the two actually met years ago at a baseball game when her ex Marc Anthony threw the opening pitch. 
Anthony J. Causi/ Splash News
After running into each other at the hotel, Rodriguez invited Lopez on a first date—or at least what J.Lo considered a first date—at the Hotel Bel Air.
"So he's talking, talking about his plans, about how he had just retired from baseball, about how he saw himself getting married again, all these things you wouldn't normally talk about on a first date," she told Vanity Fair for the couple's cover story. "I don't know if he thought it was a date. I thought it was a date."
However, that first date led to a whirlwind romance. The two kept their relationship relatively low-key. They vacationed together, visited the Yankees training camp together, and dined in New York together. Still, they didn't make their red carpet couple debut until the 2017 Met Gala.
Throughout the course of their relationship, the two have enjoyed joint family outings. In fact, the athlete told Jimmy Kimmel his daughters considered him a hero for dating Lopez.
"My daughters think of dad as a hero now for the first time. It's amazing," the former Yankees player said while appearing on Jimmy Kimmel Live back in October. "They think they went to Heaven, and now they're hanging out with Jennifer backstage. They're dancing. They're singing with her."
This will be Lopez's fourth marriage. The singer was married to Ojani Noa from 1997 to 1998 and then to Cris Judd from 2001 to 2003. She later married Anthony, with whom she shares two children: Emme and Max. Rodriguez was also formerly married to Cynthia Scurtis. However, the two filed for divorce in 2008. They share two children: Natasha and Ella.
Congratulations to the happy couple!