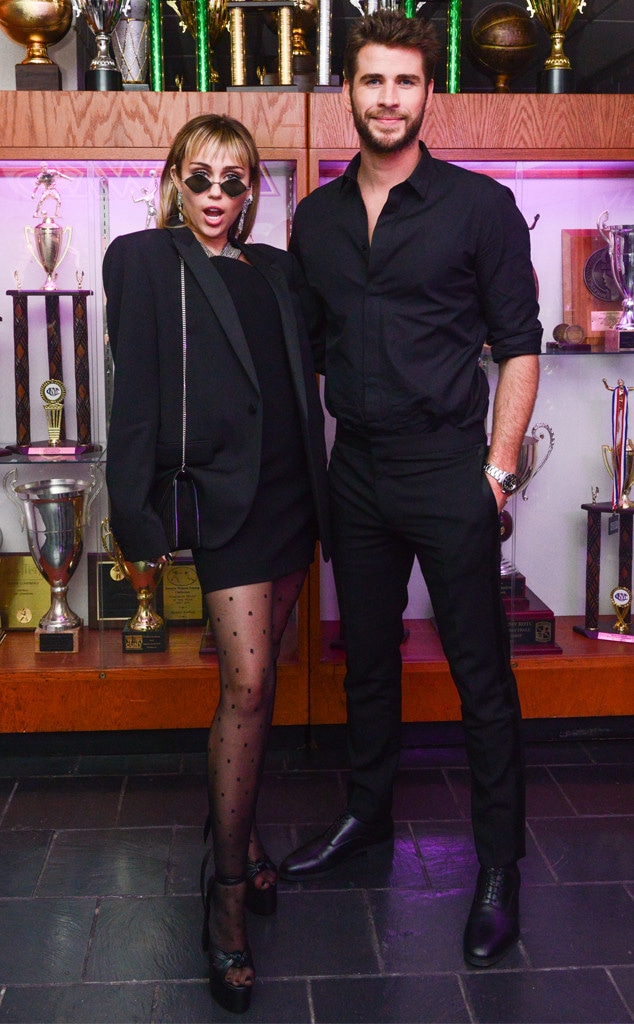 Madison McGaw, Angela Pham, & Joe Schildhorn/BFA.com
Miley Cyrus and Liam Hemsworth were bucking the odds.
The engaged Last Song co-stars were together for almost four years before breaking up in 2013, their young love seemingly having run its course as their respective evolutions took them in separate directions.
But after what they both later acknowledged was essential time apart, they reunited toward the end of 2015, at first off the radar in Liam's native Australia, Miley part of the tight-knit, beach-loving Hemsworth family once again.
And vice versa, with Billy Ray Cyrus telling Entertainment Tonight in June 2017 that Liam had become a regular at their place in Nashville.
"Liam's been here quite a bit," Miley's dad said. "They both love the outdoors. They love Four Wheeling and the people. Both of them, Liam especially... he's like, 'Man, the people here are so nice,' and it's true."
Meanwhile, Miley and Liam had also quickly reinstated their betrothal status, the "Wrecking Ball" singer emerging in early 2016 with a ring on her finger.
As one year went by, and then another, and Miley insisted she was in no rush to actually say "I do," their uniquely enduring partnership, which had them living in Malibu most of the time until their house burned down in November, became a given.
But just when you thought they might have other pressing things on their minds, like insurance claims...they made it official on Dec. 23, 2018.
Asked if she felt different since becoming a married woman, Miley said in the March issue of Vanity Fair, "Zero percent different. I would say that losing the house changed us much more than getting married changed us.
"We've worn rings forever, and I definitely didn't need it in any way. It actually is kind of out of character for me."
Maybe too much out of character to have and to hold for eternity. Because barely eight months later, after spending the better part of 10 years together, Miley and Liam separated. 
And there were irreconcilable differences brewing before that went public, because within hours of the news breaking, Miley was photographed sharing a kiss in Italy with Brody Jenner's soon-to-be ex-wife Kaitlynn Carter.
Lots of theories are flying as to why the couple managed to work through everything but the piece of paper that legally bound them together, but the ultimate clue could be in Miley's own words.
"Out of character."
A description that should apply to wearing a bright red lip, or streaking through a hotel lobby. One-night, rather than lifetime, commitments.
But Miley and Liam have plenty of company in the it-seemed-like-a-good-idea-at-the-time department. 
Or, maybe it didn't, but they went through with it anyway.