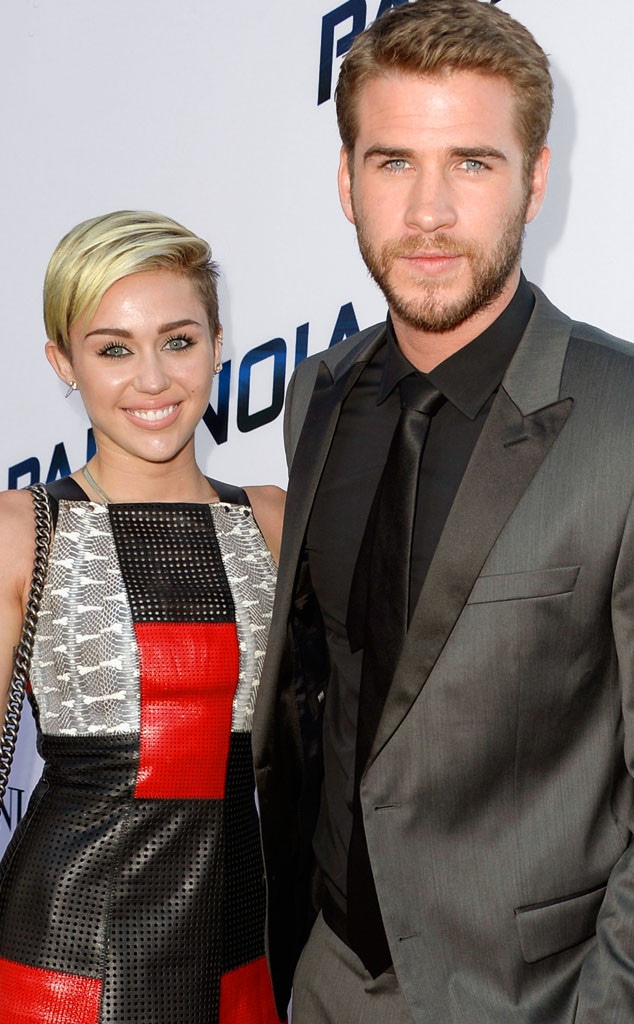 Kevin Winter/Getty Images
It started with the snip of the scissors heard 'round the world.
Miley Cyrus, former Disney darling with a gorgeous brunette 'do, chopped her hair off into a wild pixie cut and added a load of bleach to it. She officially began to do away with her Hannah Montana image, shedding her locks—and her innocence—in favor of a bolder, blonder image.
Basically, it was the beginning of the end of Miley as we knew her.
She and Liam Hemsworth, who were engaged at the time of the famous chop, seemed to be drifting apart. Ultimately, they would call off their engagement and embark on a two-year hiatus. Fans of the couple would blame her haircut. "Everything changed for the worse when she cut her hair," people would say. With Liam gone—or Miley depending on whose side you're on—both could make way for their own adventures. One would involve a foam finger and twerking, the other would involve movies, a model and more.
Michael Buckner/Getty Images
All thought hope was lost that these two would or could ever reconcile when The Hunger Games star was spotted hanging out with Mexican model Eiza González. But Miley wasn't necessarily living the lonely life, either. She was busy launching an entirely new façade, full of crazy costumes, wigs, marijuana leaves and so much more. She also recorded and released an epic album, Bangerz, which was filled with jams such as "We Can't Stop" and emotional powerhouses like "Wrecking Ball" and "Adore You."
Fans immediately speculated that "Wrecking Ball" was about her ex, but it wasn't really confirmed until she went on an expletive-filled rant at London's G.A.Y. club in May 2014.
"... and every time you get in your car, you're going to hear my f--king song on the f--king radio, you piece of s--t. That's right. And then I'm gonna take all my clothes off, I'm gonna sit on a big, giant d--k—sometimes two—I'm gonna swing around, and then I'm gonna hold the record for the most-watched music video on Vevo. So then—you know, you can tell a lot about a person—I think you can tell how big their d--k is by how much confidence they have usually, and if I was a dude I'd probably have a really big d--k, 'cause I feel really good about myself now. So I'm gonna tell those motherf--kers that broke my heart, particularly one, to suck my fat d--k and to enjoy hearing this song for the rest of your life. This song is called 'Wrecking Ball'."
Terma/O. Duran/FAMEFLYNET PICTURES
We're pretty positive that meant they were O-V-E-R, but celebrities never cease to amaze us. But it wasn't time—yet—for them to reconcile. Even though Miley seemingly ranted about her ex-turned-current love, he wouldn't say a bad thing about her. "There's not much to say," he told NYLON Guys' issue in September 2014. "There's no bad blood there."
A year after The Last Song co-stars called off their engagement, Miley sparked a relationship with Patrick Schwarzenegger. They were spotted hanging out everywhere; from one-on-one sushi dinner dates, to outings with friends, these two got serious very quickly. Miley was even spotted on the Schwarzenegger family ski trip to Idaho, where his father, Arnold Schwarzenegger, met the wild star.
"Arnold has embraced her with open arms," an insider told us of their meet and greet.
With such a warm welcome, we thought this relationship could've been the real deal. "Miley and Patrick definitely look like a cute, happy couple and are getting serious," an eyewitness told us exclusively. There seemed to be zero trouble in paradise, but that proved to be untrue, too.
Miley and Patrick's relationship would crumble after photos of him taking body shots off of a close girlfriend on spring break would emerge. "Omg. It's one of my best friends girlfriend... Would NEVER do anything against my GF....." Patrick tweeted, denying anything inappropriate happened between them.
"Girls have guy friends and guys have friends that are girls...," he added.
Shortly after the pictures hit the Internet did the couple call it quits. Where was Liam in all this, you might be wondering? He was focusing on his career, filming and promoting The Hunger Games: Mockingjay—Part 2. Miley was busy mending her broken heart, but little did we know over the next few months something would be secretly brewing the two.
But first, another distraction.
Photos and videos of Miley and model Stella Maxwell began to emerge, but the two never confirmed a relationship. Instagram photos of them doing yoga together made followers think yes, but without any signs of admittance, we were forced to stick to speculation. But underneath the Stella bubble was a slow rekindling with Liam.
"Me and Liam are still so close and we love each other," Cyrus had told Elle U.K. magazine in September. Now that's quite a different attitude from her "Wrecking Ball" days.
Even though Liam told NYLON that there was "no bad blood" in September 2014, he would change his tune one year later in October 2015. "You fall in love with who you fall in love with; you can never choose. I guess some people just come with a little more baggage," the Australian actor told Men's Fitness. "I mean, look—we were together five years, so I don't think those feelings will ever change. And that's good because that proves to me that it was real. It wasn't just a fling."
And then more flags were raised as soon as we found out Liam adopted a puppy...with Miley's help...a month later. "Thanks @mileycyrus for loving dogs as much as we do!! You helped find this gigantic, 6 month old puppy a new home," the Wylder Pet Center captioned a photo of the actor with his new bestfriend on Instagram. "@liamhemsworth you will give this deserving baby a great life!"
Celebrities really are like all of us. Post-breakup they lash out, they get upset, they say mean things, they try to take it back, they stay neutral, etc. etc. But at the end of the day, they're still thinking about each other, and slowly but surely it would creep to the surface. And leave it to the holidays to accomplish such a task!
Miley and Liam reunited in Australia, only to be caught "cuddling and kissing" at the Falls Music Festival in Byron Bay. She was also seen hanging out with Liam's sister-in-law, Elsa Pataky, and then, solidifying all rumors that they were back together, canceled a concert in Los Angeles to stay with Liam Down Under.
"Miley came back to LA after spending the holidays with Liam. She had the time of her life being with him and his family," a pal close to the two shared with us.
She returned from Australia wearing a very sparkly, very familiar Neil Lane-designed engagement ring we had all seen before. Yes, they went from engaged, to broken up, back to engaged again in two years.
Despite the haircuts, the songs, the comments, the other significant others, Liam and Miley were able to find their way back to each other. It's clear that in two years a lot can happen, but it also proves that first loves never die.
Cue Ross Gellar's famous line, "We were on a break!"
Congratulations again to the happy couple on their engagement!