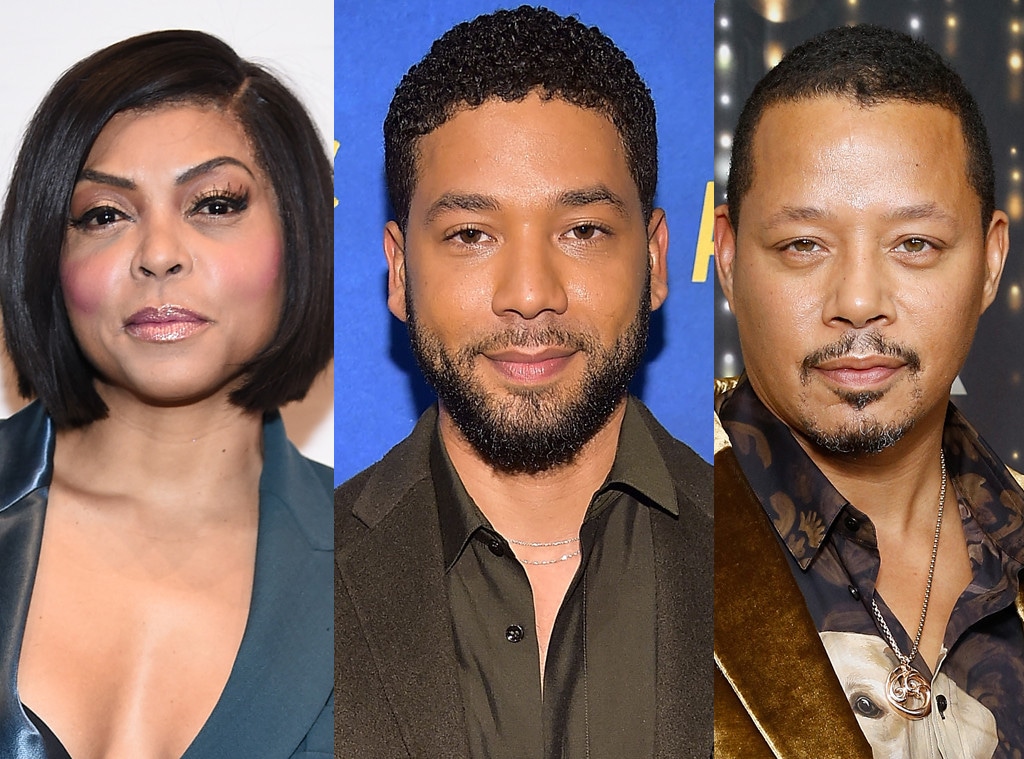 Theo Wargo/Getty Images, Theo Wargo/Getty Images, John Lamparski/Getty Images
The Empire cast has composed a rallying cry on behalf of Jussie Smollett.
Smollett's fate on the hit Fox show remains murky three months after his alleged Jan. 29 attack in Chicago during the early hours of the morning. In the hours and days following the news of his alleged attack, celebrities and leaders rallied around Smollett and offered their support. Fellow Empire co-stars Terrence Howard and Taraji P. Henson as well as the show's creator Lee Daniels all spoke out and defended the 36-year-old. Howard and Henson play the roles of Lucious Lyon and Cookie Lyon, the patriarch and matriarch of the King Lear-esque family.
On April 19, Howard, Henson and other stars on the show penned a letter, which was obtained by E! News, to Fox and Disney execs as well as other producers on the show and demanded Smollett's role be an integral part of future seasons. Deadline reports that Wednesday night's episode of Empire is the last one that features Smollett this season.
In their letter, which echoes some of the central themes of the show, the Empire stars focus on the idea and importance of family and sticking together even through the tough times.
"Together, as a united front, we stand with Jussie Smollett and ask that our co-star, brother and friend be brought back for our sixth season of Empire," the correspondence began.
The cast acknowledged that the past few months "have been difficult to process" which has all been due to the investigation shifting, new indictments, charges getting dropped and more. However, they argued that it has acted as a major learning experience for Smollett and the cast, and they have witnessed the Jamal Lyon actor grow and mature. 
"Throughout Empire's five seasons working with Jussie and watching how he has conducted himself throughout this traumatic event, we have come to know not just the character Jussie portrays, but also truly come to know Jussie's personal character," they wrote. "He is kind. He is compassionate. He is honest and above all he is filled with integrity. He is also innocent and no longer subject to legal uncertainty with the criminal charges against him having been dropped."
Matt Marton/AP/Shutterstock
Howard, Henson and others also praised Smollett's volunteer work and advocacy with organizations such as the Trevor Project, the Rainbow Push Coalition, The Black AIDS Institute and the school he adopted in Chicago.
After mentioning the "extreme political climate in our country" and how it has "made our system of justice and the court of public opinion more unjust," the writers of the letter returned to the idea of family.
"It is why now, more than ever, we must stand together as a family," the cast concluded. "A family is there for us in good times and bad. It can cut through the noise and confusion to understand that there is a person in the center of all this who deserves nothing more than to move forward with his life."
They all said in the letter that they want to keep Smollett on board so "we can all put this behind us and move forward" into their sixth season "as the entire Empire family should."
The letter was signed by Howard, Henson, Bryshere Y. Gray who plays Hakeem Lyon, Trai Byers who plays Andre Lyon, Gabourey Sidibe who plays Becky and Nicole Ari Parker who is Giselle.
The investigation into the 36-year-old actor has taken turn after turn after turn. Police initially detained two brothers, Olabinjo Osundairo and Abimbola Osundairo, but they were released upon the discovery of "new evidence."
JoJo called the scandal a "public persecution" and wrote about some of his brother's qualities. 
"Jussie's character on Empire represents much of who he is and has given voice to people who have been historically marginalized," he said. "Television has never shown an openly gay, African American man, freely illustrating the depth and range of character, like Jussie's portrayal of Jamal Lyon on Empire."
JoJo continued, "While very few people are courageous enough to swim upstream and resist the popular conformity of the day, I still can't believe how many people failed to ask the question: 'What if Jussie is telling the truth?'"
Smollett himself has only spoken out publicly a few times following the incident in January. He has continuously thanked his fans for their unwavering support and said after his charges were dropped that it had been "an incredibly difficult time."
He shared at a press conference, "Now I would like nothing more than to get back to work and move on with my life but make no mistakes I will always continue to fight for the justice, equality and betterment of marginalized people everywhere."