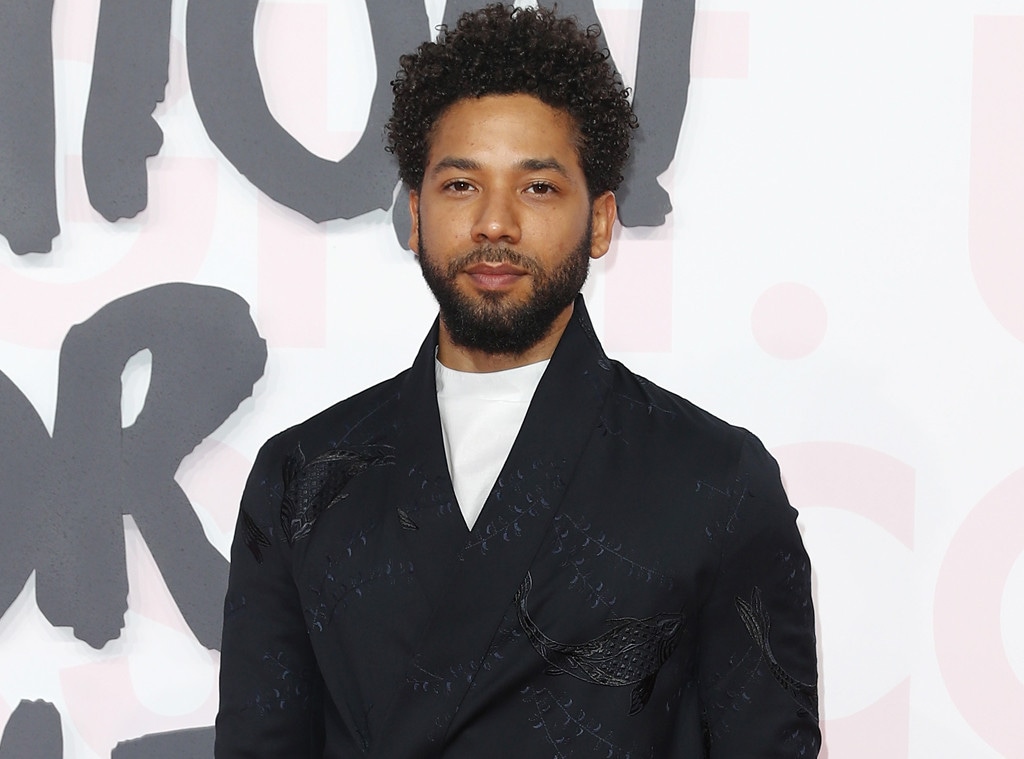 John Phillips/Getty Images
UPDATE: The Cook County's State Attorney's Office has approved charges against Empire star Jussie Smollett. He was charged with Disorderly Conduct and Filing a False Police Report, which are classified as a Class 4 felony. Anthony Guglielmi tweeted Wednesday evening, "Detectives will make contact with his legal team to negotiate a reasonable surrender for his arrest."
Meanwhile, Jussie's attorneys tell E! News in a statement, "Like any other citizen, Mr. Smollett enjoys the presumption of innocence, particularly when there has been an investigation like this one where information, both true and false, has been repeatedly leaked. Given these circumstances, we intend to conduct a thorough investigation and to mount an aggressive defense."
________
Chicago Police Departments Chief Communications Officer Anthony Guglielmi announced on Twitter that Jussie Smollett is "is now officially classified as a suspect in a criminal investigation by #ChicagoPolice."
According to Guglielmi, Smollett's shift to suspect is due to "for filing a false police report (Class 4 felony)." He added, "Detectives are currently presenting evidence before a Cook County Grand Jury."
CPD's announcement of Smollett become a suspect in his own attack investigation is merely the latest turn in a perplexing case. On Feb. 13, police arrested two brothers, Olabinjo Osundairo and Abimbola Osundairo, at a Chicago airport after they arrived on a flight from Nigeria. They were released on Friday without charge and are reportedly no longer suspects in the case and have been cooperating with Chicago police.
"Due to new evidence as a result of today's interrogations, the individuals questioned by police in the Empire case have now been released without charging and detectives have additional investigative work to complete," Guglielmi tweeted on Feb. 15.
On Saturday, Guglielmi told E! News in a statement that new evidence "shifted the trajectory of the investigation."
He said in full, "We can confirm that the information received from the individuals questioned by police earlier in the Empire case has in fact shifted the trajectory of the investigation. We've reached out to the Empire cast member's attorney to request a follow-up interview."
According to the Chicago Tribune, the brothers are bodybuilders and Smollett apparently follows them on Instagram. One brother even reportedly played a small role in an episode of Empire, but was never credited for it.
There have been a number of reports that Smollett allegedly staged the attack. According to multiple outlets, Smollett reportedly paid the brothers to buy the rope that was wrapped around his neck on the night of his allegedly racist and homophobic Jan. 29 attack in Chicago that occurred in the early hours of the morning. CPD said after the attack, "Given the severity of the allegations, we are taking this investigation very seriously and treating it as a possible hate crime."
On the night of the attack, two men allegedly confronted the Empire actor and yelled racist and homophobic slurs at him. They also tied a rope around his neck and reportedly spilled a chemical on him.
Just days later, he arrived in Los Angeles and gave an emotionally-charged performance where he spoke about the power of healing and love. "I am not fully healed yet, but I'm going to, and I'm gonna stand strong with ya'll. I am not fully healed yet, but I'm going to, and I'm gonna stand strong with ya'll," he said during the show. "So I will always stand for love. I will never stand for anything other than that. Regardless of what anyone else says, I will only stand for love and I hope that you all stand with me."
According to CBS Chicago, Smollett allegedly paid the brothers $3,500 to orchestrate the assault and then $500 once it had been completed and they returned from Nigeria. 
CBS Chicago reporter Charlie De Mar tweeted footage allegedly showing the brothers purchasing ski masks and a red hat.
There were some reports that Smollett supposedly staged the attack because he was being written off his show Empire.  20th Century Fox Television and Fox Entertainment told E! News in a statement on Friday, "The idea that Jussie Smollett has been, or would be, written off of Empire is patently ridiculous."
Michael Buckner/Variety/REX/Shutterstock
On Feb. 14, the 36-year-old actor discussed the attack on Good Morning America with Robin Roberts and opened up about the experience. He told Roberts he felt "pissed off" that people doubted his story. "It's the attackers, but it's also the attacks. You know, at first it was a thing of, if I tell the truth, that's it, because it's the truth. Then it became a thing of like, oh, how can you doubt that? How do you not believe that?" he said. "It's the truth. And then it became a thing of, oh, it's not necessarily that you don't believe that this is the truth, you don't even want to see the truth."
He said later on in the interview, "There's a level of pride there. We live in a society where, as a gay man, you are considered somehow, to be weak, and I'm not weak. I am not weak. And we, as a people, are not weak."
Smollett's attorneys Todd S. Pugh and Victor P. Henderson said in a statement on Saturday, "As a victim of a hate crime who has cooperated with the police investigation, Jussie Smollett is angered and devastated by recent reports that the perpetrators are individuals he is familiar with. He has now been further victimized by claims attributed to these alleged perpetrators that Jussie played a role in his own attack. Nothing is further from the truth and anyone claiming otherwise is lying."
They continued, "One of these purported suspects was Jussie's personal trainer who he hired to ready him physically for a music video. It is impossible to believe that this person could have played a role in the crime against Jussie or would falsely claim Jussie's complicity. Jussie and his attorneys anticipate being further updated by the Chicago Police Department on the status of the investigation and will continue to cooperate. At the present time, Jussie and his attorneys have no inclination to respond to 'unnamed' sources inside of the investigation, but will continue discussions through official channels."
E! News has reached out to Smollett's rep for comment. In the meantime, here's everything we know so far about the case as a whole.
(This story was originally published Wednesday, February 20, 2019 at 2:50 p.m. PST)