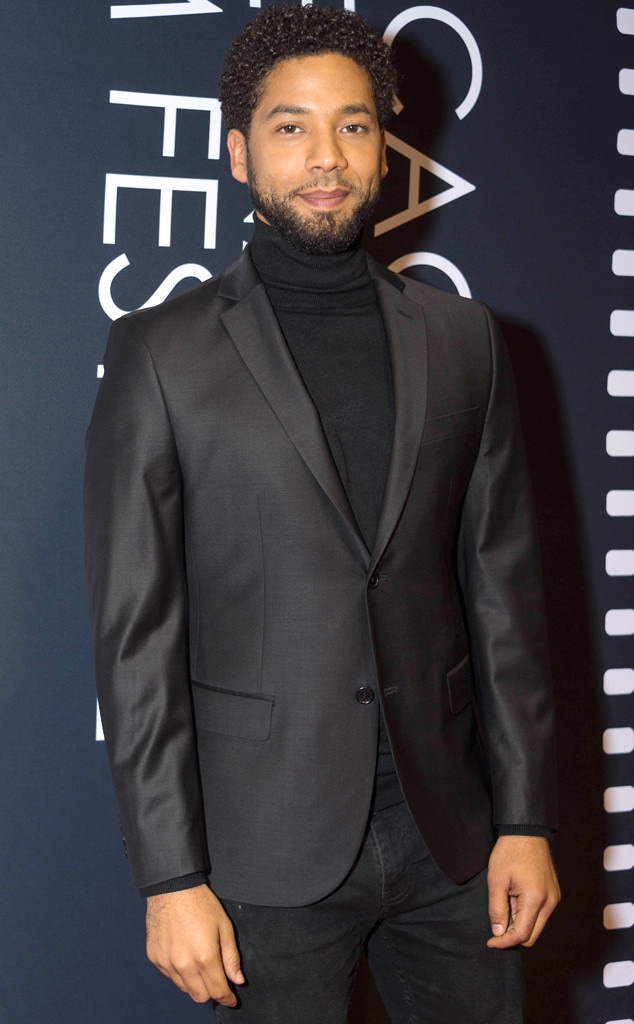 Cindy Barrymore/Shutterstock
UPDATE: Jussie Smollett's attorneys Todd S. Pugh and Victor P. Henderson released a statement on Saturday night regarding the recent reports about his potential participation in the attack. It began, "As a victim of a hate crime who has cooperated with the police investigation, Jussie Smollett is angered and devastated by recent reports that the perpetrators are individuals he is familiar with. He has now been further victimized by claims attributed to these alleged perpetrators that Jussie played a role in his own attack. Nothing is further from the truth and anyone claiming otherwise is lying."
Their note continued, "One of these purported suspects was Jussie's personal trainer who he hired to ready him physically for a music video. It is impossible to believe that this person could have played a role in the crime against Jussie or would falsely claim Jussie's complicity. Jussie and his attorneys anticipate being further updated by the Chicago Police Department on the status of the investigation and will continue to cooperate. At the present time, Jussie and his attorneys have no inclination to respond to 'unnamed' sources inside of the investigation, but will continue discussions through official channels."
________
Chicago police are interested in interviewing Jussie Smollett again following his racially-charged attack in Chicago on Jan. 29. 
In the two weeks following the attack, many of Smollett's Empire's co-stars spoke out condemning it and he even gave an emotional concert in Los Angeles just days after leaving the hospital.
The Chicago Police Department's investigation into the attack took a turn on Thursday when they identified two persons of interest in the case. Chicago Police spokesman Tom Ahern told E! News on Thursday that the two men, reportedly brothers, were "under arrest and being questioned as suspects but have not been charged."
The men were released one day later. The department's Chief Communications Officer Anthony Guglielmi tweeted, "Due to new evidence as a result of today's interrogations, the individuals questioned by police in the Empire case have now been released without charging and detectives have additional investigative work to complete."
Now, according to a new statement that Guglielmi sent to E! News, the investigation has deviated a bit.
"We can confirm that the information received from the individuals questioned by police earlier in the Empire case has in fact shifted the trajectory of the investigation. We've reached out to the Empire cast member's attorney to request a follow-up interview," he wrote.
He also tweeted, "While we are not in a position to confirm, deny or comment on the validity of what's been unofficially released, there are some developments in this investigation and detectives have some follow-ups to complete which include speaking to the individual who reported the incident."
Guglielmi did not specify how or why the "trajectory of the investigation" has changed. A source close to the police investigation, however, told NBC News that Chicago Police are probing whether those two men were paid to stage the attack. CNN, Chicago Tribune and other outlets have similar reporting as well. NBC News does not specify who paid the brothers, but two law enforcement sources reportedly told CNN it could have been Smollett. 
According to Chicago Tribune, the brothers who were arrested and released are of Nigerian descent and teach online body building classes. The paper says Smollett follows their workout page on Instagram. One brother reportedly appeared in an episode of Empire and played a role as Chris Rock's bodyguard, although he was not credited for it.
When Smollett was attacked in January, his assailants reportedly wrapped rope around his neck and splashed him with an unknown chemical. The men allegedly yelled, "This is MAGA country!" while it happened. Guglielmi said in a statement right after the attack that the department was "taking this investigation very seriously and treating it as a possible hate crime."
Multiple outlets report the brothers bought the rope at a hardware store in Chicago. CBS Chicago reports Smollett allegedly paid for the rope and that the two men were paid $3,500 and were promised $500 more after returning from a trip to Nigeria. E! News cannot independently confirm this information at this time.
This is not the first time a staged attack has been mentioned. On Thursday, ABC Chicago reported that the actor supposedly set it up because he was being written off Empire. Fox, however, slammed those rumors and called them "patently ridiculous."
Guglielmi tweeted on Thursday, "Media reports about the Empire incident being a hoax are unconfirmed by case detectives." He said in another statement to E! News on Thursday when the brothers were first arrested, "While we haven't found any video documenting the alleged attack, there is also no evidence to say that this is a hoax. The alleged victim is being cooperative at this time and continues to be treated as a victim, not a suspect." 
Also on Thursday, Smollett appeared on Good Morning America and teared up while discussing the incident. Smollett told GMA's Robin Roberts that he was "pissed off" that people doubted the legitimacy of the attack. 
"It's the attackers, but it's also the attacks. You know, at first it was a thing of, if I tell the truth, that's it, because it's the truth," he said. "Then it became a thing of like, oh, how can you doubt that? How do you not believe that? It's the truth. And then it became a thing of, oh, it's not necessarily that you don't believe that this is the truth, you don't even want to see the truth."
20th Century Fox Television told E! News in a statement, "No comment or statement at this time."
(This article was originally published on Feb. 16 at 6:38 p.m.)