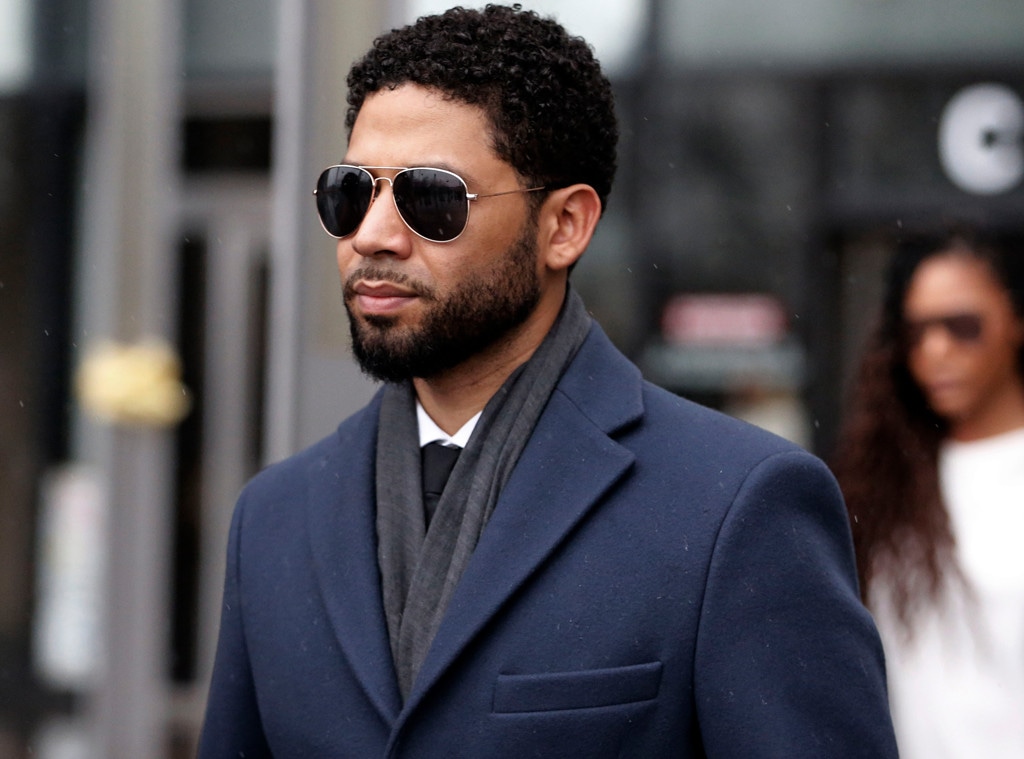 Nuccio DiNuzzo/Getty Images
Why were Jussie Smollett's criminal charges suddenly dropped? 
It's a question on many minds this week following the unexpected announcement on Wednesday that the Empire star's charges in connection with his alleged January attack are no more. As fans may recall, the star was indicted on 16 felony counts of disorderly conduct for allegedly filing a false police report, charges he pleaded not guilty to earlier this month. They were dropped in return for the star's agreement to forfeit his $10,000 bond to the City of Chicago and complete community service, the Cook County State's Attorney's office confirmed. 
"In the last two years, the Cook County State's Attorney's Office has referred more than 5,700 cases for alternative prosecution. This is not a new or unusual practice. An alternative disposition does not mean that there were any problems or infirmities with the case or the evidence. We stand behind the Chicago Police Department's investigation and our decision to approve charges in this case. We did not exonerate Mr. Smollett," the office said in an additional statement. "The charges were dropped in return for Mr. Smollett's agreement to do community service and forfeit his $10,000 bond to the City of Chicago. Without the completion of these terms, the charges would not have been dropped. This outcome was met under the same criteria that would occur for and is available to any defendant with similar circumstances."
"Today, all criminal charges against Jussie Smollett were dropped and his record has been wiped clean of the filing of this tragic complaint against him," Smollett's attorneys, Tina Glandian and Patricia Brown Holmes said in a statement Tuesday.
However, the decision has only raised more eyebrows and questions after First Assistant Cook County State's Attorney Joseph Magats said in an interview with CBS that the dropped charges do not exonerate Smollett nor does he believe the actor is innocent. 
"It's not on the level," Chicago Mayor Rahm Emanuel said on Good Morning America Wednesday of the decision to drop the charges . "This looks like because he's an actor, a person of influence, he got treated differenty than anybody else...nobody can make sense of this. This is a head-scratcher."
"I would love to have everything that the Chicago Police Department collected and gathered to actually come to the conclusion [to charge Smollett]—make all of that available. I would love for that to happen," the mayor said. "The second question is what happened here that allowed the State's Attorney's Office that was in the room with the police department when they decided to actually bring the charges to the grand jury, that actually brought the indictments—what made them all of the sudden say you know what, on second thought, this is enough?"
Amanda Seitz/AP/Shutterstock
However, as Glandian told Good Morning America's George Stephanopoulos on Wednesday, "there is absolutely nothing to warrant" Emanuel's "not on the level" statement. 
The lawyer reminded the co-anchor that Smollett had been charged with 16 counts after beginning with one.
"I understand why everyone is so confused by the turn of events in the case, but keep in mind the actions in this case speak a lot louder than words do. It's the prosecution's, the state of Illinois that decided to come forward and charge Mr. Smollett with 16 counts, 16 separate counts from the same incident. They clearly could have proceeded with one count as they originally did in the felony complaint and then they decided to elevate this matter, to slice and dice this in every way possible and to charge him with 16 counts," she said. 
"Two and a half weeks later, they made the decision to voluntarily discontinue the action altogether," she said. "I think if they believed the charges, they would never have dismissed the case." 
Glandian continued, "We were ready to fight the charges and they're the ones who voluntarily discontinued this matter, so I think that speaks volumes."
Considering Smollett maintains his innocence and Chicago Police Superintendent Eddie Johnson reiterated the allegation that the star had committed a hoax, Stephanopoulos asked if there are plans to sue. 
"We're weighing our options now. For Jussie, what's really important is he really just wants his career and his life back...he did not ask for any of this. He was a victim of a crime. This has completely spiraled out of control and become a political event at this point," she said. 
"His goal and focus right now is just getting his life back on track. He has not even started healing from the initial attack because he's been dealing wih everything that's happened since then," Glandian continued. "We're shocked at the mayor and the police superintendent doubling down yesterday when the prosecutor, after a dispassioned look at the evidence, realized that this does not hold up and chose to voluntarily dismiss all counts and expunge his record, so at this point we're going to weigh our options and see how this develops."