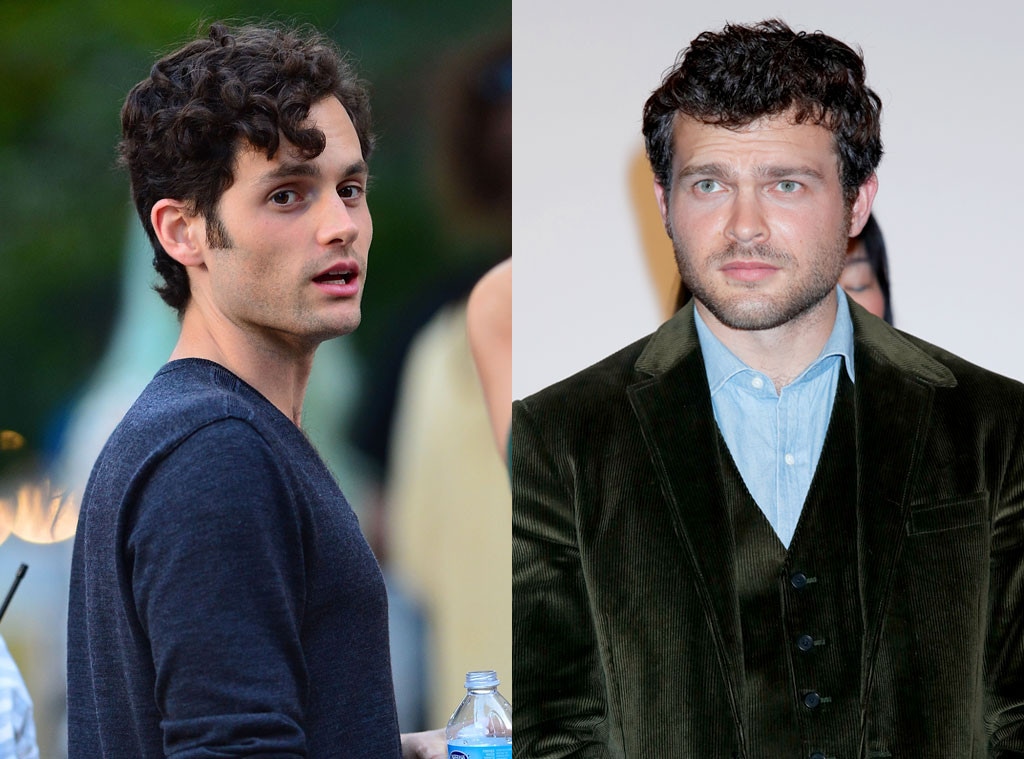 Ken Ishii/Getty Images/James Devaney/WireImage
In an alternate universe, Han Solo was the Gossip Girl. 
In a new interview with EW, casting director David Rapaport opened up about casting some of the biggest roles of his career, including the leads of Gossip Girl. And while it's hard to imagine anyone besides Penn Badgley playing Dan now, Rapaport originally had someone else in mind. 
"Before Penn was involved, I desperately wanted Alden Ehrenreich to play Dan," Rapaport told the magazine. 
Ehrenreich, then having only guested on Supernatural and CSI, even came in to read for the part, but producers decided the actor was too short to play love interest to Blake Lively. (Lively is 5'10". Ehrenreich is listed as either 5'9" or 5'8" on the internet, and Badgley is apparently 5'9", or 5'8.5".) 
Ehrenreich went on to eventually be cast as Han Solo in Solo: A Star Wars Story, and Badgley played Dan for six seasons. Later on, when Rapaport was casting You, he could think of only one person for the role. 
"I didn't think he would do it," Rapaport said of Badgley. "But once we got the idea in our heads, it all made sense. I can't imagine anybody else playing that character." 
Lively as Serena van der Woodsen was also the only person Rapaport could imagine. 
"I did not have another choice," Rapaport said, having seen Lively in Sisterhood of the Traveling Pants. "I knew in my heart there was no one else."
Rapaport also dished on casting the CW's slate of superhero shows. Stephen Amell was the first actor who read for the part of Arrow's Oliver Queen, and Grant Gustin was the first actor who read for The Flash's Barry Allen. Melissa Benoist was cast as Supergirl's Kara Danvers when producers said they wanted a Jennifer Lawrence-type. 
"There's a quality about Jennifer Lawrence, an openness, a goofiness. She's relatable," Rapaport said. "I got to know Melissa, and she seemed to encapsulate all these qualities they were looking for." 
For Supergirl's transgender superhero Dreamer, played by Nicole Maines, the team had to work a little harder to find the right trans actress. 
"She's from Maine, so she took a little bit of digging to find," he said. "But this was such a great opportunity to tell an amazing story, and Nicole is a great actress and an outspoken activist. She's such a hero to me."
When casting Riverdale, Rapaport says he initially passed on KJ Apa when he seemed unprepared in his first audition. When they didn't find Archie in the first round of auditions, Apa returned. 
"He came back in and his read blew me away," Rapaport said. "Sometimes people have bad days and you miss something."
Camila Mendes was cast right out of college, and it was Lili Reinhart and Cole Sprouse who defined for Rapaport "what the tone of the show might be, which was teen noir." 
Ehrenreich was hardly the first actor to miss out on an iconic TV role. See below for a whole bunch more!