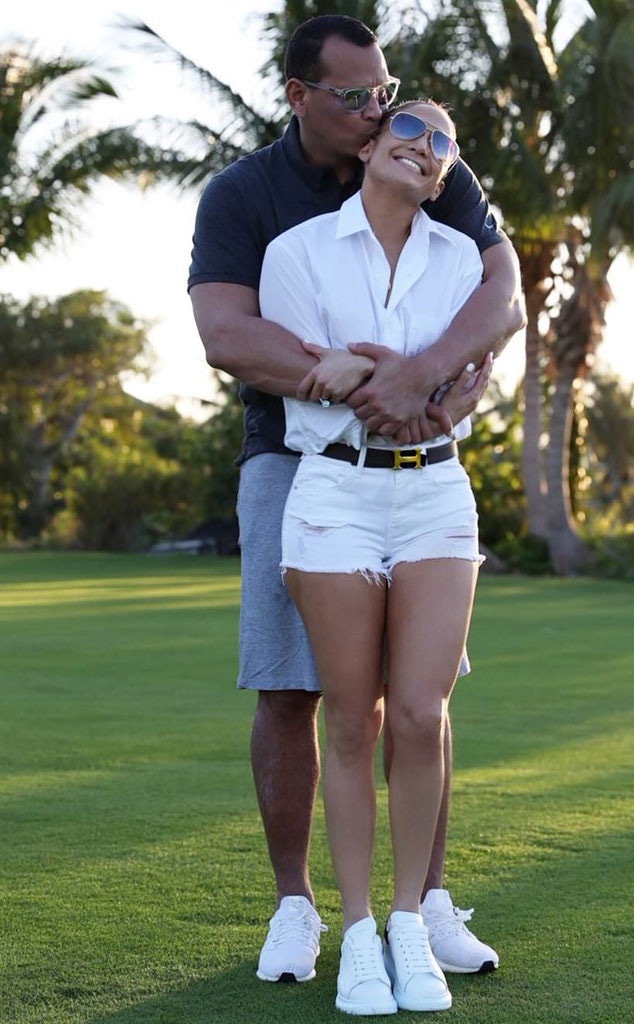 Instagram
There's no way Alex Rodriguez will forget the way Jennifer Lopez dances when it comes to preparing for her next major concert tour.
The former MLB star uploaded a video of his fiancée dancing to a Cardi B-Rihanna remix that included the songs "Bodak Yellow" and "Bitch Better Have My Money." J.Lo flaunted her incredibly toned abs as she danced around a hotel room in a grey sports bra and sweatpants. The two of them are currently in Denver at the Los Angeles Dodgers vs. Colorado Rockies baseball game, but it's clear that J.Lo's moves are the real home run here.
"You know it's comin'. It's already her party here in the Rocky Mountains," he captioned the video of the "Dinero" singer showing off her best moves. He was referring to J.Lo's upcoming "It's My Party" tour.
While the song played, A-Rod could be heard saying "oooh! ooh!" in the background.
The "Bodak Yellow" soundtrack is appropriate because Cardi B and J.Lo are starring in the upcoming film Hustlers together, where the rapper is making her big-screen debut.
A-Rod—aka J.Lo's no. 1 and most enthusiastic fan—praised and commended her before she started filming the movie. "This beautiful woman starts shooting her movie tomorrow, 'Hustlers.' I won't play spoiler, but I can't wait until you all see how she transforms herself into a completely different character!!" he wrote on Instagram on March 24.
He then commended her work ethic and finished off the caption on a loving note. "She's been working so hard lately. I'm glad we were able to enjoy a quick little break before she dives into this new project. Love you baby and continue to shine, fly high and inspire all of us," he wrote.
J.Lo is making those money moves and A-Rod is 100% here for it.