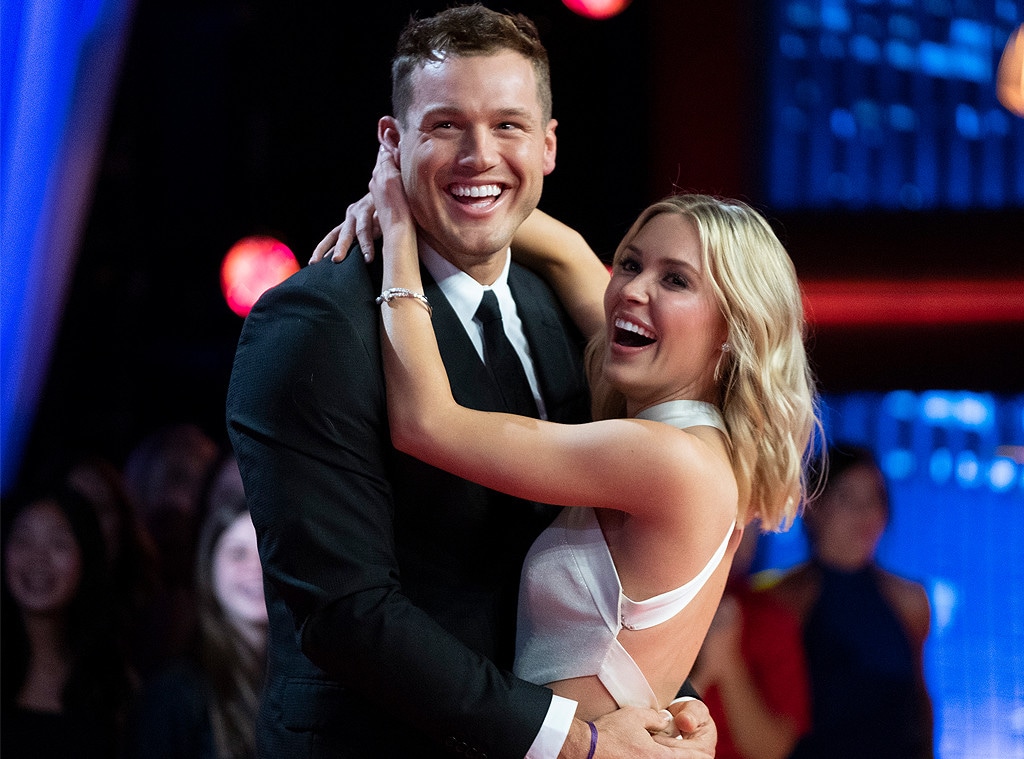 ABC/John Fleenor
Colton Underwood didn't propose to Cassie Randolph during the season finale of The Bachelor. However, he still got a Neil Lane ring.
The happy couple appeared on Tuesday's episode of Jimmy Kimmel Live!, where they received a little gift from The Bachelor's go-to jeweler.
Jimmy Kimmel joked the two got "cheated a little bit" because they didn't walk away with a shiny new sparkler. So, the late-night host called Lane and had him send a ring. At first, it looked like Underwood might pop the question then and there; however, Kimmel assured the former football player he could hold onto the piece.
"You know, we've already talked about this," Underwood said, hinting an engagement could be in their future. 
The ring was quite the stunner, too—featuring a gorgeous center diamond and square halo. It also included a diamond band. However, Kimmel told the reality stars they could also exchange it. 
"But if you don't want that one, you can pick out a different one. It doesn't have to be that ring," he said. "Or, go to a pawnshop and get loaded."
Chris Harrison wasn't kidding when he said the finale was one of the most dramatic in Bachelor history. After Randolph left Underwood broken hearted by calling it quits in Portugal, he jumped a fence and ended his relationships with the final two contestants: Hannah Godwin and Tayshia Adams. He then decided to give his relationship with Randolph one last shot and asked her to reconsider. The two then jetted off to Spain, where he introduced her to his family and agreed to take their romance day by day. 
Still, it looks like Underwood knew Randolph was the one for a while. In fact, he said he knew she was someone special after their trip to Singapore in week four.
So, where does their relationship stand, and what's next for the lovebirds? Underwood said he considers Randolph his "future wife."
"We're confidently boyfriend and girlfriend," he said.
Underwood also told People he's moved from Denver to Los Angeles to be closer to his leading lady.
"Our goal is to buy a house in Huntington Beach in the next year, but we probably won't move in together until we're engaged or married," he told the magazine. "As much as I want her to live with me, it's a big step and something we both take very seriously."
In addition, he told Kimmel the two see each other every week.
Now, they're looking forward to enjoying everyday life together, including going grocery shopping and taking bike rides.
"I'm so happy and so in love right now," Underwood said at one point.
Congratulations to the happy couple!