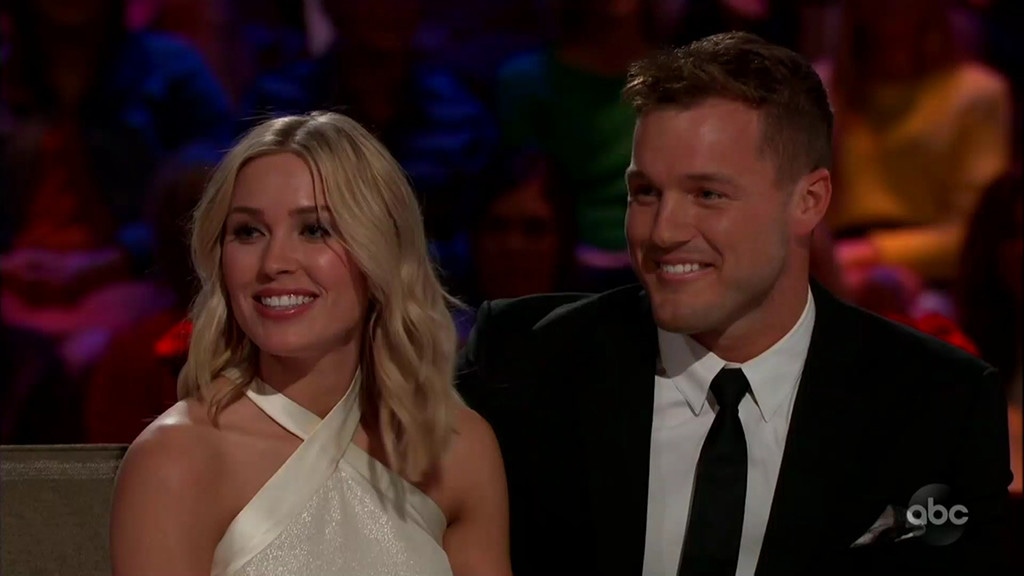 ABC
 Well, Colton Underwood probably isn't a virgin anymore, but he's also not engaged. He is happy though, even if the road was a little rough. 
Cassie, the girl the Bachelor star decided was the one for him, wasn't quite sure what to do or say when he showed up at her door asking her to be with him, despite how she had very recently dumped him and chosen to leave the show. She was especially alarmed as he went on about the "sacrifices" he had made, like dumping Tayshia and Hannah G despite the fact that they had not left him. 
We had also totally forgotten that Cassie had no idea that Colton got so upset that he jumped over a fence and ran away, but she was still a little too shocked to fully process that when he told her about it. 
"You didn't," she said, laughing. 
Cassie still couldn't say what she wanted or if she was ready for a life with Colton, so the plan was to take it "day by day" as they went to meet Colton's family in Spain.
"I know that Cassie cares about me, and I hope after she meets my family that she has some clarity. If things go well, Cassie could be in love with me at the end of this week," is a thing the Bachelor said, during the finale, about the only woman remaining. Oof. It is a CHOICE to pick the one girl who's not actually in love with you.  
Colton seemed excited, like a puppy going to the park, and his family and Cassie were both a little anxious about this. 
"I just, like, don't want to go in there confused, and I feel like I am," she said. "I don't know if he knows how hard it is, having to explain to someone's family who, like, really loves and cares about him and wants the best for him that I'm not there yet. And I, like, in any other circumstance, I would be excited, but I'm just—this is a heavy thing." 
Colton's mom immediately was concerned, which you could tell when Colton asked what she thought of Cassie and she responded, "Oh man." 
"My biggest worry is that they're not tracking on the same page. Colton feels like this is a forever love for him, but at the same time, she's, I don't know, she's got a little bit of self doubt with that," she told the cameras, which, yeah. Colton seems to be the only one who doesn't see how crazy this is, chasing after a girl who clearly didn't ask for this and does not love him, joking to his entire family that he lost his virginity when he didn't actually. 
The whole thing was just awkward. And then he made her rappel down a cliff to get to a picnic all in the same of a metaphor, which felt cruel. Once they got down to the picnic, Cassie expressed her fear of getting into a controlling relationship, and Colton explained to her that she will have her friends and hobbies, and he will have his, and that's totally fine. 
By the time they were reading the invitation to share a hotel room, Cassie seemed to have changed her mind, and she said yes before he could even finish asking. So then they made out a while before kicking the crew out, putting up a "do not disturb" sign, and closing the door. 
Meanwhile, Chris Harrison brought out a whole panel of former Bachelor stars, including Demi, Ben Higgins, Chris Randone, and other randoms to discuss whether or not Colton had lost his virginity. (To be honest, we skipped through this embarrassment...and a lot of other parts of this finale.) 
"What happened last night was great for our relationship," Colton said the next morning. 
Colton and Cassie then finally sat down with Chris Harrison on live TV and did not discuss virginity but they're "in love!" So in love! So happy! So much smiling! They don't live together, but Colton does now live nearby, and they've talked about getting engaged, but they've got a lot of conversations to still have, and they're not ready yet, and they also won't talk about whether or not they've had sex. But here's Air Supply, playing "Making Love Out of Nothing At All," so at least we've got that. 
Congrats to Cassie and Colton on just being very happy and no longer quite as confused as they were before, and congrats to all of us on almost being done talking about Colton Underwood's virginity. 
The Bachelor airs on ABC.