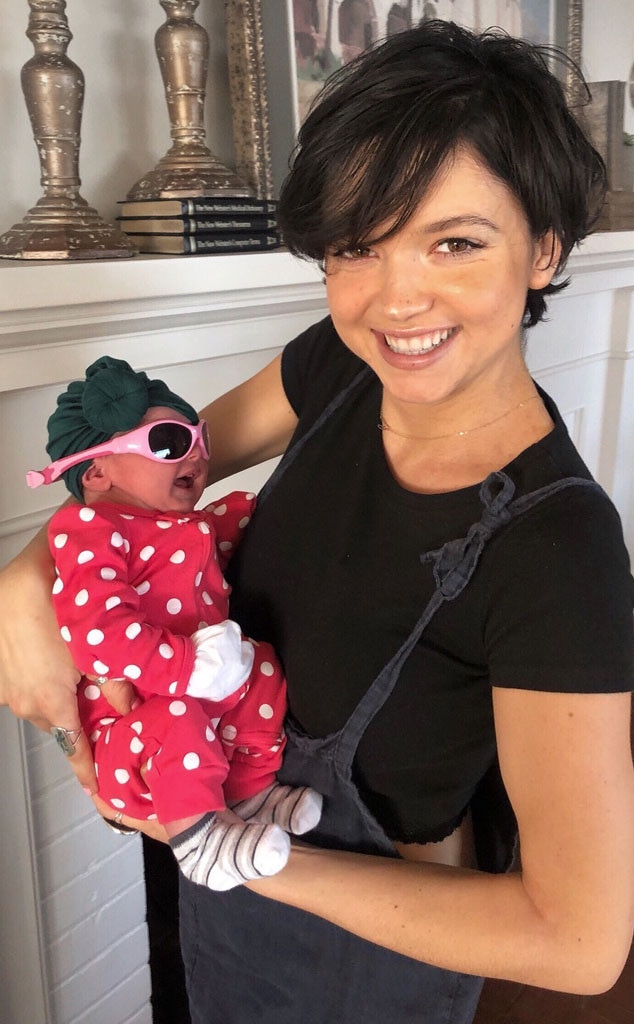 Instagram
Bekah Martinez is giving everyone a little bit of a glimpse into some of her baby daughter's favorite activities.
The former Bachelor contestant gave birth to her daughter Ruth Ray De La Luz Leonard by water birth on Feb. 1 and she took to Instagram to share a sweet update about her little girl's one-month birthday. Bekah posted a picture of Ruth cocooned in a white blanket with blue, green and yellow stripes on it and she's fast asleep on a white surface. There's a little pin board that says "One Month" on it, a purple toy and a notepad sitting next to Ruthie.
The 24-year-old, who vied for Arie Luyendyk Jr.'s heart, listed some of her daughter's favorite hobbies, which include "sleeping, crying, cluster feeding at midnight."
"Can't believe what a beautiful little girl we have," she captioned the picture. "Also can't believe we've successfully survived 28 nights with a newborn."
Bekah shared the meaning behind her daughter's name about a week after giving birth.
She shared a photo of Ruth laying on a pink blanket with a Scrabble tray that says "Baby Ruth" on it. Too cute!
"Ruth= Grayston's grandmother's name, and one of my favorite biblical stories. Hebrew for friend or companion," she explained in the caption. "Ray= ...Because Ruthie Ray is too damn cute. De La Luz= My dad's middle name. Spanish for "of the light". A tribute to my Mexican heritage. Leonard= Her Daddy's last name."
Bekah revealed in September that she was pregnant with her and her boyfriend Grayston Leonard's first baby. She said at first she was in "disbelief" about the news, but it has ultimately been "a dream come true."
The reality TV star and her beau have been together for about a year. In July, Bekah opened up about her relationship and said at the time that it was "getting really serious."
Their relationship has clearly flourished, too. On Friday, she posted a picture of Grayston holding Ruthie Ray and he looks happy as can be. She called him "the hottest dad I know."
On a more sentimental note, she shared a photo of Grayston making skin-to-skin contact with his daughter "just minutes after" Bekah gave birth. "Gray, I love you a little more every time I see the way you look at her," she wrote.