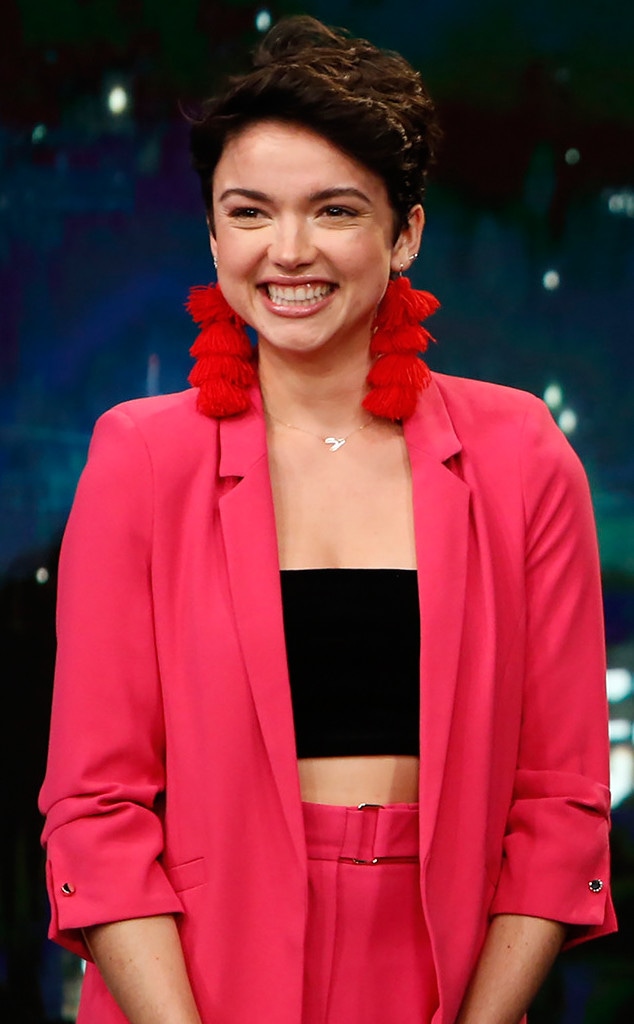 Randy Holmes/ABC
Surprise! There's a baby on the way for Bekah Martinez. 
The Bachelor star, who has been dating Grayston Leonard for seven months, announced her pregnancy Wednesday. "I was in disbelief and thought, 'Is this really happening?'" Martinez told Pure Wow. "I immediately called Grayston and then went across the street to the Dollar Tree and bought two more pregnancy tests. They, of course, were both positive."
Bekah became one of the youngest contestants to compete on the ABC dating series when she vied for Arie Luyendyk Jr.'s heart during season 22 earlier this year. At just 22, Bekah and Arie's 14-year age difference caused plenty of drama both during and after the show aired. 
But now, Bekah is ready to embark on her next great adventure.
"She is really excited to share this news with everyone and says she is ready for this new and exciting chapter," a source tells E! News.
Martinez, who admitted her pregnancy was unplanned, is 20 weeks along. "It's going by so fast!" she said. "I'm feeling super energized." Although her first trimester "was a little rough," she's doing better now. Just don't expect to see her ring shopping any time soon, as she has no plans to be a pregnant bride. "It's a horrible idea for us to consider with all of the hormones and the stress we're experiencing. The last thing we need is to consider another commitment on top of what we're already going through...Regardless, we're bound together by sharing this little life."
Because of her pregnancy, Bekah decided not to appear on the fifth season of Bachelor in Paradise, which aired its last episode Tuesday. "Bekah is telling everyone that the reasoning for her not going on Bachelor in Paradise this season is because she is pregnant," a source says.
Of course, the reality TV star will have her besties from The Bachelor to share the highs and lows of motherhood with. As our insider puts it, "All of the girls have been trying to be supportive towards her." And as she told Pure Wow, "I think pregnancy is better than Bachelor in Paradise. Although I'm probably equally as sweaty, exhausted, nauseous, stressed out and emotional, at least I don't have to worry about finding a man. I already have that one covered."
Martinez was previously critical of her experience on The Bachelor—including accusing Arie of privately messaging her on social media after he had proposed to Lauren Burnham—but recently told Glamour she is grateful for the platform it has given her. 
From her perspective, "Being on The Bachelor was 100 percent worth it. It gets you a lot of exposure, and it's no secret that a lot of the women are able to support themselves after the show through social media advertising. I'm very lucky that I've had a lot of different opportunities come my way, through appearances and sponsored social media posts. And The Bachelor was really just a wonderful experience overall, so I'd certainly do it all over again."
For now, Martinez is focused on enjoying her pregnancy, which she described as "legitimately a dream come true."
"It's the one thing that I've known with certainty for so long," she told Pure Wow. "I've gone back and forth on the idea of marriage and relationships, but I've always felt sure that I want to be a mom."
Congratulations, mama!