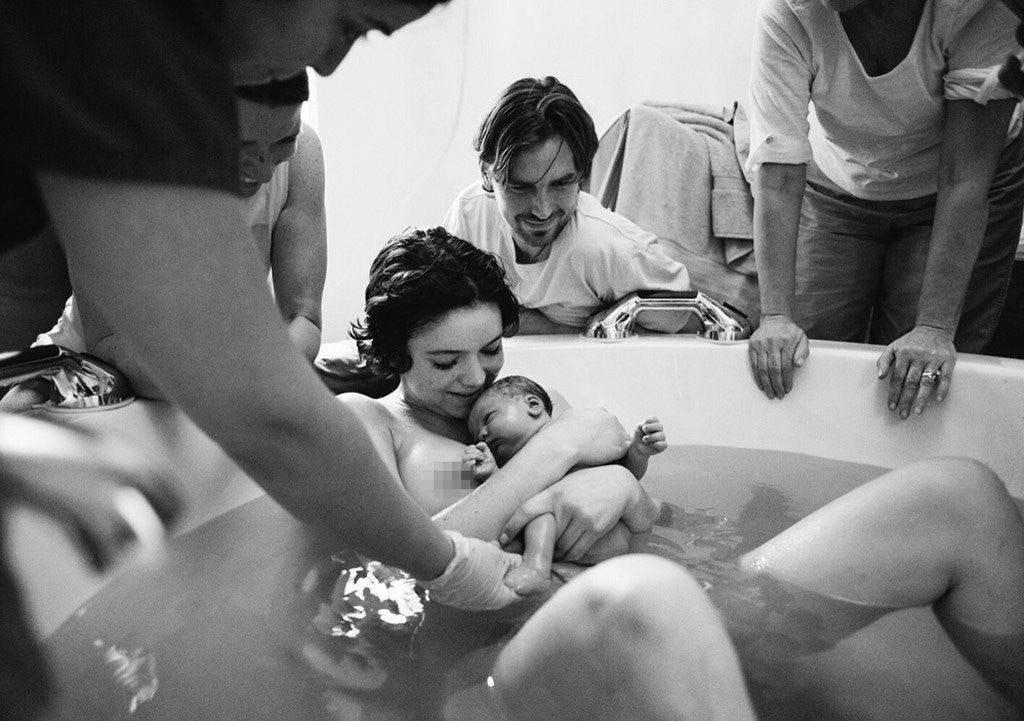 Lauren Guilford
The time has arrived! The Bachelor star Bekah Martinez and her boyfriend Grayston Leonard just welcomed their first baby!
Leonard posted the exciting news on Instagram and shared two photos of their sweet new bundle of joy. In the photos, Leonard and Martinez's baby sleeps on her chest and in another one covers its face with some gray mittens. 
"#nopicturesplease," he wrote in the post.
According to People, the couple welcomed a baby girl via water birth on Feb. 1 at 10:14 a.m.
The reality star also shared a photo of her newborn captured by photographer Lauren Guilford.
The 23-year-old star and her partner have been dating for several months, and made their relationship official last July. When Bekah found out she was pregnant, she told Pure Wow in Sept. 2018 that she was in "disbelief."
"I was in disbelief and thought, 'Is this really happening?'" Adding, "I immediately called Grayston and then went across the street to the Dollar Tree and bought two more pregnancy tests. They, of course, were both positive." 
Fast forward to 2019, and the couple's baby has made its debut.
See the sweet photo of their baby below!
Days before delivering her baby, The Bachelor alum took to Instagram to share how at "peace" she was with everything.
"I actually have super-human patience right now," she captioned her pregnancy picture. "I know my due date is Tuesday, but I am perfectly at peace with going a couple weeks more. I trust my baby and I trust my body. He or she will come when they're fully ready for the journey earth-side."
She was all smiles wearing a ruffled white crop top and blue tassel earrings. 
In early January, the reality TV star playfully showed off her "most comfortable maternity outfit" on Instagram. At the time, she was 38 weeks and about ready to pop. But aside from her barely-there clothes (she was bundled in a cozy blanket/scarf), she had that "pregnancy glow." 
Now that her sweet bundle of joy has made its way into the world, it's only a matter of time before Bekah switches up her feed and snaps pics of her baby's "comfortable" clothes. 
Don't mind us, we'll just be scrolling through the star's Insta feed to see each and every baby photo. 
Bachelor Nation was first introduced to Bekah when she competed on Arie Luyendyk Jr.'s season of The Bachelor in 2017. She made it to week 7 of the ABC competition series. 
Congratulations Bekah and Grayston!