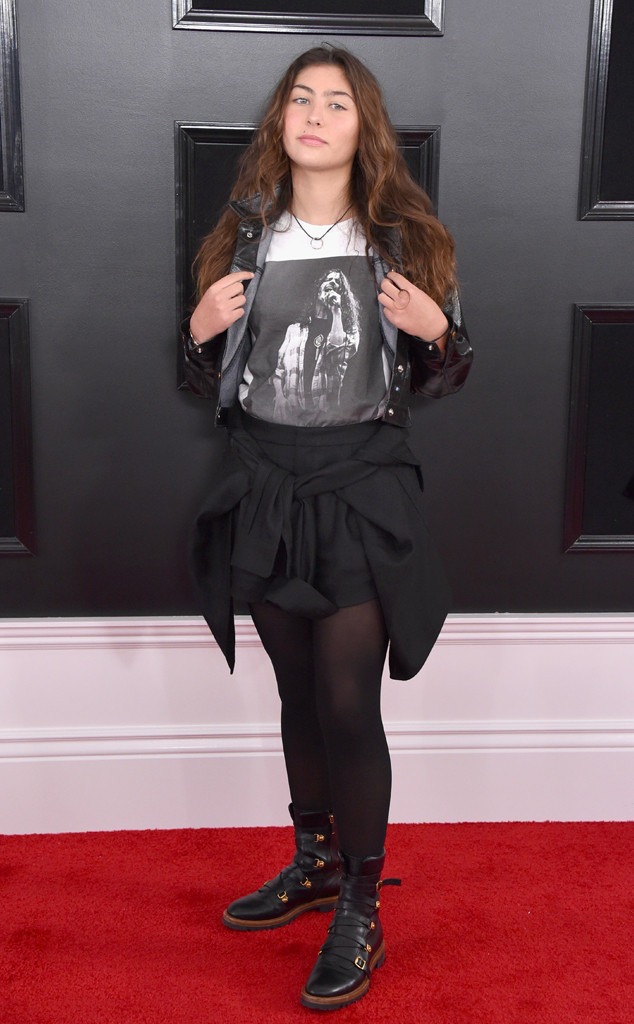 John Shearer/Getty Images for NARAS
Two of Chris Cornell's children paid tribute to their late father on the 2019 Grammys red carpet.
Cornell's widow Vicky Cornell walked the carpet with her children Toni and Christopher and Toni paid homage to her dad by wearing a shirt with a photo of him on it. Toni paired the shirt with a black skirt, black tights, black boots and a leather jacket. Vicky wore a floor-length black dress with an open back. Christopher opted for a blue coat, white shirt, black pants and black Nike high tops.
Vicky and Toni attended the show last year as well with Cornell's daughter from a previous marriage, Lillian. Christopher didn't join his mom and sisters.
The former Soundgarden and Audioslave lead singer is posthumously nominated in the Best Rock Performance album for "When Bad Does Good."
The singer's children have honored their father publicly many times since his May 18, 2017 suicide.
On Father's Day last year, Toni posted a video to YouTube of the father-daughter duo singing a rendition of Prince's "Nothing Compares 2 U."
"Daddy, I love you and miss you so much. You were the best father anyone could ask for," she wrote on the video platform. "Our relationship was so special, and you were always there for me. You gave me courage when I didn't have any. You believed in me when I didn't. I miss your love everyday."
Toni recalled recording the song as a "special and amazing experience."
In January at the "I Am the Highway: A Tribute to Chris Cornell" benefit concert, Toni performed her dad's tune "Redemption Song" alongside Ziggy Marley.
Miley Cyrus, Foo Fighters, Metallica, Chris Stapleton and many other artists also performed at the tribute concert.
In February 2018, Vicky spoke with Good Morning America's Robin Roberts in her first interview since the singer's death and opened up about her loss. "He was the best husband, the greatest father. I lost my soulmate and love of my life," she said. "He wanted to be there for his family, for his children. He loved his life, he would never have ever left this world."