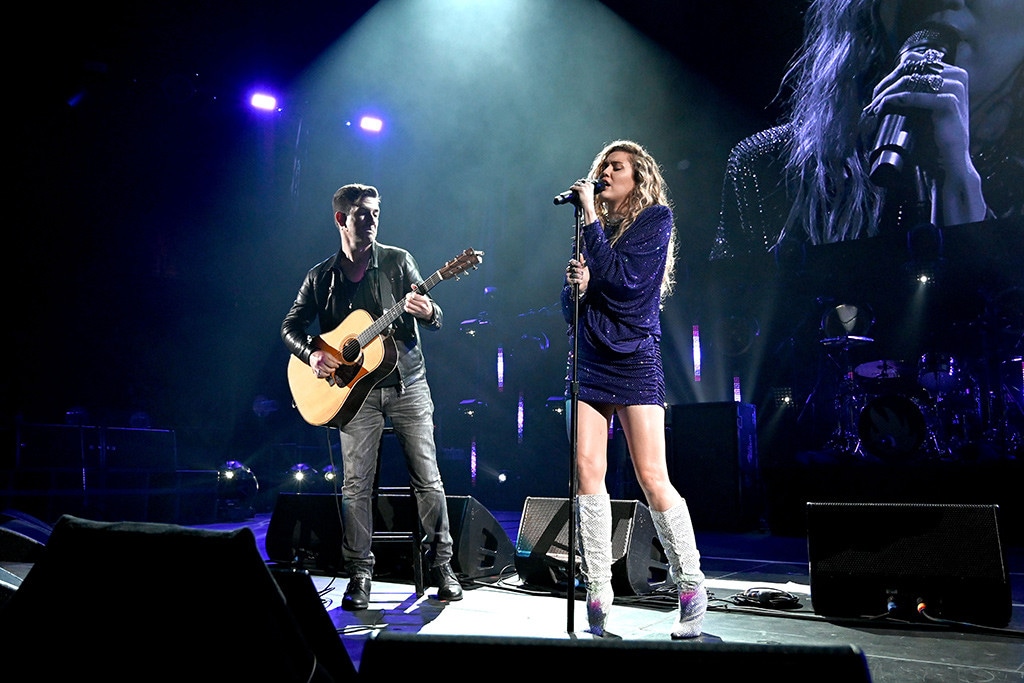 Kevin Mazur/Getty Images for The Chris Cornell Estate
Miley Cyrus was one of the many stars to attend the "I Am the Highway: A Tribute to Chris Cornell" benefit on Wednesday and honor the late Soundgarden singer.
The 26-year-old singer took the stage at The Forum in Los Angeles and performed two songs. The first was Cornell's 1999 hit "Wave Goodbye." Dressed in a sparkly blue ensemble, the newly married star gave a heartfelt performance. She also made sure to note how great the show had been so far and how happy she was to be there.
Later in the evening, Cyrus returned to the stage to sing "Say Hello 2 Heaven." Having switched into a Chris Cornell sweatshirt and black pants, the recording artist rocked out to the number and left it all on the stage. She then thanked the audience and Cornell, noting it had been "an honor" to perform and such a "great f--king day."
"Say Hello to Heaven," she wrote on Instagram alongside a video of her performance. "Had a heavenly experience with you tonight, Chris. We felt you and heard you....your words and spirit filled the room.... here was an overwhelming feeling of so much love...we miss you deeply...tonight was an honor....#chriscornelltribute."
In addition to Cyrus, Chris Stapleton, Rita Wilson, Adam Levine, Jesse Carmichael, Stone Gossard, Metallica, and the Foo Fighters all performed. Nikka Costa, Alain Johannes, Josh Homme, Audioslave, Ryan Adams and Temple of the Dog performed, as well. At one point, Cornell's daughter, Toni, took the stage with Ziggy Marley, to perform her father's hit "Redemption Song." His other daughter, Lillian, also took the stage to say a few words, and Soundgarden closed out the concert.
The concert was presented by Cornell's wife, Vicky, as well as the late artist's family and friends. Jimmy Kimmel hosted the benefit and several other celebrities attended to either introduce the artists or simply show their support. These included A-listers like Brad Pitt, Leonardo DiCaprio, Christian Bale, Tom Hanks, Courteney Cox, Cameron Crowe, Kaley Cuoco, David Spade, Josh Brolin, John Carter Cash, Sam and Aaron Taylor-Johnson and more.
Kevin Mazur/Getty Images for The Chris Cornell Estate
The benefit raised over $1 million for the Chris and Vicky Cornell Foundation, as well as for The Epidermolysis Bullosa Medical Research Foundation.
Kevin Mazur/Getty Images for The Chris Cornell Estate
Cornell died in May 2017 at the age of 52.
"He was the best husband, the greatest father. I lost my soulmate and love of my life," his wife said during an interview with Good Morning America in February. "He wanted to be there for his family, for his children. He loved his life. He would never have ever left this world."
If you or someone you know needs help, please call the National Suicide Prevention Lifeline at 1-800-273-TALK (8255).