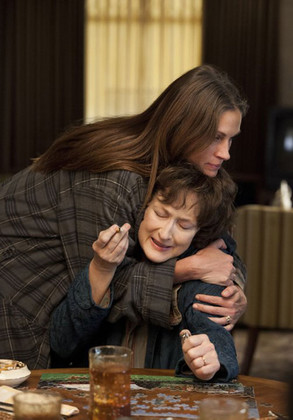 The Weinstein Company
No skeleton is left in the closet—and no scenery is left unchewed—in this dish-smashing drama about a dysfunctional family, the Westons, in rural Oklahoma.
When the Weston patriarch (Sam Shepard) goes missing, his three daughters reunite at their childhood home to attend to their cancer-stricken mother, Violet (Meryl Streep).
Hardly a shrinking Violet, the vitriolic matriarch launches verbal assaults as frequently as she pops Percocet and Xanax. Violet's most contentious battles are with eldest daughter Barbara (Julia Roberts), who has her own issues with hubby Bill (Ewan McGregor) and daughter Jean (Abigail Breslin)—and worries she'll turn into a monster like her mother.
Before hanging with mommy dearest and the whacked-out Weston clan, check out these five facts: