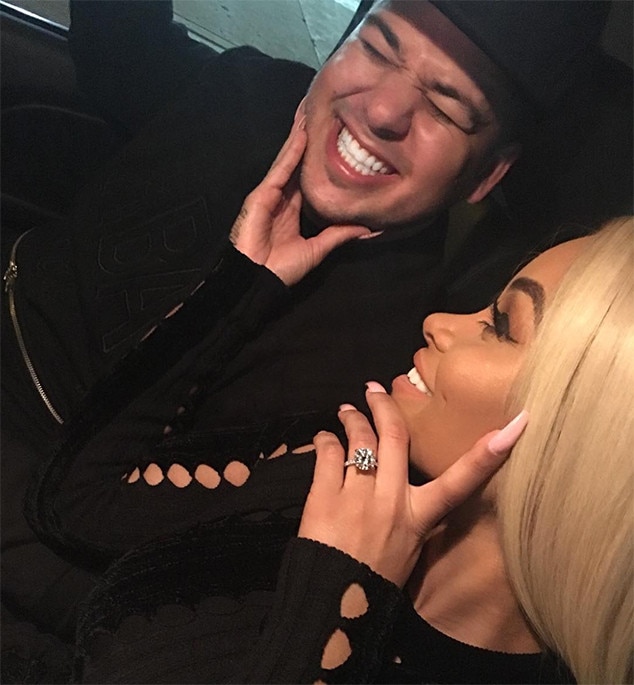 Instagram
Congratulations are in order.
Less than three months after Rob Kardashian and Blac Chyna confirmed they were dating, the reality star asked his girlfriend to marry him. The pair announced their engagement on Instagram following a night of celebration at the L.A. gentlemen's club Ace of Diamonds, where Chyna was previously scheduled to host an event.
"YES !...!...!" she captioned a photo of her and her beau on Instagram. In the picture, the 27-year-old model is sporting a round sparkler on her left hand while squeezing Kardashian's face. The size of Rob's grin says it all.
The 29-year-old youngest Kardashian brother shared another photo of his lady proudly showcasing her new piece of jewelry while clutching a stack of cash.
Just a month after Rob gifted his lady with a diamond sparkler, the couple confirmed on social media that they are expecting their first child together. "I fell in Love with her immediately because of how great of a mom she is and now I'm looking forward to starting a Family with her !" the reality star wrote on Instagram in dedication to Chyna on Mother's Day.
While their time together as an official couple has been brief, they've been virtually attached at each other's hips since the day Chyna first shared a photo of herself nestled in Kardashian's tattooed arm, documenting "the beginning" to a whirlwind romance. As E! News announced, the duo is set to star in a six-part docu-series and subsequent birth special on E!, sharing their journey to becoming parents together.
Here's a look back on their road to "Yes."