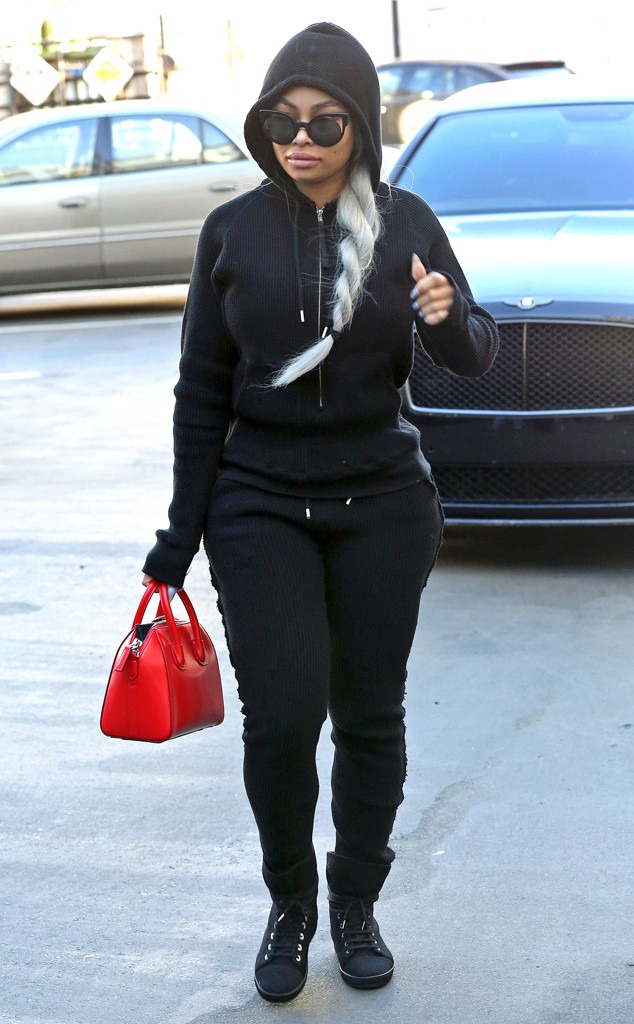 Chiva/SAA/INFphoto.com
These two just can't seem to separate for long periods of time.
Some could argue that Rob Kardashian stepped up for his girlfriend this past weekend after Blac Chyna was arrested for public intoxication as well as possession of a controlled substance.
A source confirms to E! News that Rob drove from Los Angeles to Austin, Texas to pick up his leading lady. He then drove her back home to sunny Southern California where they were spotted together Monday morning in Beverly Hills.
The 27-year-old model was seen arriving at an office building wearing head-to-toe black with a hood and sunglasses on. She added a pop of color to her outfit with a red handbag. Meanwhile, Rob was spotted in his Bentley donning a beard and baseball cap.
The early morning spotting comes after one heck of a drive that wasn't your average trip. When commuting from Woodland Hills, Calif., near the Kardashians' family home to Austin, one would travel more than 1,400 miles.
As for how long the ride would take someone, Mapquest estimates at least 21 hours one way—and that's without any stops or traffic.
Since her release from jail, Blac Chyna has been documenting her freedom on social media.
On Saturday, the model shared a photo of herself standing beside a black Bentley. She added the words "Bye Texas" to the Snapchat.
Later on, she posted more videos of herself riding inside a vehicle as Vanessa Carlton's "A Thousand Miles" played in the background.  Even Rob shared a screengrab of a recent FaceTime between himself and his girl over the weekend.
Chyna is scheduled for a court hearing on Feb. 25.  
New episodes of Keeping Up With the Kardashians return Feb. 14 at 9 p.m. only on E!