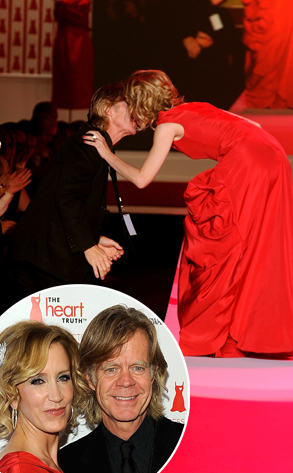 Frazer Harrison/Getty Images for Heart Truth
We spend a lot of time talking about couples, especially ones rumored to be engaged (ahem, Paris and Doug!) or rumored to be splitting (cough, Brangelina!). But every once in awhile, it's refreshing to see a tender moment between a couple still going strong.
Felicity Huffman and William H. Macy may not be tabloid fodder, but they're still totally into each other, and it's just sweet enough to remind us that Valentine's Day isn't just a movie.
Last night, the Desperate Housewives star took to the runway in the Heart Truth Red Dress Collection show at Mercedes-Benz Fashion Week in New York City. Her husband sat in the front row with a smile on his face long before the lights dimmed.
As Felicity stepped out in an Oscar de la Renta creation, we watched as his jaw hit the floor. What he did next was something the fashionistas in Bryant Park don't see every day…