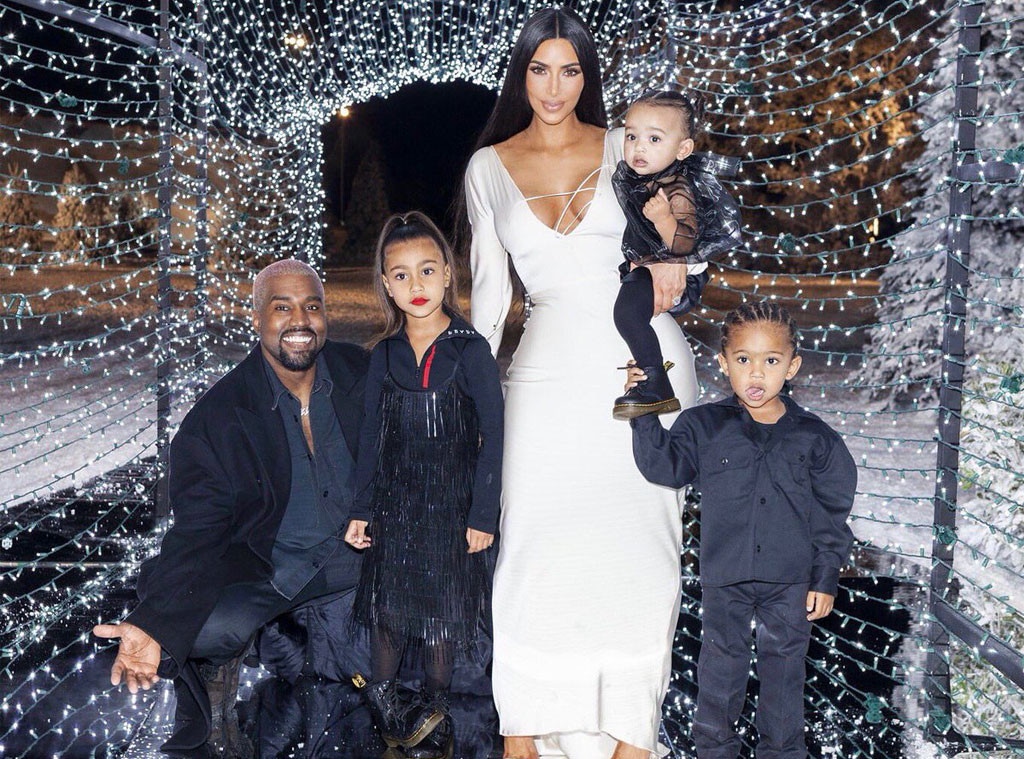 Twitter
Kim Kardashian and Kanye West's family photos from their Christmas festivities were ultra glamorous, but there was one aspect that really stood out.
At just 5-years-old, North West can rock a red lipstick better than most. The Kardashian-West family shared images from a photo shoot at their epic Christmas party and posed in various areas of their spacious home. In one picture, the family of five stood in front of snow-covered Christmas trees as well as an outdoor walkway enveloped in lights. Kardashian turned her home into a bona fide winter wonderland.
Kanye, North, Chicago West and Saint West all wore black outfits while their mom opted for a floor-length, long-sleeve white dress. North and Chicago looked cool in black Doc Martin boots while Saint kept it casual in Vans Toddlers Sk8 Hi Zip sneakers. The main pop of non-neutral color came from North's lips. It made her mom very proud.
The KKW Beauty owner posted their family photos on Twitter and Instagram, but fans had mixed reactions about the 5-year-old's makeup.
One user wrote, "The kid too young to wear lipstick."
In a rebuttal of sorts, another person replied to Kardashian's photo, "North and that red lip is so iconic!"
The latter comment received a lot of love, including a reply from the matriarch herself. "It just might be a new Classic Red Lip I have launch VERY soon," she tweeted back.
An eager KKW fan commented, "WHAT A PLOT TWIST OMG" regarding the new lip color. Apparently, the rouge was all North's decision, not her mom's. Kardashian replied, "She picked it though! It's a special occasion!"
This family snapshot is not to be mistaken with the other, much-anticipated Kardashian Christmas card. The beauty mogul hinted that the big Christmas picture wouldn't happen this year because of some "dramatic" things that happened last year (i.e. a major blowout fight between Kim and Kourtney Kardashian), but the family surprised everyone on Monday with the release.
2018's picture included the moms of the family and their kids. Kim sat with her kids on her lap alongside her sister Khloe Kardashian and her daughter True Thompson, Kylie Jenner and Stormi Webster and Kourtney and her kids Penelope Disick, Mason Disick and Reign Disick. Their brother Rob Kardashian's daughter Dream Kardashian appeared in it too.
Kendall Jenner and Kris Jenner weren't in it because, according to Kim, they "rushed to a meeting after this shoot so this is what we have! As many of us as possible!" Kim explained that the card was "last minute" because "Schedules we're [sic] changing, my husband was in and out of town. But The day of this card last minute realized we were all together so we had all of our kids come meet us."
The 23-year-old embraced the situation and made fun of the fact that she wasn't included in the picture. She went so far as to turn it into a meme. Kendall pasted her face on everyone in the picture and wrote in another Instagram, "HA well this is awkward."
Despite not having the entire family there for the big picture, they all gathered at the Kardashian-West home for the Christmas party and spent Christmas day opening presents with each other. The women all wore matching pajamas, including some identical hot pink Louis Vuitton slippers. True seemed to love her sparkling pink Bentley while Kris showed off her new luggage that had "Rich As F--k" written on it.
Until that new ruby red look comes out on KKW Beauty, we'll just have to live vicariously through North and her glam looks.