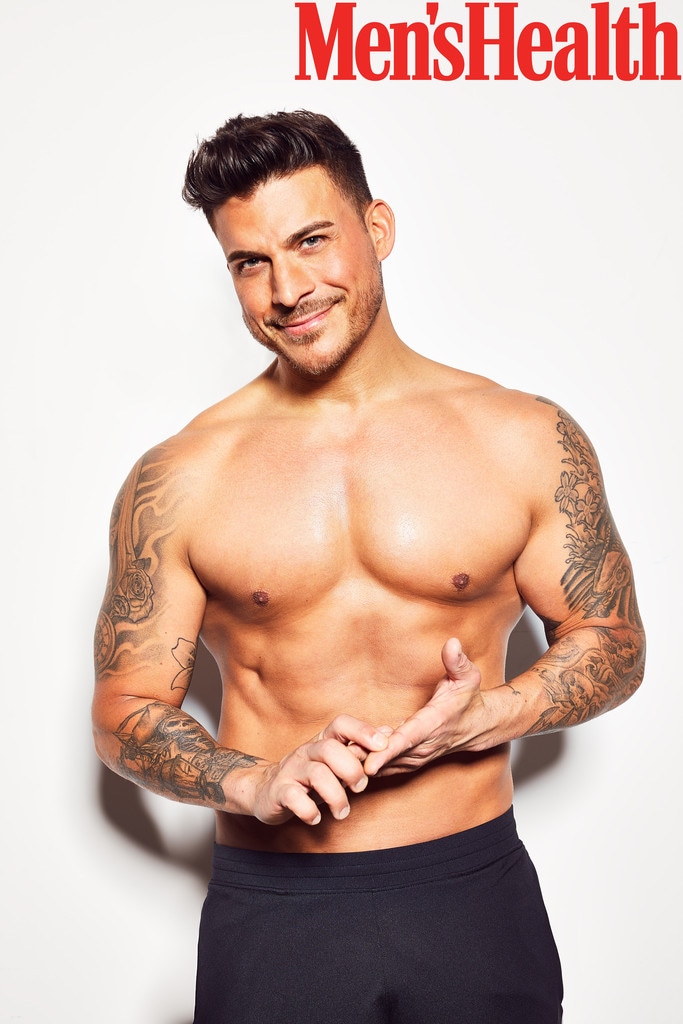 Kathryn Wirsing
Jax Taylor is shedding for the wedding. 
With his summer 2019 wedding to Vanderpump Rules co-star Brittany Cartwright right around the corner, this Bravolebrity is kicking his fitness and diet routine into high gear. Jax, 39, shows off his chiseled physique in the January 2019 issue of Men's Health, where he actually thanks body-shamers for motivating him to lose an impressive 42-pounds across the span of a year. 
"I'm glad they did it," Taylor said of the internet trolls who once attacked his appearance on social media. "I thought, 'Why didn't my friends tell me? Why didn't my own girlfriend tell me this?' I looked disgusting. I was like a butterball. I was not lean. I didn't have the chiseled look that I used to have. I was, like, this has got to stop."
After joining the cast of Vanderpump Rules in 2013, Jax left behind an international modeling career—and with that a commitment to his formerly "shredded" figure. 
"When I started the show, I took a back seat on the gym," he recalled. "I looked great because I was still coming off of the modeling, but the show turned into so much work. We're filming all day. We're also partying all of the time. We're drinking all of the time. I didn't have the time to go to the gym."
Jax ultimately put on 60-pounds over the next few years and tipped the scales at 235. 
"I was eating more crap than I was working out," Jax shared with the mag. "Postmates came out. I can order Doritos from my couch? Making a Murderer marathon is on? I'm not getting off of this couch. I'm going to eat everything in sight. Then you wake up and you're like, 'What is that?' That's my belly."
Unfortunately, it wasn't until Jax suddenly lost his father to cancer in late 2017 that he really began to prioritize his health."I was in a deep rut," he said. "I was literally going to lock myself in a room and do enough drugs to hurt myself."
Jax credits Brittany for helping him turn his grief around, saying, "I'm not going to drink. I'm going to flip this around and make my dad proud. I'm going to go to the gym. We're going to start some businesses. We're going to move up."
Watch:
Brittany Cartwright & Jax Taylor Talk Wedding Castle & More
Now, Jax told Men's Health he works out twice a day for up to five days a week and sticks to chicken, steak, brown rice and protein shakes. 
Brittany has also seen a positive shift in her future hubby, gushing, "He impresses me every single day. Not only by going to the gym and making healthier choices, but by seeing how happy and confident he is now. He has helped me in so many ways to stick to my own gym classes, and being a great gym partner. We diet together and we have amazing cheat meals together. I think he looks so handsome and his dedication to me and to change is so sexy!"
(E! and Bravo are both part of the NBCUniversal family.)