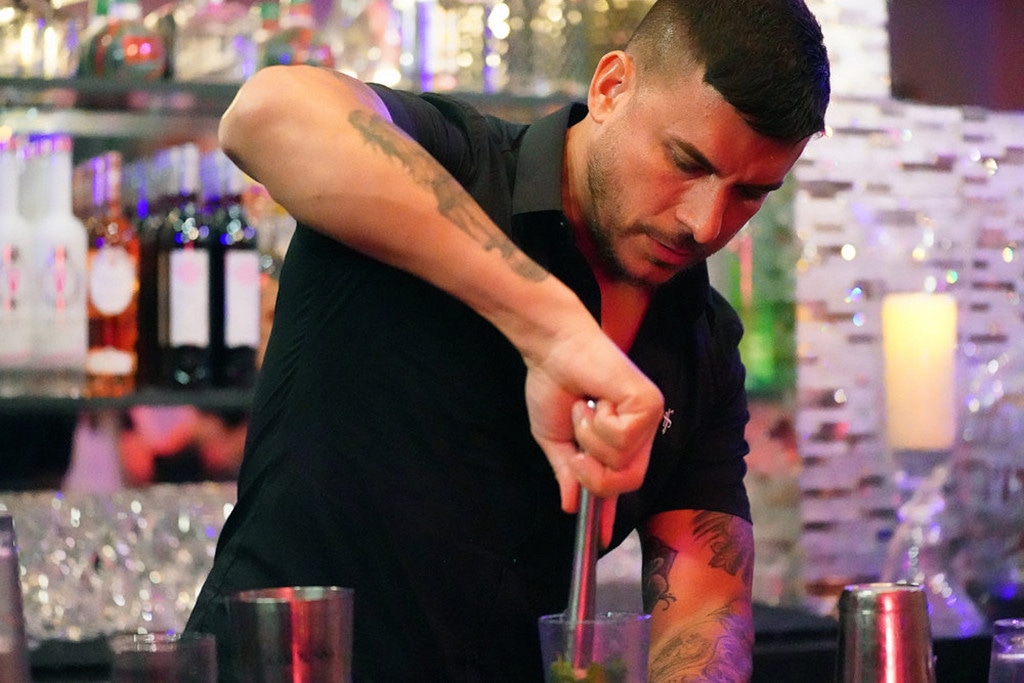 Bravo
What a night for Jax Taylor.
The Vanderpump Rules premiere was kinda all about the former SUR employee as it chronicled the changes he's made in the past year after cheating on Brittany Cartwright. He's a new man, making Brittany sandwiches, buying Brittany tampons, yelling at James Kennedy, buying James Kennedy limited edition underwear, proposing with a lunch tray at a seafood counter (more on that in a second), and once again: buying James Kennedy underwear. 
"Two weeks ago, literally, Jax just bought me some brand new limited edition Supreme underwear," James Kennedy explained in the middle of us watching Jax confront him for a Faith joke James had made in an unseen freestyle rap last Tuesday (this show, man). "Like that's such a nice gesture. Thank you." 
It was quite the throwaway line, accompanied by quick footage of James modeling the underwear in front of a mirror, in the midst of an argument about a thing we didn't see and yet a thing that dominated most of the episode, at least until we learned Jax was about to propose. 
The rest of the gang guessed that the proposal was happening when they found out that Jax and Brittany were going to Malibu before they headed to Mexican restaurant El Coyote, and maybe they were doing the same thing we were, imagining a fancy night out at celeb-infested Nobu. 
But then, Jax and Brittany's ride stopped in broad daylight outside of some Portapotties—the only available restrooms at Neptune's Net. Yes folks, Jax Taylor had brought his future fiancee to a counter-service seafood restaurant to pop the question, but at least he had a plan that made absolutely no sense. 
After he and Brittany ordered their food, he went back to order more food, nervous AF. He demanded that the poor employees tell him exactly when his number would be called, then went back to sit down across from Brittany with a ring box "jabbing him in his balls," shaking and complaining that his jeans were too tight. 
When his order was ready he didn't even go get it, but instead went to a different window and demanded a different tray. He put the ring box on the tray, then took the ring box off the tray before he even got back to the table, making the tray and the arrival of the food completely irrelevant in the end. Brittany seemed cool with it, but that was a whole lot of build-up for what ended up being a ring box sitting on a tray for two seconds. 
Meanwhile, Stassi had so much trouble keeping her mouth shut about the proposal, but it didn't really matter because even when she tried to tell Katie and Kristen that their guesses were correct, and that Jax was proposing, they didn't get it. Did they not know what "intuitive" meant? Or were they just so wrapped up in their sketchy texts that they weren't even listening? Probably both, if we're honest. 
Anyway, we hope Jax and Brittany have a long and happy life together, celebrating their engagement anniversaries over pounds of crab at Neptune's Net for the rest of forever. And same wishes to James and his underwear. 
Vanderpump Rules airs Mondays at 9 p.m. on Bravo. 
E! and Bravo are both part of the NBC Universal family.