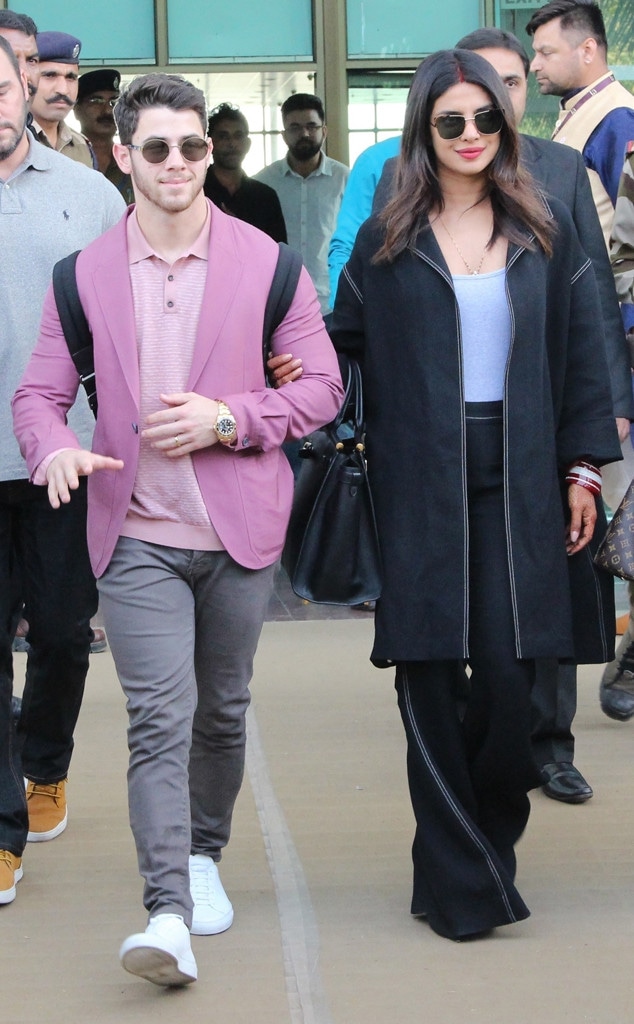 Zed Jameson / BACKGRID
Nick Jonas and Priyanka Chopra are enjoying marital bliss.
The singer and actress have been husband and wife for just over a week now, after tying the knot in India during a Christian ceremony on Dec. 1 and a Hindu ceremony on Dec. 2. Since then, the duo has been sharing loved-up posts on social media and stepping out to attend events together as a married couple.
Priyanka has even adopted her beau's last name since their wedding. Her Instagram account now proudly reads, "Priyanka Chopra Jonas."
So what else has the couple been up to since saying "I do" earlier this month? Let's take a look at Priyanka and Nick's first week as newlyweds!
Post-Wedding Reception: Days after tying the knot, Priyanka and Nick enjoyed a post-wedding reception on Tuesday, Dec. 4, at the Taj Palace Hotel in New Delhi, India.
"Their moods were very jubilant," a source told E! News. "She was happy and addressing everyone in the party. She was also being very accommodating to the photographers. She and Jonas looks like they are on top of the world."
Watch:
Priyanka Chopra & Nick Jonas' First Event as a Married Couple
First Public Event as a Married Couple: On Dec. 5, Nick and Priyanka attended the launch of dating app Bumble in in New Delhi. This marked the duo's first public event as a married couple.
Priyanka, who is an investor in Bumble, was asked about her weekend wedding festivities while at the event.
"I was definitely nervous and scared," she told NDTV. "I've spoken in front of heads of state, I've been on the most prolific stages in the world but I was most afraid on this day. But I think the most special moment was when the curtains opened and I saw him for the first time right at the altar and I was going to walk out and everything just felt right. I think that for me was the most overwhelming moment. I was just like, life's great. Nothing to worry about."
Joe Jonas Speaks Out on Couple's Wedding: On Thursday, Dec. 6, Joe Jonas appeared on the Today show and was asked about his brother's wedding weekend.
"It's been a pretty big week. It's been amazing," the DNCE singer shared. "Marrying Nick off to Priyanka, it's been fantastic. Obviously, this has been one of the most beautiful weddings I've ever seen and to be a part of it was a dream."
"I was the best man and I had a lot of responsibilities," Joe said. "But mostly, it was trying to figure out what and where to be at different times and kind of collecting, he had about 12 groomsmen, so a lot of wrangles."
Talking about his best man speech, Joe revealed, "I kind of blacked out for a minute because I was just overwhelmed with emotion. This is not only my brother, best friend, and to see him marrying his dream girl, there was a lot of tears the whole weekend, and a lot of smiles. So I have it on paper, which was the most important part. It was a special week."
Getting Into the Holiday Spirit: With Christmas just weeks away, Priyanka got into the holiday spirit by watching Elf for the first time. Nick shared a sweet video with his fans of his wife watching the movie on Monday.
Marital Bliss: The couple is currently enjoying some relaxation time together, as seen in Priyanka's most recent Instagram snap.
"Marital bliss they say," Priyanka captioned a selfie of her and Nick getting cozy, adding a heart eyes emoji, a heart emoji and a kiss mark emoji.