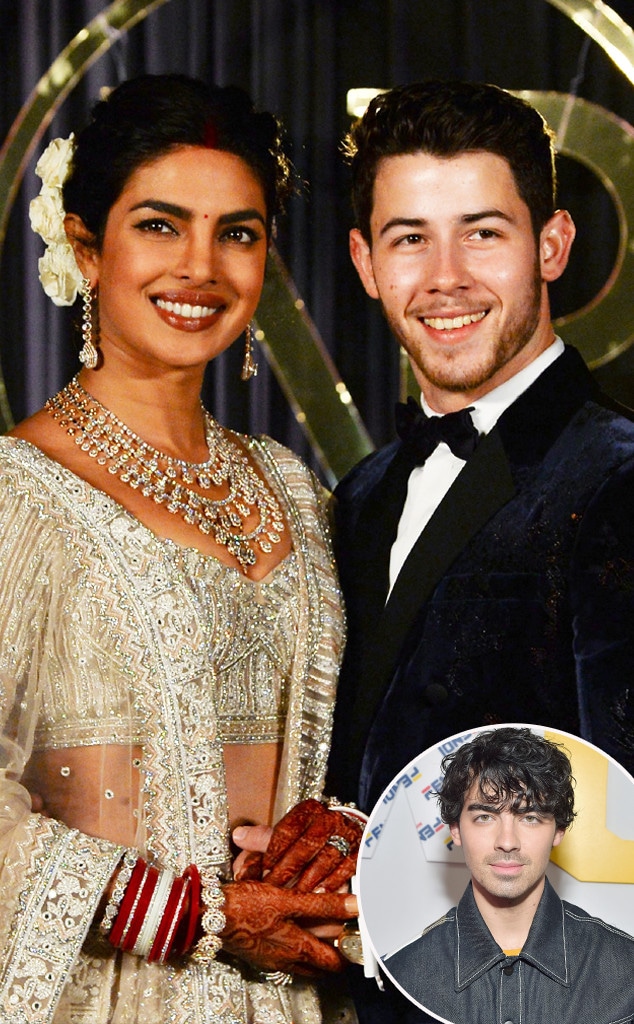 SAJJAD HUSSAIN/AFP/Getty Images, Stefanie Keenan/Getty Images for Fendi
Joe Jonas says taking part in brother Nick Jonas and Priyanka Chopra's wedding was a "dream" and that he was "overwhelmed with emotion" while giving his best man's toast speech.
The 36-year-old actress wed the 26-year-old pop star in her native India this past weekend. Nick and Priyanka exchanged vows first at a Christian ceremony performed by the brothers' dad, then had a traditional Hindu wedding the following day.
"It's been a pretty big week. It's been amazing, "the 29-year-old DNCE singer said on NBC's Today show on Thursday. "Marrying Nick off to Priyanka, it's been fantastic. Obviously, this has been one of the most beautiful weddings I've ever seen and to be a part of it was a dream."
"I was the best man and I had a lot of responsibilities," Joe said. "But mostly, it was trying to figure out what and where to be at different times and kind of collecting, he had about 12 groomsmen, so a lot of wrangles."
Joe said his best man's toast was "pretty good."
"I kind of blacked out for a minute because I was just overwhelmed with emotion," he said. "This is not only my brother, best friend, and to see him marrying his dream girl, there was a lot of tears the whole weekend, and a lot of smiles. So I have it on paper, which was the most important part. It was a special week."
Earlier on Thursday, Joe posted on Instagram a photo of Nick and Priyanka at their Christian wedding ceremony, writing, "Super Married! I Love You Both! Welcome to the Family Pri! Congratulations! My face hurts from all the smiling this week." 
Nick and Priyanka had plenty of pre-wedding events, where the bride and groom and their guests wore traditional Indian attire. At one of them, the Sangeet, Joe performed a song onstage and the guests had a dance-off.
"The Sangeet is a beautiful Indian tradition, a few days before the wedding, where you put on a performance," Joe said on the Today show. "And they have the most incredible performers in her family and a lot of friends and family that are Bollywood stars, so for us to go out there and think we know what we're doing, even though we had some songs that we could sing from our past, there still was a lot of dancing that we were trying to pick up in a week's time...They definitely crushed us. They won the Sangeet."
And Joe is next; he and fiancée Sophie Turner are expected to wed next year.
"I definitely took some notes but that week was all about them, just celebrating the two of them, and that's what it was about for us, and experiencing it and looking back and you're just in awe," Joe said on the Today show. "My time will come but I'm thrilled for the two of them."