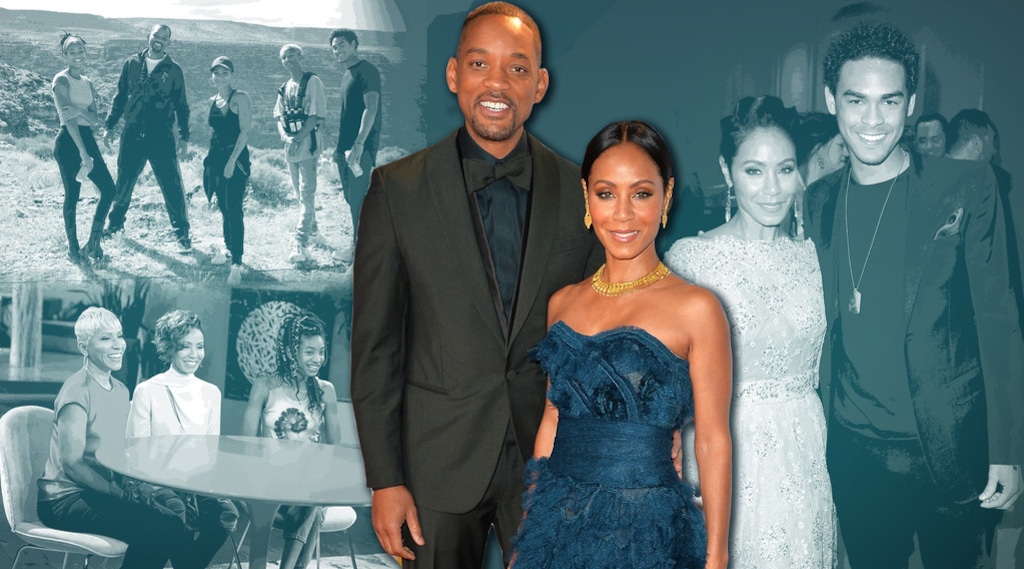 E! Illustration
Forget jiggy, Will and Jada are now getting .giffy with it. 
In just the last year, Will Smith and Jada Pinkett Smith have quietly-but-quickly become one of the most popular and successful power couples on social media, each making their mark on a different social platform in a major and game-changing way. And it's not just them, as the entire Smith family, including Jaden Smith and Willow Smith, as well as other members, have helped the superstar pair grow their online empire, making them the true first family of the Internet. 
And as they celebrate their 21st wedding anniversary, we're looking back on how they came to become the King of Instagram and the Queen of Facebook, all while keeping it refreshingly real about their relationship struggles and sharing some of their sweetest family moments with millions of people.
Jada's talk show Red Table Talk premiered on May 7, co-hosted by her 18-year-old daughter Willow, and her mother Adrienne Banfield-Norris, and—surprising some people—it launched on Facebook Watch.
The premise was simple but impactful: "Three generations of women open their home for a series of candid conversations with family and friends."
4.2 million followers later and 29 million views for the show's debut episode (and counting) later, the raw and honest talk show has become a must-watch in the category, consistently making headlines for its insightful interviews and moments. The show even became a finalist for The Daytime Talk Show at the 2018 People's Choice Awards, the only newbie to make the list.
In a time when it seems every person-famous or not—is living just to go viral, Red Talk Table manages to always feel authentic and genuine, with Jada offering sometimes harsh truths about her life, marriage and parenting that celebrities often don't share.
In one episode that made headlines, Jada invited Gabrielle Union on the show to address and end their silent 17-year feud.
"This is a very special show for me, because what I decided to do was make this about creating a new girlfriend," Jada said on the episode. "Gab and I, we had a bit of a break, we don't know how, and she's been open to this healing, she's been open to this conversation."
But it's when the issues hit home that Red Table Talk truly shines.
And the three women openly discuss sex, love, faith, sobriety, mental health, conversations some are still not used to having with our own families.
"It's more like an extension of our conversations when we're alone and just how we are with each other naturally," Willow told Harper's Bazaar.
In an episode featuring her son Jaden, 20, she looked back on "one of the most heartbreaking moments of my life," which was when he asked to move out of the family home when he was just 15.
"I think parents have to give themselves much more forgiveness," Jada said during the episode as she fought back tears. "When you become a parent, you have these huge ideals, even for yourself, because we all are coming into parenting with our own childhood traumas. And you're hoping you can fix all that through your own rearing of your children, and you can't. Your kids are gonna have their burdens. And even though I see how it might have hurt you, it's what I knew."
In a December episode, Jada and her brother Caleb addressed the domestic abuse their mother endured during their childhood at the hand of their father.
"And eventually, we will be having a show about colorism within the African-American community...we're going to have to go there," Jada told Harper's Bazaar, which picked the three hosts to grace their first-ever digital cover, about tackling the deeply personal topic.
In the same interview, Jada talked about using Red Table Talk to help women own their power.
"Whether it's empowering people to have the lives they want, or empowering people to protect the environment, we're ensuring people have a voice."
And she is well on her way, according to the show's executive producer even going so far as to say Jada could very well be the next Oprah Winfrey, something many people have claimed they've wanted to be or were going to be since her talk show ended.
"Since my time with Oprah, many, many people have come to me saying, 'I want to be the next Oprah.' Well, that's not going to happen," Ellen Rakieten, who worked with Oprah for 23 years, told the magazine. "When I left my first interaction with Jada, I was like, 'Oh, oh.' I had that feeling."
Given Red Table Talk's smash success and the box office domination of her comedy Girls Trip in 2017, it's safe to say that 30 years into her career, Jada is just getting started.
"I'm in my late 40's. This is the time that they send you out to pasture," she told Harper's Bazaar. "Don't let people tell you that you're too old. That it's over, 'cause that's a lie."
While Jada is busy taking over Facebook, her husband has quietly caused a revolution on Instagram since joining in December 2017.
Since then, he's posted 333 times, amassing over 26 million followers, and his page has been hailed as "the only good thing about 2018." (We clearly agree.) 
Arguably one of the biggest movie stars in the world, he explained in an Instagram video commemorating his first 10 million followers that he had avoided social media for most of his career "because in the past, to be a movie star you needed mystery and separation."
Fortunately for us, Will quickly got rid of the mystery, and rather than using the social media app as another tool to promote his projects, he turned it into can't-miss-content that is high in quality and authenticity.
While Jada is inviting fans to the table for intimate family discussions, Will is bringing them along on family vacations and holiday celebrations—much to the chagrin of his wife and kids at times. Who can forget when he sassed Jada by telling her, "Look pretty for my IG and get me followers!"? Her response? "You need to delete that Instagram...it's taking over your life." (Fortunately for us, he didn't listen.)
He's participated (and then totally won) viral social media challenges, like his infamous #InMyFeelings video over the summer (even Drake declared him the winner), and even started his own, kicking off the #PiggyBackChallenge in October, recruiting Jaden for the endeavor.
"I saw this Father in @Target with his Child on his shoulders... I got Jealous," he wrote to his followers. "Fathers out there... Y'all ready for the #PiggyBackChallenge?"
Will has no issues being "that dad" on Instagram, always up for posting about his children's accomplishments along with always being up for embarrassing them. 
He also is OK with sharing an epic Throwback Thursday post, sharing Fresh Prince of Bel-Air memories and questionable fashion moments. Plus, he broke major news on his page, confirming Bad Boys 3 is officially happening. 
Will even turned his 50th birthday celebration into one of the biggest social media events in 2018, documenting the ultimate adventure: Bungee-jumping from a helicopter (heli-jump) over the Grand Canyon.
Ahead of the big jump, Will had been documenting his preparations for months, even recruiting Tom Cruise (famous for doing his own helicopter stunts) for some help.
When the time came for the big jump, Will jumped over to YouTube to stream the event, which was attended by his whole family, including Jada, Jaden, Willow and Trey Smith, his son from his first marriage.
He even gave a pre-jump interview to his Fresh Prince of Bel-Air co-star Alfonso Ribeiro.
Will's daring 50th birthday stunt stemmed from a dare from Yes Theory. "I've had a whole lifetime of feeling squashed and squelched and controlled by fear," the actor said. "There's nothing worse than walking around scared."
And in case you ever doubted just his popular Will is in Hollywood, he received birthday messages from stars such as LeBron James, Rev Run, DJ Khaled, Jimmy Kimmel, Eva Longoria, Michael Strahan and more. 
But when Will and Jada come together on social media, well, that's where the magic  truly happens.
21 years of marriage later, Will and Jada are still a work in progress—something they are open and honest about, revealing the intimate, sometimes ugly and ultimately inspiring details of their relationship during Will's two-part visit to Red Table Talk in October.
Will revealed there was a time in their marriage where he was "failing miserably, but on the outside I was winning... I had a public perception that I wanted to project of our relationship, of the family, of my wife, of what the kids are, what we are in the world."
In reality, "There was a period where mommy woke up and cried 45 days straight," he revealed, adding he realized his wife was "sacrificing herself to fit my picture."
Another breakthrough moment for Will was when Willow, then 9, said to him, "Isn't it sad? Daddy has a picture of a family in his mind and it's not us."
Everything changed for the couple when Jada turned 40, and had what she called "a mid-life crisis," and reached her breaking point after Will stages a very public and admittedly over-the-top birthday celebration for her.
Jada explained she just wanted "intimate time" to reflect on the extravagant video he made for her, and asked him to cancel any other plans he had made. Will then admitted he "snapped in front of Willow, only time in her childhood, she ever saw me snap and I saw her look and Willow starts crying. I was like, 'Baby, I'm sorry.' She's like 'Just figure it out! You guys, please, just figure it out!'"
For Jada, the incident proved to be a defining moment, teaching her to have the "courage to just say no."
"I had to have the courage to unravel it and just realizing that this next 40, I've got to do it my way," she said. "This next half has to be directed by picture for myself."
She continued, "There was so much that wasn't me that I was living. So much in-authenticity. I do think that there are a lot more people who are living lives that are not true to them because of their fear. So I understand, there's no judgment, I did it."
Despite all of the drama and darker times in their marriage, Will and Jada "never" considered divorce an option.
"I had never seen a divorce lawyer. Like that was never—it never crossed my mind," Jada revealed, despite endless media repors, with Will, who had divorced his first wife Sheree Zampino Fletcher in 1995 (who was also Red Talk Table's first-ever guest), adding, "I had been divorced before, I wasn't getting divorced again. Divorce wasn't an option."
Instead, Will took two years off of work for a different kind of work.
"I worked on myself. I've read 50 books on marriage and relationships and behavioral psychology; I was not going to fail in this marriage," the Aladdin star said. "But I shut down for two entire years to see what was I doing wrong."
And it was necessary to fix their relationship, as Will explained, "I was devastated even worse than a divorce. We broke up within our marriage and got back together again and had to rebuild with new rules—something way completely different."
Now, the power couple doesn't even consider themselves "married" as their connection goes far beyond that.
"We don't even call ourselves married anymore," Jada shared. "It's a life partnership in the sense that we've created a foundation together that we know is for this lifetime."
And they're sharing it for the world to see...even if it might by TMI for some. 
But for Will and Jada, they have always open and honest with their children, choosing to share their own experiences and struggles, like Jada looking back on dating Will so soon after his divorce with a bit of regret, rather than provide advice. 
"They have to find their way in regards to that, because I'm gonna tell you, you gotta be real careful with that because if anybody was in their right mind, they would've told me not to date Will when I did," Jada told E! News in October. "He was in the middle of a divorce! Fresh! I would not suggest anybody do that."
Still, she said she does instate some boundaries when it comes to parenting. 
"I know when I have to put those boundaries down as 'Mommy,'" she said. "My kids respect me and I respect them. It's not really difficult to transition from the parenting role into friendship role."
And her mother Adrienne couldn't help but gush over Jada's bond with her children. 
"When you called Jaden yesterday—I was listening to the conversation—they talked probably for an hour," she told E News. "She's like that with all her kids. It's amazing." 
And that includes Trey, Will's now 26-year-old son with his first wife, Sheree. In a video from the Red Table Talk live series, Jada debunked divorce myths with psychotherapist Stacey Kaiser, explaining her her relationship with Trey lead to her relationship and friendship with Sheree. 
"One of the coping mechanisms for me was Sheree. She gifted me. She really did, she gifted me and I treated her, I started to put that into my psychology—'She's not an enemy,'" Jada said. "She did me a favor, but then on top of that I had to go on to a deeper psychology of 'She's Trey's mother' as my relationship with Trey deepened."