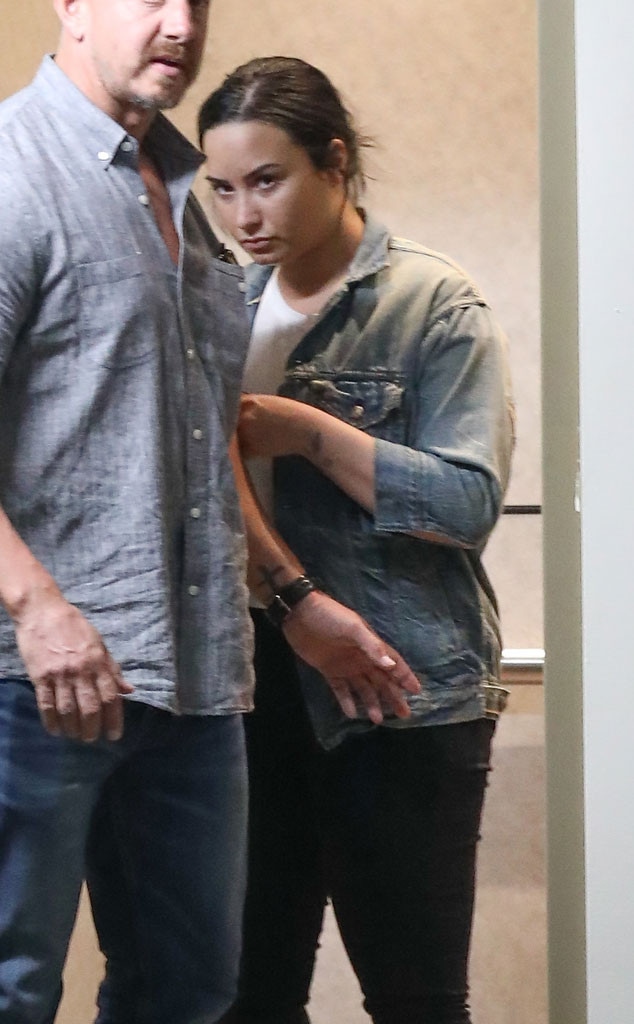 BACKGRID
Demi Lovato is "very focused" on her health as she continues to work on her sobriety.
It's been four months since the "Skyscraper" singer was hospitalized after suffering an overdose. Lovato later entered rehab, where she remained until early November, when she was spotted out to dinner with designer Henry Levy in Los Angeles. But a source tells E! News the two are not dating, rather he's been helping her through her recovery and "serving as her sober companion."
"Demi wants to be around people who are like-minded and Henry is good energy for her," the insider shares. "They spend a huge amount of time together but Demi is not focused on dating. Demi is very focused on her health."
"She's been working out with a trainer several days per week, eating right, and truly has a whole different mindset," the source adds. "She has been following all of the steps and guidelines put in place by her specialists."
On Thursday, an eyewitness told E! News they saw Demi entering a "private wellness center where she attends meetings and therapy sessions." The 26-year-old truly seems to be truly dedicated to her health since she spent over three hours at the facility. And we're told this is part of Demi's weekly routine.
And it helps that Demi has a support system who encourages her to stay on the path she is on. "She seems committed to staying healthy and having the right people around her," the insider said. 
"Demi has been spending a lot of time with her family. She stays majority of her time with her mom. She has mandatory check-ins with doctors often, and is being heavily supervised in her sober facility," the insider continues. "It's not a permanent home for her but she spends a chunk of her week there."
Following her hospitalization, Lovato's ex-boyfriend, Wilmer Valderrama, was spotted visiting her on multiple occasions. And, now that Lovato is out of rehab, Valderrama "checks in on her often," according to our source.
"They have seen each other since she's been staying in L.A., but it's not a consistent thing," the insider shares. "Demi doesn't want any distractions but appreciates the endless support from Wilmer."
Another insider tells E! News that Henri Alexander has "wanted to meet Demi for several years."
Watch:
How Wilmer Valderrama Has Stood By Demi Lovato
"Demi was one of the first celebrities to wear Henri's clothing label about five years ago and that's when she first came to his attention," the source shares. "He had always appreciated her for wearing his clothes early on in his career."
"Friends are hopeful he and Demi are working on their sobriety together," the insider adds. "Demi is fully committed to her sobriety and is planning on staying out of the public eye for the time being."
(This story was originally published on Fri, Nov 16, 2018 at 1:52 PM E.T.)