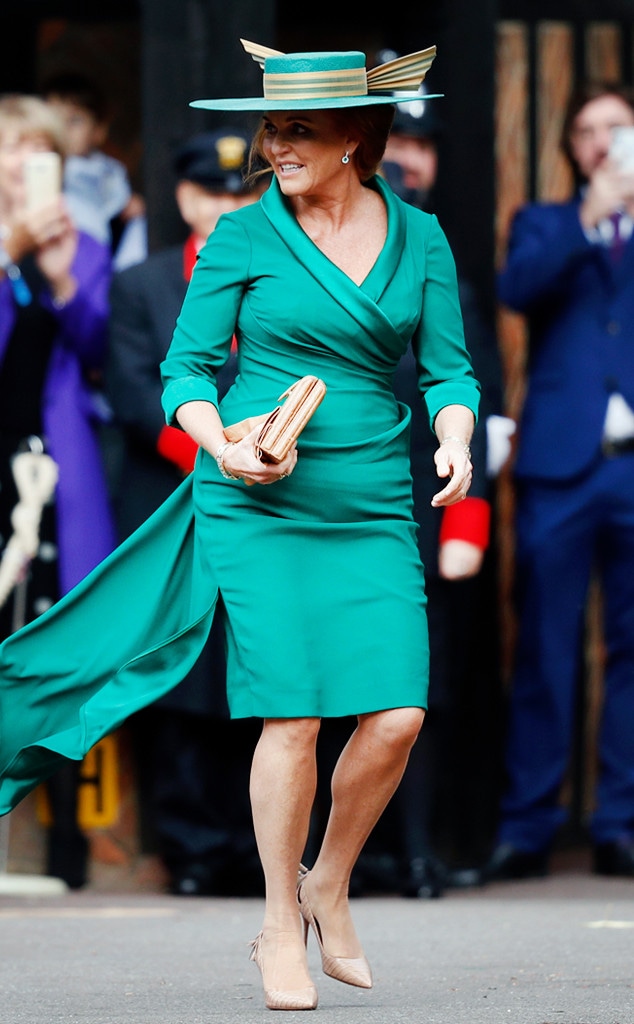 Adrian Dennis/Pool via AP
Sarah Ferguson is staying silent no more.
The mom of Princess Eugenie and Princess Beatrice spoke with Daily Mail for one of her first lengthy interviews in many, many years. In her chat with Daily Mail, Ferguson, who is also known by the moniker "Fergie," discussed her relationship with her ex-husband Prince Andrew, Duke of York and her two daughters. She and Prince Andrew divorced in 1996 but the two of them maintain a cordial relationship, despite her being shunned from much of the royal family.
Fergie boasted about her ex-husband. "July 23, 1986 was the happiest day of my life. Andrew is the best man I know. What he does for Britain is incredible; no one knows how hard he works for his country," she said. "Although we are not a couple, we really believe in each other. The Yorks are a united family. We've shown it. You saw it at the wedding."
Although she and Prince Andrew separated in 1996, she paints their relationship to be extremely amicable. "We're the happiest divorced couple in the world. We're divorced to each other, not from each other," she told the Mail.
However, it isn't that way with every royal. In 2010, Fergie was revealed to have offered a hefty sum of money for inside access to her ex and the family. Fergie was not invited to Prince William and Kate Middleton's wedding, but she did make an appearance at Prince Harry and Meghan Markle's May 19, 2018 nuptials.
Over the past few months, Fergie and her family have spent a generous amount of time at St. George's Chapel at Windsor Castle. Her youngest daughter, Princess Eugenie, married Jack Brooksbank at St. George's Chapel in a beautiful, fall-themed wedding on Oct. 12.
Fergie looked delighted the entire time at the wedding, as any mother of the bride would be. She talked about one of the most poignant moments from the celebration. "My proudest moment was watching Eugenie standing tall, very proud to show her scoliosis scar in her low-backed dress. I'd gone to all the fittings and sat there beaming with delight, and because there was no veil it was a very strong statement," she said. 
Princess Eugenie's wedding dress revealed her scar from a surgery she had when she was 12.
Fergie has previously discussed how eager she is to become a grandmother one day soon. "They are thrilled because I write children's books and I'm a child," she said in an interview with BBC One. "I haven't grown up."
Read Fergie's full interview with Daily Mail here.