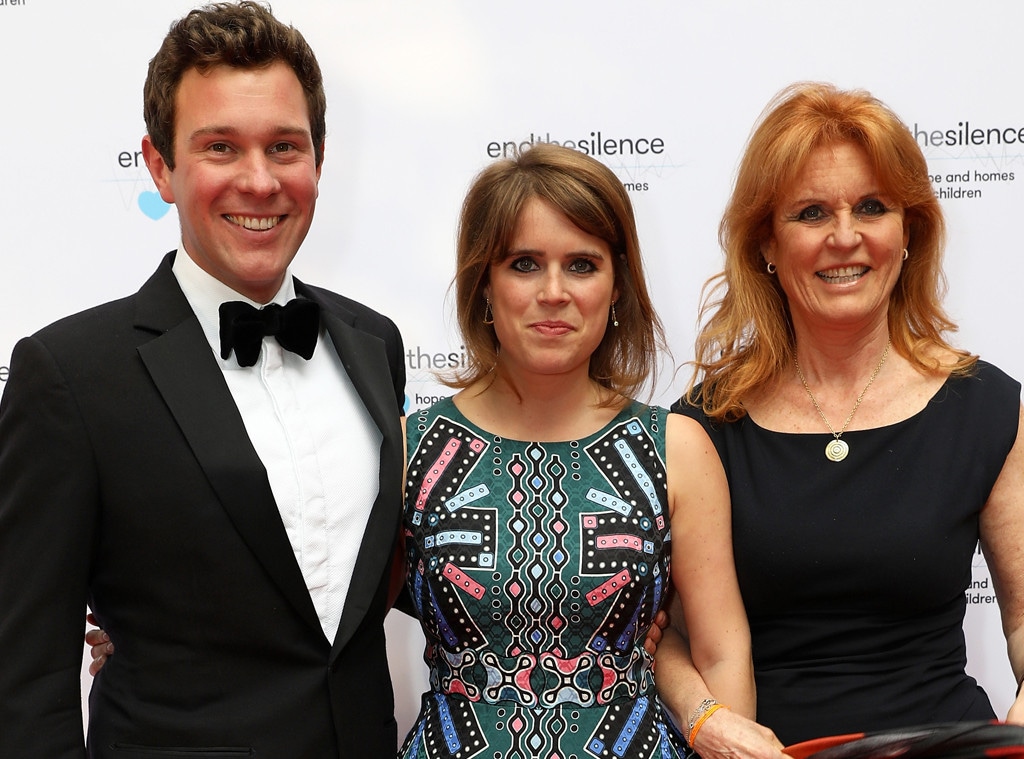 David M Benett/Dave Benett/Getty Images for Hope and Homes for Children
Sarah, Duchess of York is fully embracing her role as the Mother of the Bride ("MOB") before her daughter Princess Eugenie's wedding.
Sarah Ferguson—more popularly known as "Fergie"—dished out details to BBC's The One Show about the princess' wedding and how excited she is to finally become a grandmother. Princess Eugenie and fiancé Jack Brooksbank are set to tie the knot at St. George's Chapel at Windsor Castle, the same aisle Meghan Markle and Prince Harry walked down just a few months ago.
During her interview with The One Show, Fergie gushed over Brooksbank. "Jack is an amazing bringer of light and he brings joy," she said. 
GARETH FULLER/AFP/Getty Image
Where Brooksbank brings joy, Eugenie brings a sense of order. She explained to The One Show, "Eugenie is very controlled, she is so sorted. She knows exactly what she wants."
A major part of what Eugenie and Brooksbank want is an environmentally-conscious wedding. In a recent interview with British Vogue, the princess discussed how she's working on lowering her carbon footprint: "My whole house is anti-plastic now—and Jack and I want our wedding to be like that as well."
Fergie's role is more than just mother of the bride. She says she'll be "the best" mother-in-law to Brooksbank. He works for George Clooney's tequila brand Casamigos, which Fergie finds ideal for both of them. She told BBC, "He'll just hand me the tequila and say, 'Come on mother-in-law and down it!'"
The Duchess of York also opened up about family dynamics. Fergie and Prince Andrew, Duke of York divorced in 1996 after 10 years of marriage, but the parents of Princess Eugenie and  maid of honor Princess Beatrice appear on good terms. Fergie has even shared a number of photos of Prince Andrew on Instagram, including one of them smiling and laughing together at the Royal Ascot. The Duke and Duchess are using that same rapport when it comes to planning and attending the wedding. "The thing about Andrew and I is that we go with our hearts, we go with family unity. We really believe in that," she said. 
Fergie can't wait until the day she becomes a grandmother. Eugenie and Brooksbank feel enthusiastic about it, too. "They are thrilled because I write children's books and I'm a child," she said. "I haven't grown up."