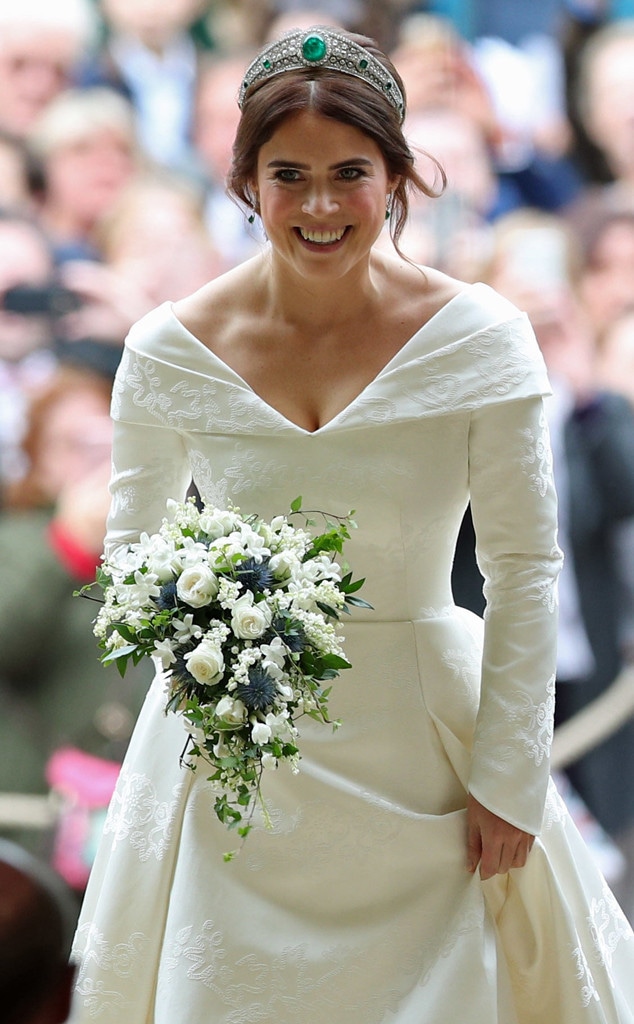 Yui Mok/PA Wire
And they lived happily ever after.
Wearing a Peter Pilotto and Christopher De Vos dress and the Grenville Emerald tiara, a resplendent Princess Eugenie married Jack Brooksbank today in a dazzling, fall-inspired wedding ceremony. The smiling couple recited their vows at St. George's Chapel at Windsor Castle; since 1863, the 14th century chapel has hosted 16 royal weddings—most recently, the May 19, 2018 nuptials of Prince Harry and Meghan Markle, the Duke and Duchess of Sussex.
As a wedding gift, Jack had emerald earrings specially made for his bride.
Eugenie's dress intentionally exposed the scar she received from her scoliosis surgery at age 12. "I think you can change the way beauty is, and you can show people your scars," she said on ITV's This Morning, just days before the wedding. "I think it's really special to stand up for that."
Rob Van Helden did the floral arrangements, using foliage and flowering branches sourced locally from Windsor Great Park, combined with roses, spray roses, hydrangeas, dahlias and berries. Rob said it had been the "greatest privilege and honor" to create the flowers, adding Eugenie was "very involved from the start and has been instrumental in the autumnal theme."
The couple hired Alex Bramall to be the official photographer at their wedding; he will set up portraits at Windsor Castle following the service. "It is an honor and a privilege to be invited to photograph Princess Eugenie and Jack on this most special of days," said Alex, who previously snapped Eugenie for the U.S. edition of Harper's Bazaar in 2016. "I look forward with great excitement to capturing this significant occasion and wish them both a happy future together."
Eugenie's mother, Sarah Ferguson, and her sister, Princess Beatrice, arrived at the west door and were greeted by David Conner, the Dean of Windsor. After they were escorted to the quire, Jack and his best man, brother Thomas Brooksbank, trickled in and met the reverend. Eugenie's uncle, Prince Charles, arrived at the Galilee Porch, followed by her grandmother, Queen Elizabeth II; as is custom, she received a standing ovation and a fanfare was sounded.
Members of the British Royal Family came out in full force, with Meghan, Prince Philip, Duchess Kate Middleton, Prince William and Zara Tindall among some of the revelers. Out of the 800+ guests, standouts included Richard Baker, Derek Blasberg, Cressida Bonas, James Blunt, Naomi Campbell, Jimmy Carr, Chelsy Davy, Cara Delevingne, Poppy Delevingne, David Emanuel, Tracey Emin, Julian Fellowes, Stephen Fry, Pixie Geldof, Ellie Goulding, Heather Kerzner,  Ricky Martin, Pippa Middleton, James Middleton, Demi Moore, Kate Moss, Liv Tyler, Holly Valance, Jack Whitehall and Robbie Williams.
Beatrice, 30, and Thomas assisted as the maid of honor and best man. Prince George, 5, and Louis de Givenchy, 6, were pageboys, while Princess Charlotte, 3, Isla Philips, 6, Savannah Philips, 7, Mia Tindall, 4, Theodora Williams, 6, and Maud Windsor, 5, served as bridesmaids. Lady Louise Mountbatten-Windsor, 14, and Viscount Severn, 10, acted as special attendants.
Amaia Arrieta (of Amaia Kids) designed the bridesmaids dresses' and pageboy's uniforms, taking special care to incorporate the Mark Bradford artwork included in the Order of Service.
The windy weather proved to be too much for Louis, who tripped up the stairs.
In addition to attracting members of the public into the grounds of Windsor Castle, the couple invited representatives from charities and organizations The Big Cat Sanctuary, charity:water, Elephant Family, Key to Freedom, The Print Room at The Coronet, Project 0, Royal National Orthopaedic Hospital, The Salvation Army, Street Child, Supporting Wounded Veterans, Tate Young Patrons, Teenage Cancer Trust and The UN Trust Fund to End Violence Against Women.
As the world watched the happy day unfold, Prince Andrew escorted his daughter down the aisle as pianist Peter Roper-Curzon played Johann Sebastian Bach's "Pièce d'Orgue, BWV 572." In his introduction, the reverend noted that marriage is "an honorable estate, instituted of God himself, signifying unto us the mystical union that is betwixt Christ and his Church." Should anyone disapprove, David added, "Let him now speak, or else hereafter forever hold his peace."
Thankfully, no one spoke up, and the televised wedding ceremony went off without a hitch. During the next hymn, Andrew, Eugenie, Jack and Thomas were led through the Quire Gates. "I require and charge you both, as ye will answer at the dreadful day of judgement when the secrets of all hearts shall be disclosed, that if either of you know any impediment, why ye may not be lawfully joined together in matrimony, ye do now confess it," David continued, speaking to the couple directly. "For be ye well assured that so many as are coupled together otherwise than God's word doth allow are not joined together by God; neither is their matrimony lawful."
Upon seeing his bride, Jack told Eugenie, "You look perfect."
Next came the vows—which Eugenie altered by omitting the word "obey," a tradition the late Princess Diana started (and Kate and Meghan followed). "I, Eugenie Victoria Helena, take thee Jack Christopher Stamp, to my wedded husband, to have and to hold from this day forward, for better, for worse: for richer, for poorer; in sickness and in health; to love and to cherish, till death us do part, according to God's holy law," Eugenie said. "And thereto I give thee my troth."
After a blessing and exchanging of the rings, David said, "For as much as Jack and Eugenie have consented together in holy wedlock, and have witnessed the same before God and this company, and thereto have given and pledged their troth either to other, and have declared the same by giving and receiving of a ring, and by joining of hands; I pronounce that they be man and wife together." Andrea Bocelli then performed "Ave Maria" with the orchestra, conducted by Carlo Bernini. Next, Charles Brooksbank did the first reading (Colossians 3:12–16), followed by Beatrice, who read a passage from F. Scott Fitzgerald's book The Great Gatsby.
The reverend later said the Great Gatsby passage was selected as it "immediately" made Eugenie think of Jack. "That's why it had a special place as our second reading in today's wedding service. The words that particularly reminded her of Jack concerned Gatsby's smile."
Bocelli performed yet another song, bringing tears to many people's eyes, followed by more blessings and hymns. The ceremony ended with "God Save the Queen," followed by the newlyweds' procession as Luke Bond played Louis Vierne's jubilant "Symphony No. 1, Op. 14."
After walking outside the chapel, Eugenie and Jack shared a sweet kiss as the crowd cheered.
Next, the couple got into a Scottish State Coach, pulled by four Windsor Grey horses, for a carriage procession through Windsor, which is expected to be shorter than Harry and Meghan's. They'll then head to Windsor Castle, where the Queen is hosting breakfast in their honor. Later that night, a private reception will be held in the Windsor Park Lodge. Guests are invited to a casual second reception at the same venue Saturday, hosted by Eugenie's parents.
This was the wedding of Eugenie's dreams—and rightfully so, with its reported $3.5 million price tag. Eugenie and Jack were interviewed by ITV This Morning hosts Eamonn Holmes and Ruth Langsford shortly before tying the knot, where they reminisced about meeting on a ski trip in Switzerland. When Eugenie laid eyes on him, she laughed at his "silly hat," wondering, "Who's that?" Then, he "came over and shook my hand and I was all butterflies and nervous."
"I remember being like, 'I really, really like this guy. I really want him to like me too,'" she said. "And then you gave me this huge windscreen wiper wave and that was it: 'Right. He likes me.'"
Eugenie acknowledged it had been "nerve-wracking" to plan their wedding, "but at the end of the day," she said, "you get to marry the person you love. Looking at her fiancé, she laughed and said, "You're going to be at the end of the aisle—and I'm going to be running towards you!"
Jack assured the hosts his bride-to-be wasn't a "bridezilla" in the course of the last 10 months. "Eugenie has been amazing," the groom gushed. "She has the ability to do a million things at once in her brain, including working, as well as organizing everything to do with the wedding."
Before the wedding, Andrew quipped to This Morning, "I haven't been father of the bride, so I don't know what to expect!" Admitting he'd been fairly hands-off in the planning stages, he noted, "It doesn't make any difference who you are—all the approvals go through The Queen."
After announcing their engagement in January, they also gave an interview to BBC 1's Matt Baker, where Eugenie showed off her dazzling pink sapphire engagement ring. Jack revealed he'd proposed during a trip to Nicaragua—without a ring, he said, as he "didn't want to do anything until Eugenie had signed off on it." Before the proposal, however, he had selected a padparadscha sapphire stone. When they returned to the U.K., they designed the ring together.
Reflecting on the proposal, Eugenie said, "The lake was so beautiful. The light was just a special light I had never seen. I actually said, 'This is an incredible moment,' and then he popped the question, which was really surprising, even though we have been together seven years. I was over the moon—a complete surprise! But it was the perfect moment. We couldn't be happier."
"It was amazing," Jack concurred. "I love Eugenie so much, and we're very happy."