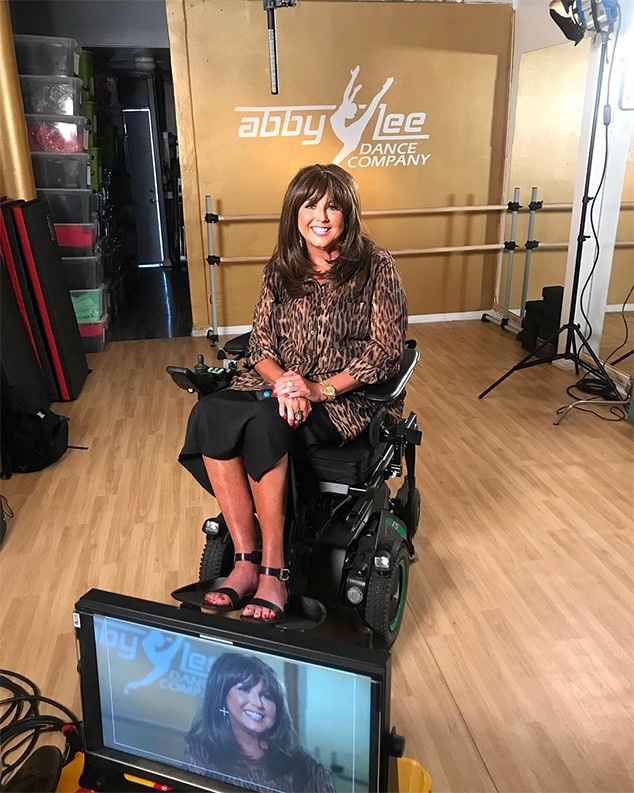 Instagram
Abby Lee Miller is back in front of the TV cameras as she continues battling cancer.
The 52-year-old, who rose to fame as the star of Lifetime's Dance Moms, is filming a documentary amid her treatment for Non-Hodgkin's Lymphoma, E! News has learned. On Tuesday, she posted on her Instagram page a photo of her smiling while sitting in a wheelchair, surrounded by a light and a monitor, at her Abby Lee Dance Company studio, where her reality show is filmed.
"Grrrrrrrr!!!! Back to the daily grind," she wrote. "Comment if you can guess what we're shooting today? #abby #abbyleemiller #abbylee #dance #tvshow #dancemoms."
Lifetime has not commented on Miller's return to the Dance Moms set. Last year, Miller quit the series amid a dispute with the channel and production company, several weeks before she was sentenced to one year in prison for concealing bankruptcy assets and not reporting an international monetary transaction. In April 2018, a month after her release, she revealed she has been diagnosed with Non-Hodgkin's lymphoma.
In July, there was a casting call that stated that Miller was casting new talent for Dance Moms. Lifetime did not comment on it.
Meanwhile, Miller is continuing her cancer treatment.
"Abby is just doing her best to try to be positive," a source told E! News. "She still can't walk and had to do that one last round of chemo for precaution per her doctors. She is done with the chemo though and she had some tumors in her back removed but there are some still there. She is trying to get through her treatment."
"She's been busy shooting her documentary, which has kept her occupied," the source added.
Miller has had two spinal surgeries since her diagnosis and in July, she revealed that she has undergone five rounds of chemotherapy. In September, she completed treatment at a rehab clinic and returned to her home in Los Angeles.
"She's going to try to work again but it will be hard given her physical condition," another source told E! News at the time. "She can't walk at this point and she doesn't know if she'll ever be able to walk again but she's known this was a possibility for months now."
Miller's former dance students, including those who have appeared on Dance Moms, have rallied behind her amid her illness and some had visited her in the hospital.
In October, Miller celebrated her 52nd birthday at a luncheon with family and friends, including over a dozen of her Dance Moms students, such as JoJo Siwa, who was accompanied by her mother, Jessalyn Siwa.
"Had such a great time at my party @bucadibeppo I hope you did too!" she wrote on Instagram. "Thank you for sharing in my celebration & for all the beautiful gifts!"