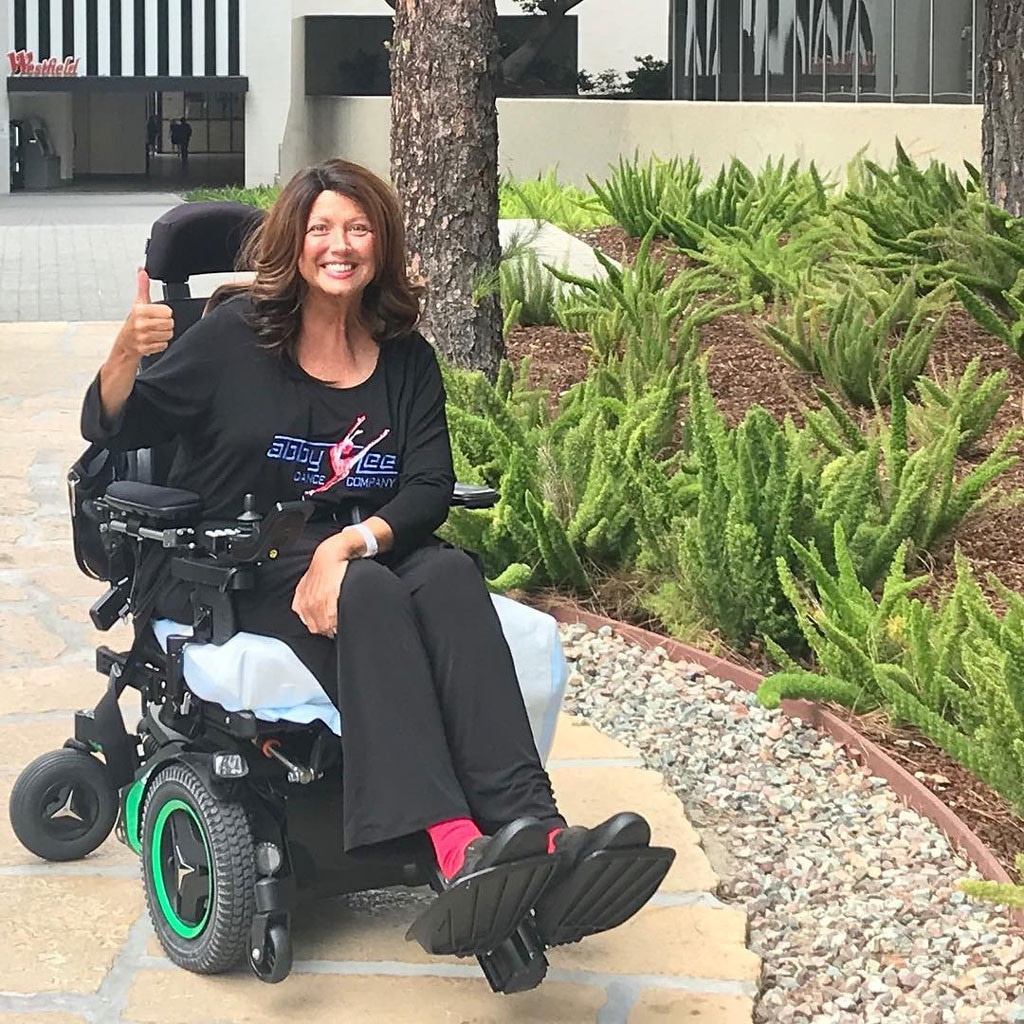 Instagram
Abby Lee Miller's health journey and road to recovery is still continuing.
A source confirmed to E! News that Miller is "ending her rehab and is going to be staying at her house in L.A." 
The insider added, "She's going to try to work again but it will be hard given her physical condition."
On April 17, the Dance Moms star had emergency spinal surgery to remove what was initially thought to be an infection on her spine. A rep for her surgeon Dr. Hooman Melamed told E! News that day that the mass could have led to paralysis or death if it was not operated on. One day after surgery, Miller was diagnosed with a form of non-Hodgkin's lymphoma, known as Burkitt lymphoma. 
Just days ago, Miller's doctor told her that there was a chance she "may never walk again." The dancer is, according to another source, "vowing to beat this and not only walk, but dance again."
The first insider told E! News that Miller has completed chemotherapy. "She can't walk at this point and she doesn't know if she'll ever be able to walk again but she's known this was a possibility for months now," they said.
In June, Miller underwent a second surgery and shared a picture on Instagram of the stitches in her back. "My back is finally on the mend. I just wish the top section & bottom would hurry along too! I had 52 staples perfectly aligned and now a bunch of crazy stitches are holding my neck & lumbar region together!" she wrote.
After her initial cancer diagnosis, Miller also took to the social media platform and shared a picture from her hospital bed. She said in the picture, "So much gratitude and love for those who listened,those who looked deeper and those who leapt into action. So much more I wish I could say......about how quickly your life can change at the hands of others."
In March, Miller was transferred from federal prison in Victorville, Calif. to a halfway house in Long Beach, Calif. In June 2016, the Dance Moms cast member pleaded guilty to concealing bankruptcy assets and not reporting an international monetary transaction. She was sentenced to a year and a day, with her original release date being June 21.
Some of Miller's Dance Mom students visited her in the hospital, but it doesn't just end there. The insider told E! News she "has the support of one or two of the dance moms."