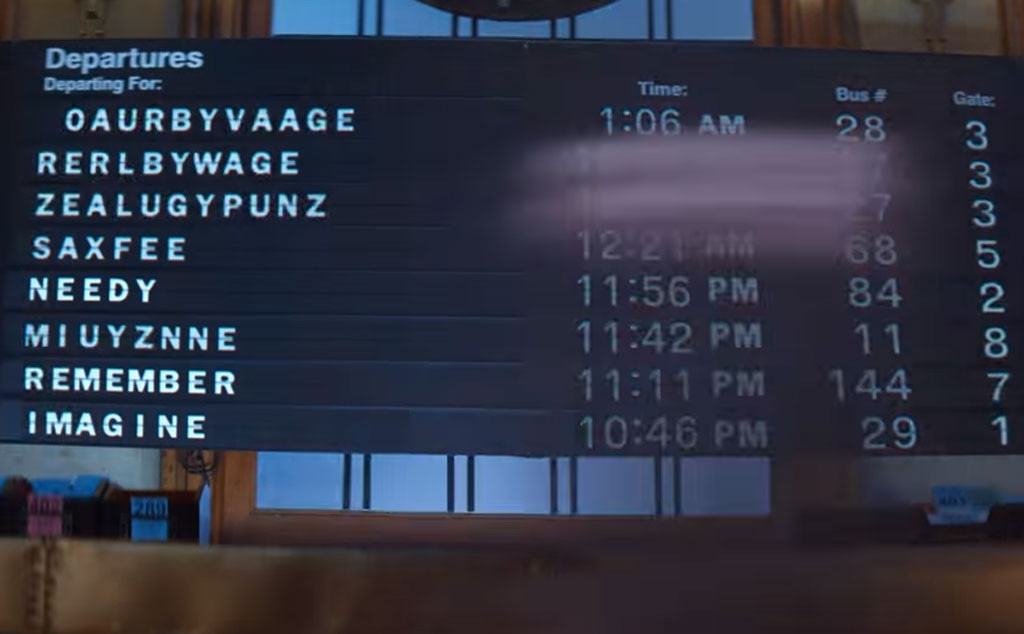 YouTube
It appears that Ariana Grande has revealed a few of the song titles of her upcoming album.
The 25-year-old singer dropped her latest visual off of her Sweetener album on Wednesday, the dreamy music video for her song "Breathin," directed by Hannah Lux Davis. "thank u for this beautiful visual @hannahluxdavis," Grande tweeted Wednesday. "i love u always." The video opens with Grande at a bar as she sings, "Some days, things just take, way too much of my energy/I look up and the whole room's spinning." As she makes her way out of the bar and into what appears to be Union Station in Los Angeles, Grande gets lost in a crowd of people catching their train or bus, as time passes her by. While there, the camera flashes to a bus departure list, which shows the titles "Needy," as well as "Remember" and "Imagine," which are rumored track titles for Grande's new album, "Thank U, Next."
This new video comes just days after the release of her latest hit song, "Thank U, Next." Grande dropped the song on Saturday evening, shortly before her ex-fiancé Pete Davidson took the stage on Saturday Night Live to address their breakup. Davidson is mentioned in the track, along with Grande's exes Big Sean, Ricky Alvarez, and the late Mac Miller.
"Thought I'd end up with Sean, but he wasn't a match/Wrote some songs about Ricky, now I listen and laugh," Grande sings on the track. "Even almost got married, and for Pete I'm so thankful/Wish I could say 'thank you' to Malcom, cause he was an angel."
Shortly after the song's release on Saturday, Davidson paid tribute to Grande during "Weekend Update" on SNL. "I know some of you are curious about the breakup, but the truth is, it's nobody's business and sometimes things just don't work out, and that's OK," Davidson, 24, said to the camera. "She's a wonderful, strong person and I genuinely wish her all the happiness in the world. Now please, go vote on Tuesday, alright?" 
Check out the complete "Breathin" video above!