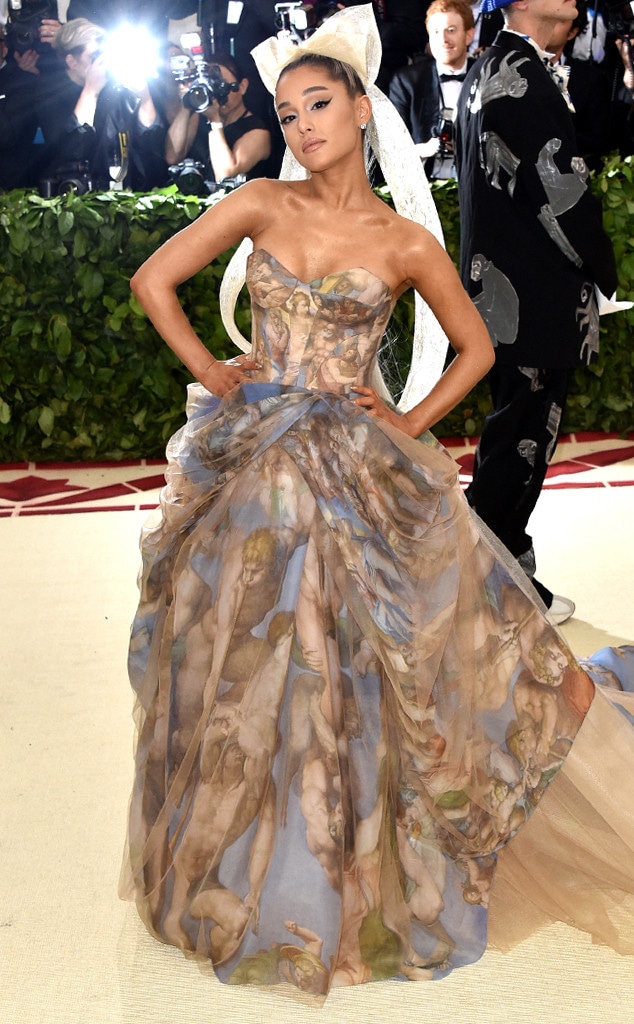 John Shearer/Getty Images
To all other movies: thank you, next.
Ariana Grande is heading to The Ellen DeGeneres Show on Wednesday and the show's host Ellen DeGeneres and Grande both shared snippets of the performance. It will be Grande's first time performing her new song "thank u, next" live. In her tweet, DeGeneres wrote Grande "is performing exclusively tomorrow. thank u, ariana. thank u, next."
Next: on to Grande's description of her performance. The "God Is a Woman" singer posted a video and a few photos from Ellen alongside her co-writers of the song and back-up singers, Tayla Parx and Victoria Monet. What's striking about Grande's upcoming performance on Ellen is that she, Parx and Monet are all wearing white and the stage decorations are made to look like a wedding. There's even a massive cake behind her. 
The attire and decor decisions are extremely intentional, of course. In one of her photos, Grande captioned the picture of the three of them "first wives club 2018..."
Her caption "first wives club" refers to the film The First Wives Club, which starred Dianne Keaton, Goldie Hawn and Bette Mildler. Each of those stars got tagged in her photo, too. The film is about women seeking revenge of their exes and prioritizing their relationships with each other. In the final scene of the movie, Keaton, Hawn and Midler sing "You Don't Own Me" and they, too, are dressed in all white and at a wedding venue.
No subtleties get past Grande.
In her song "thank u, next" Grande refers to getting married and having a wedding. She and Pete Davidson recently ended their engagement, hence her allusion to the big day. "One day I'll walk down the aisle / Holding hands with my mama," she sings in the final verse. "Only wanna do it once, real bad / Gon' make that s--t last."
The anthem also preaches self-love, which she sings about in the second verse. "I ain't worried 'bout nothin' / Plus, I met someone else / We havin' better discussions / I know they say I move on too fast / But this one gon' last / 'Cause her name is Ari / And I'm so good with that," she croons.
The "Bang Bang" singer revealed that her exes, who she mentions by name in the first verse, heard the song before its release on Saturday. The song begins, "Thought I'd end up with Sean / But he wasn't a match / Wrote some songs about Ricky / Now I listen and laugh / Even almost got married / And for Pete, I'm so thankful / Wish I could say 'thank you' to Malcolm / 'Cause he was an angel."
In the days and hours leading up to the song dropping, Grande interspersed song lyrics and other info about the tune on Twitter. For instance, in one message, she wrote, "'m so .... f--kin ..... grateful." That line referred to Davidson, who she wrote about in a subsequent tweet.
Grande, however, wanted to ensure her listeners and followers that "thank u, next" was not meant to be a clap-back or revenge song. She called it "far from a diss track" and proclaimed it was "the opposite."
Since its Saturday night release, "thank u, next" has skyrocketed to the top of the charts and broke Spotify's single-day record for a female artist in the U.S. and globally. To top it all off, she was named Billboard's Woman of the Year. 
She's clearly saying "Next" to any obstacles that come her way.