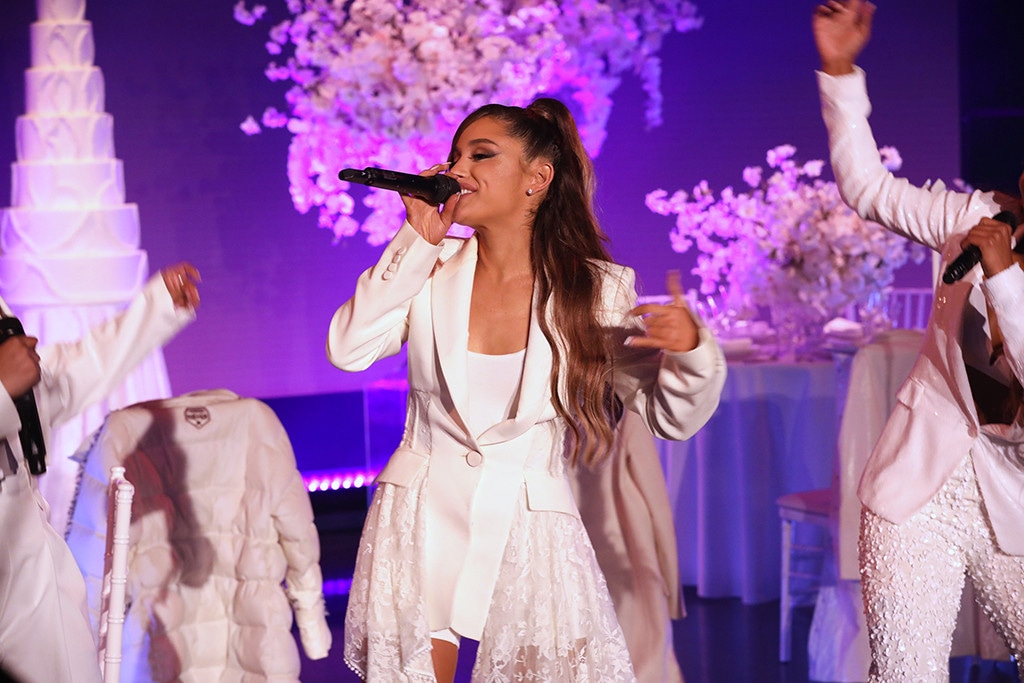 Michael Rozman/Warner Bros.
Ariana Grande isn't perfect—nor does she pretend to be.
In Wednesday's episode of The Ellen DeGeneres Show, the 25-year-old pop star performed her new single, "thank u, next," for the first time on TV. The First Wives-inspired number featured Grande and her backup singers, Victoria Monét and Tayla Park, wearing all white at a wedding.
The trio's choreography mimicked the finale from the 1996 comedy starring Goldie Hawn, Diane Keaton and Bette Midler as three friends who sought revenge on their lousy husbands.
(In an Instagram sneak peek Tuesday, Grande tagged herself as Hawn, Monét as Keaton and Park as Midler. Both Grande and Ellen DeGeneres shared a preview clip via social media, too.)
During the second verse, Grande stood on one of the chairs to sing, "Spend more time with my friends / I ain't worried 'bout nothin' / Plus, I met someone else / We havin' better discussions." After stepping down, the high-heeled diva stumbled and shouted, "Oh, my God!" But without missing a beat, the pop star managed to recover and laugh at herself. She then resumed the performance, singing, "This one gon' last / 'Cause her name is Ari / And I'm so good with that."
Grande could have redone her performance, as it was pre-taped on Tuesday. But why should she? If she's learned anything from her breakup with Pete Davidson and Mac Miller's untimely death, it's that a sense of humor will get her through just about anything. Still, Grande fought back tears during the bridge. "One day I'll walk down the aisle / Holding hands with my mama / I'll be thanking my dad / 'Cause she grew from the drama," she sang. "Only wanna do it once, real bad / Gon' make that s--t last / God forbid something happens / Least this song is a smash."
After the performance ended, a proud DeGeneres told Grande, "Thank you for being here. That was amazing! That was awesome. You've had a rough year. We all love you. We support you. Most importantly, the name of the CD is Sweetener—and you are all going home with her CD!"
Grande also performed her hit single "Breathin" in Wednesday's episode.