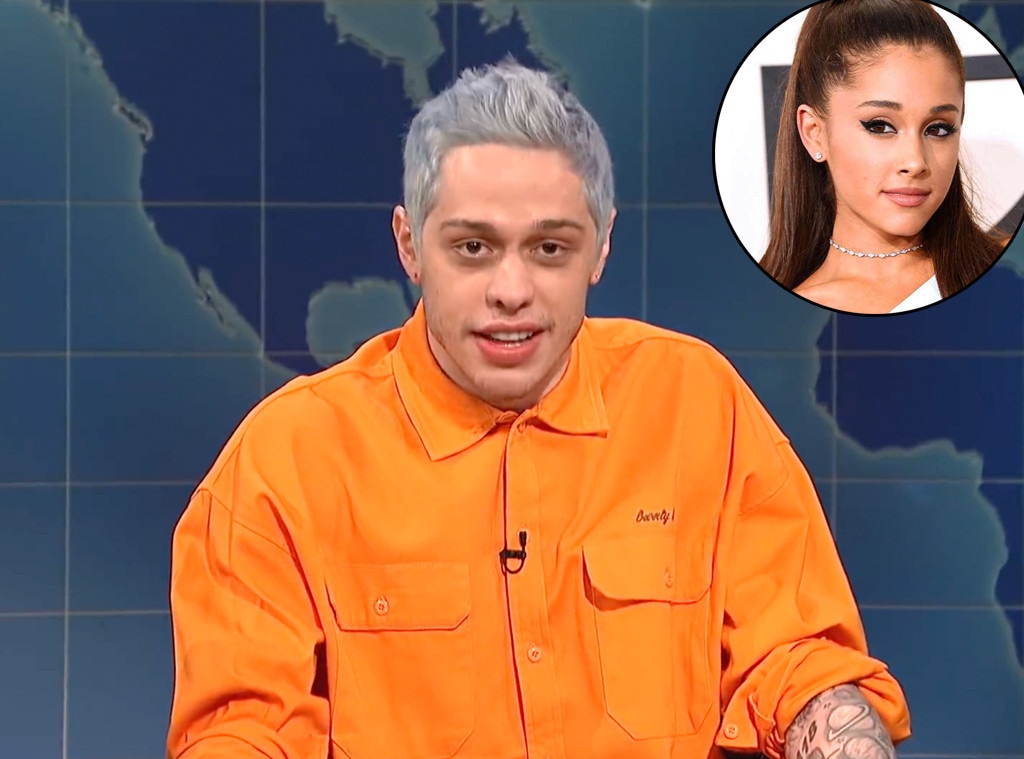 NBC; Getty Images
Pete Davidson had nothing but kind words to say about his ex-fiancée Ariana Grande on SNL, which aired live less than an hour after she released a breakup song that references the comedian by name.
The two split in October after a whirlwind summer romance and in recent days, things got a little messy between them; He joked about their broken engagement on a promo for Saturday's episode of SNL, which spurred her to clap back at him on Twitter. She then teased her new single, "Thank u, Next," from an upcoming album of the same name, and released the song just before the show aired. Fans of the once-popular couple waited with bated breath to see if Davidson, who doesn't use social media much, would respond to her comments on the air.
"I know some of you are curious about the breakup, but the truth is, it's nobody's business and sometimes things just don't work out, and that's OK," Davidson, 24, said on SNL's Weekend Update. "She's a wonderful, strong person and I genuinely wish her all the happiness in the world. Now please, go vote on Tuesday, alright?" 
Earlier on SNL, host Jonah Hill performed in an opening monologue sketch that showed him joining the famous SNL Five-Timers Club and hanging out in their room with fellow Five-Timers Tina Fey, Drew Barrymore and Candice Bergen, who remarks that she will have another "Pete Davidson" drink. When asked to explain what that is, she said, "Well, all I know is it's got a lot going on, but it gets the job done."
Davidson appeared to be in good spirits during the taping and was also all smiles as he headed to the weekly SNL after-party.
In the SNL promo that angered Grande, Davidson jokingly proposes to musical guest Maggie Rogers, and when she turns him down, he says he is "0 for 3." After the clip aired on Thursday, Grande, 25, tweeted, "For somebody who claims to hate relevancy [you] sure love clinging to it huh...Thank u, next."
A source told E! News at the time that the singer and Davidson had "made an agreement that they would not address their relationship or discuss it after they split up. He violated that agreement and it really hurt her."
Davidson, who had also joked about their breakup onstage at a comedy show last month, did not violate any agreement, another source said, adding that the joke he made in the SNL promo was not about Grande, but was rather self-deprecating.
Watch:
Pete Davidson Breaks Silence on Split With Ariana Grande
Davidson, who like many comedians, jokes about his personal life onstage, had also poked fun at his and Grande's relationship on SNL on its season 44 premiere episode in late September. During Weekend Update, he referenced a love song the singer had released titled "Pete Davidson" and joked about a possible breakup.
"You know, I don't even get royalties for that 'Pete Davidson' song?" he said. "Like, if we break up, and we won't—we will—but we won't. I'm kidding. But like, in 10 years if God forbid that ever happened, there will be a song called 'Pete Davidson' like playing in speakers at K-Mart and I'll be working there."
In Grande's new song "Thank u, next," she sings not only about Davidson but also about other exes, including Mac Miller, who died a month before her and the SNL star called it quits.
"Even almost got married / And for Pete, I'm so thankful / Wish I could say, 'Thank you' to Malcolm / 'Cause he was an angel," Grande sings. "Thank you, next (Next) / Thank you, next (Next) / Thank you, next / I'm so f--kin' grateful for my ex."