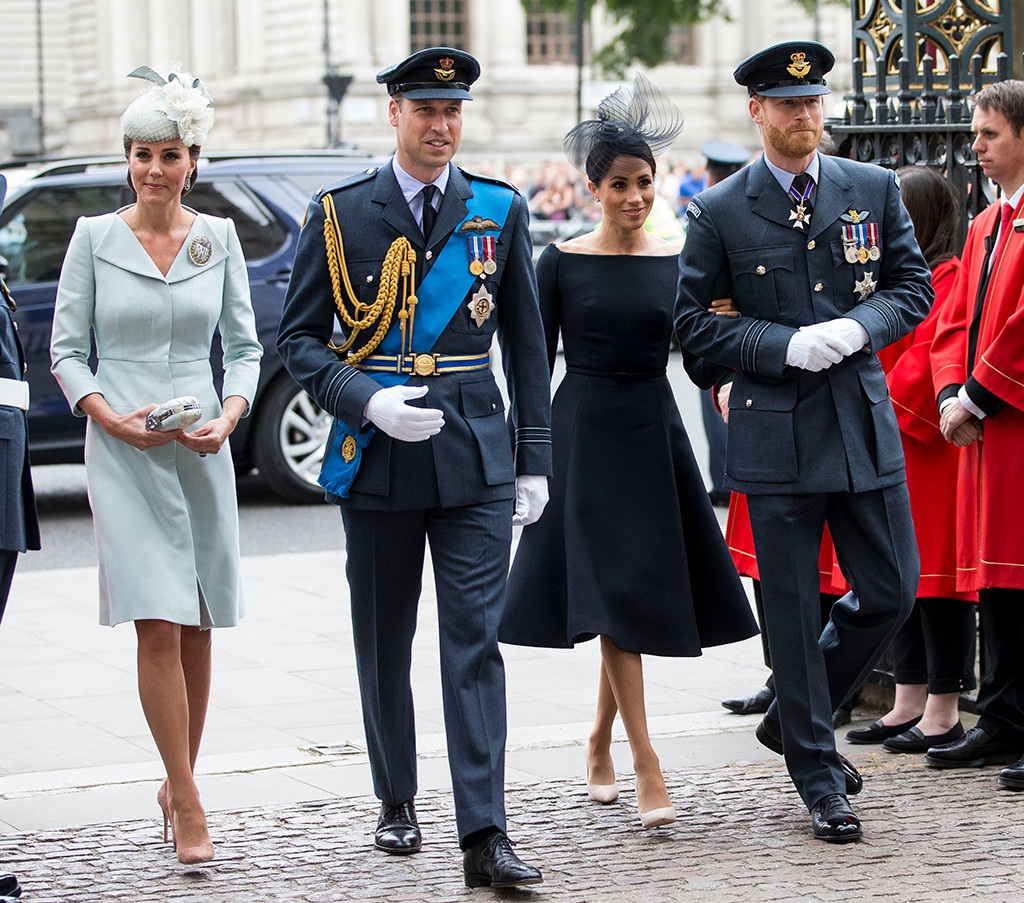 DAVID HARTLEY/Shutterstock
Unlike most kids, Prince Harry never speculated about what he was going to be when he grew up.
From a young age it was painfully apparent what his final job would be. And while he, like most male members of The Firm, was afforded a fruitful decade-long stint in the British army even briefly making his way to the front lines in Afghanistan, eventually he settled into his forever role as a professional royal. Determined to make the gig more than just shaking hands and holding a title, he carefully researches the charities he involves himself in, each cause falling into one of three camps. 
The first are those that honor the legacy of his late mother, Princess Diana, say, his charity Sentebale that he formed with Lesotho's Prince Seeiso, which translates to "forget me not" and works to help children in the African nation most vulnerable to HIV and his patronage with anti-landmines charity the HALO Trust. "I intuitively know what my mother would like me to do and want to progress with work she couldn't complete," he shared in a sit-down with Newsweek's Angela Levin in 2017.
The next is work that supports his grandmother, Queen Elizabeth II, who, he notes "has been fantastic in letting us choose" which of her duties they'd like to absorb. "She tells us to take our time and really think things through." 
And, finally, there's anything that falls under the Royal Foundation umbrella, the organization he and Prince William set up in 2009 to champion the causes they are both equally passionate about. William's wife Kate Middleton joined after their 2011 vows and now the trio has expanded to include Harry's bride Meghan Markle as well. Gathering last February for their first annual forum, the group talked about the work they intend to do together to modernize the monarchy and change the world and what it's really like to serve side-by-side with your siblings and in-laws. As Harry joked, "We're stuck together for the rest of our lives." 
Well...mostly. 
Chris Jackson - WPA Pool/Getty Images
Some five months after The Sunday Times' first reported the brothers were interested in creating separate courts "as their future roles with Kate and Meghan diverge," that plan has been officially set in motion. 
In a statement released last week, the palace shared that "The Queen has agreed to the creation of a new household for the Duke and Duchess of Sussex" to be put in place this spring as they welcome their first child. The new household will come with a fresh communications staff (former Hillary Clinton campaign advisor Sara Latham will head up Meghan and Harry's team while Jason Knauf will work as senior advisor to the Cambridges) and a new locale—based out of Buckingham Palace rather than Kensington, where Will and Kate live just two miles away.
Which, admittedly, kind of sounds like a breakup—particularly with royal filmmaker Nick Bullen telling Fox News that all the noise about dueling duchesses was actually due to the fact that brothers William and Harry were having a bit of a squabble. "All brothers fall out. All families fall out," explained Bullen, whose worked closely with Prince Charles as he developed various programming about the family. "Their fallout at the moment is becoming public."
Andrew Lloyd / SplashNews.com
Still, while the siblings may not be in the best place ever, the split has much more to do with Harry and Meghan wanting to stretch their royal legs as they close in on their first anniversary. Some 10 months in, Meghan has more than found her place in The Firm and is eager to, as she once put it, "hit the ground running." 
William's role in the monarchy has been set since the day he was born—not only will he, in all likelihood, sit atop the British throne, he and Kate need to prep tiny Lion King-loving Prince George, 5, for the reality that one day he will be king as well. But as the so-called "spare heir", set to welcome children far enough down the lineage not to have to worry about such a huge responsibility, Harry is afforded more freedom. 
Currently sixth in line for the monarchy, he's unlikely to ever find a crown on his head, a chance that will diminish even further when his nieces and nephews grow their families. 
During his younger years, a time when he was admittedly acting out, unsure of how to handle all the emotions he felt about the premature death of his mom, that translated to some less than savory behavior, his bad boy antics amounting mostly to one really poor costume decision and a wild night that should have stayed in Las Vegas. But now his position in the line of succession means he and Meghan have a great deal more leeway to set their own agenda in tackling the causes that are close to them. 
Just not quite as much as they had hoped. 
An activist since age 11, when she famously launched a letter-writing campaign to get a sexist dish soap advertisement stripped from the airwaves, Meghan was hoping to continue her brand of advocacy as a duchess and key in on certain charities and humanitarian organizations. As such, she and Harry lobbied for their House of Sussex to be given total autonomy within the royal family, a request that was firmly shot down by the monarch and her son Charles, The Sunday Times reports. 
"They wanted their household to be entirely independent of Buckingham Palace, but were told 'no'," a source told the paper. "There is an institutional structure that doesn't allow that kind of independence. The feeling is that it's good to have the Sussexes under the jurisdiction of Buckingham Palace, so they can't just go off and do their own thing."
Even with those restrictions in place, though, royal insiders predict the parents-to-be will be forging a decidedly unique path. "The arrival of Meghan has changed the dynamic of the relationship in a fairly significant way," royals author Sally Bedell Smith told People. "It is inevitable and practical because it gives Harry and Meghan some freedom to build up their own collection of interests and charities."
Continued the writer, "Meghan has very strong views on what she is interested in and that may be what Harry shares, but not what William and Kate share."
Born just 27 months apart, the pint-sized princes often had a joint viewpoint in their early years. Growing up in the fishbowl setting that was Kensington Palace created a unique, only-we-can-truly-understand-what-we've-been through bond between the siblings. Throw in a devastating tragedy experienced when William was 15 and Harry not quite 13 and, well, they're incredibly tight. 
Kensington Palace/Twitter
"My brother and I's relationship is closer than it's been because of the situations we've been through," William noted during a January appearance at an event for the Campaign Against Living Miserably charity. "Losing our mother at a young age has helped us to travel through that difficult patch together. You're like-minded. You go through similar things, it's a bond and it's something you know you've tackled together and come out better for it." 
Their shared past ensured they'd always remain intrinsically linked, but it was their choices about the future that often kept them physically close. 
While the pair separated after high school when William headed north to Scotland for university, more or less determining his future when he met Kate in their freshman dorm, their paths converged again after his 2005 graduation when William followed Harry to the Royal Military Academy Sandhurst. 
Following their training, the brothers remained on separate tracks for a spell. Having famously expressed his desire to involve himself in the wars raging in both Iraq and Afghanistan—"There's no way I'm going to put myself through Sandhurst and then sit on my arse back home while my boys are out fighting for their country," he reportedly said—Harry was deployed to the latter in early 2008. He spent 10 weeks as a forward air controller, the first member of the royal family to serve in a war zone since his uncle Prince Andrew was tasked with flying helicopters during the Falklands War, only to be abruptly pulled out when the media revealed his location. 
But by 2009, he and William—who as second-in-line to the throne had even less of a chance of seeing active duty—found themselves in the same spot, studying to become helicopter pilots with the Royal Air Force. 
"I think that the struggle I was talking about was mainly the exams and stuff like that," Harry shared in a 2009 interview of the inherent challenges. "Exams never been my favorite, and I always knew that I was going to find it harder than most people. But I'm through that now and finally got hands-on to a job that I absolutely adore. And it's still hard work, but I'm better than William, so it's fun." 
Zing!
Of course William returned the favor. When asked if he'd been helping his younger brother with studying he replied, "An awful lot. He needs a lot of help." Then he launched into an explanation of what it was like to share a living space with Harry. "It's been a fairly emotional experience," he joked. "I cook for him and feed him basically every day. I think he's done rather well." Asked if Harry handled clean up duty he shot back, "He does do a bit of the washing up, but then he leaves most of it in the sink, and then he comes back in the morning and I have to wash it out." 
"Oh, the lies," Harry offered as response. 
ODD ANDERSEN/AFP/Getty Images
So, yeah, they had some fun together. But for all their joking, the siblings shared some serious moments. It was William, for instance, who first made note of his brother's ongoing suffering, that his grief had transformed itself into a simmering rage that remained unchecked. And it was William who pushed him to seek counseling in 2014. 
"My brother was a huge blessing," Harry revealed in a 2017 appearance on Telegraph journalist's Bryony Gordon's mental health podcast Mad World. "He kept saying, 'This is not right, this is not normal—you need to talk about stuff. It's not normal to think that nothing's affected you." 
Because William knew what it was like. He had struggled not only with Diana's passing but the gut-wrenching emotions he experienced in his work as an air ambulance pilot. "I took a lot home without realizing it," he shared at a September event for the launch of a website focused on mental health in the workplace. "You see many sad things every day that you think life is like that. You're always dealing with despair and sadness and injury." Eventually, he summed up, "The attrition builds up and you never really have the opportunity to offload anything if you're not careful." 
Nicky J Sims/Getty Images for Royal Foundation
It was this self-awareness, and perhaps in honor of their mother who was the first to break with the royal family's stiff upper lip mentality and share the postpartum depression she suffered after William's arrival, that led the boys and Kate, to launch Heads Together, a campaign that's determined to snap the stigma that still surrounds mental health issues. 
"Just starting a conversation on mental health can make all the difference," William has explained. "When you talk about something you have less reason to fear it and when you can talk about something you are much more likely to ask for help."
Working as a trio was a natural fit as Harry has long embraced Kate as more than just a sister-in-law. When she and William got engaged in 2010 after nearly a decade of dating, Harry called her the big sister he never had, wrote Newsweek's Levin. And after they all settled into Kensington Palace, he often found himself making the walk from his two-bedroom Nottingham Cottage digs to their sprawling apartment so Kate could cook him a meal, roast chicken reportedly being a favorite. 
Chris Jackson/Getty Images
And when he found a culinary star of his own (roast chicken incidentally being the exact dish Meghan was making when Harry proposed), he needed to ensure she passed muster with Kate. 
"Harry and Kate are very close, she's been like a mentor to him and he wanted her seal of approval," a source shared in Grazia UK. "Kate is different to Meghan in many ways, but she has made great strides to help Meghan settle in."
Indeed, after the success of their initial 2017 meeting, in which Meghan went a long way towards making a good impression by gifting Kate a dream journal for her birthday, Kate has made it a point to make Meghan feel welcome. "Since very early on she made it clear that should Meghan ever need something, or just want to chat, she shouldn't hesitate to get in touch," an insider told E! News. "Kate knows how difficult it is navigating one's way through this very different world." 
As a sign of their burgeoning relationship, Meghan reportedly presented Kate with a gold friendship bracelet at her May vows and by July they were taking in a Wimbledon match together, appearing the closest of friends as they watched Meghan's pal Serena Williams do her thing. 
James Gourley/BPI/Shutterstock
On the surface, the boys' brides don't seem all that similar. Meghan, a former actress, gravitated to life in the public eye both as an artist and a philanthropist well before she was set up on that fateful 2016 blind date while Kate has long appeared more reserved. The art history grad seems no less keen to make a difference and really create effective change with the platform that's been thrust upon her, but the pageantry that's involved with royal life, the performance aspect has taken a bit more practice. 
Those close to William and Harry say those differences are reflective of the brothers themselves. "Emotionally, they are very unalike," a royal insider told Newsweek's Levin. "Harry wears his heart on his sleeve. William is introverted and reclusive. They are bonded together by the unique position they are in and the experience of losing their mother very young. But they don't live in each other's pockets." 
Still, the varied personalities of their chosen brides made it easy to believe the narrative that the two women were at odds, fighting over such trivial matters as bridesmaid dresses ahead of Meghan and Harry's vows last May. 
The duchesses, though, have managed to keep calm and carry on and all that, Bullen said in an interview at the Television Critics Association Winter Press Tour. It's actually their husbands who have been feuding. According to Bullen the real story is revealed on the TrueRoyalty.tv talk show Royal View. "What comes out is that it's a much sexier story to have two duchesses at war," he explained. "Let's have these two super glamorous women—one British, one American. One an actress, one sort of an English rose. Let's put them against each other, that's the sexy sort of media story."
The truth, he insisted, is that the brothers had a rift: "I think people don't want to think about that with these two boys. These are two boys who lost their mother at a really early age, and the fairy tale is that they are closer than ever, and need each other, and I think that's probably true, but equally they are two grown men in their 30s, starting their own families, different wives, they are moving to different parts of the country, different duties."
TOLGA AKMEN/AFP/Getty Images
His source ("somebody well-placed," was all he would share of the unnamed guest) insisted the women were doing just fine. "It's the two princes that don't get on. The actual wives actually are still finding their feet or have found their feet, and they're very happy in the situation they find themselves, but it's the brothers themselves who have been closer than anybody up until now."
It's a plot twist that's also been posited by Vanity Fair. "Kate and Meghan are very different people and they don't have a lot in common but they have made an effort to get along," a source told the magazine back in November. "Any issues are between the brothers."
The first sign of trouble struck during the 2017 holiday season, an unnamed friend told the outlet. "Harry felt William wasn't rolling out the red carpet for Meghan and told him so. They had a bit of a fall out which was only resolved when Charles stepped in and asked William to make an effort. That's when the Cambridges invited the Sussexes to spend Christmas with them."
All signs point to Dad stepping in now as well. "I think the Prince of Wales and the queen are working incredibly hard to try and make sure everybody reunites," Bullen noted. 
But even if the brothers do squash any tension—and they've certainly put on a good show of late, turning out together at Christmas services in December and for a March 5 event honoring Charles—a professional separation is still in order. While the Fab Four will still work together on any initiatives for The Royal Foundation, Harry is eager to carve out his own brand. 
"Two years ago the idea of Harry leaving Kensington Palace was unthinkable but a lot has changed," a source told Vanity Fair. "He wants to be his own person not in William's shadow."
Because for all of their shared circumstances, the brothers are certainly their own individuals. "They have always been different, they are very different characters," a family friend recently noted to People. "They drew great comfort from each other when their mother died, and as they've grown up together. But they need to be separate. Now Meghan has arrived it is the right time to make that break."
Summed up the friend, "They are in their 30s and can't be treated as young unmarried men any more. Now, they are spreading their wings. William more than Harry as he has his three children—but Harry is now starting his own—and it is time to move on."