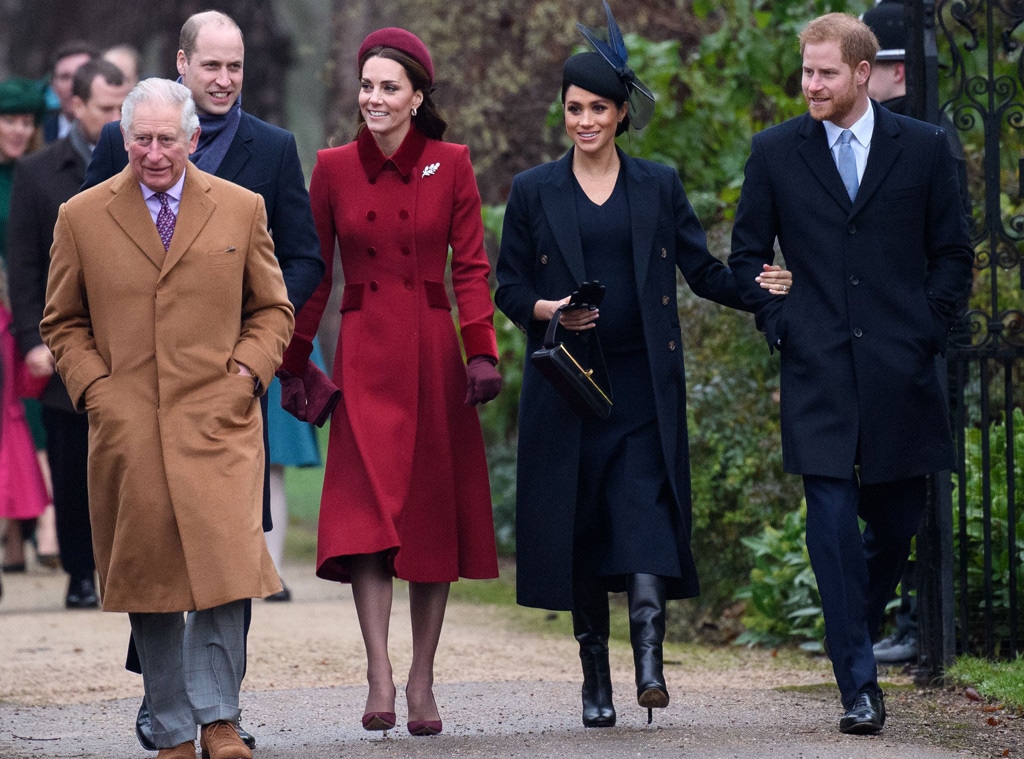 Tim Rooke/Shutterstock
Major changes are currently underway in the royal family! Queen Elizabeth II has agreed to "the creation of a new household," for Prince Harry and Meghan Markle.
Late last year, a report from the Sunday Times claimed that Harry and Prince William had been "considering a formal division of their joint royal household, which is based at Kensington Palace, and the creation of separate courts to reflect their increasingly different responsibilities."
Weeks later, it was announced that Harry and Meghan, who are currently expecting their first child, are moving away from Kensington Palace. The couple will instead set up home at Frogmore Cottage on the Queen's Windsor Estate.
Watch:
Meghan Markle & Kate Middleton's Public Reunion
Now, the Queen has announced that she approves of the household split, releasing a statement on the matter on Thursday.
"The Queen has agreed to the creation of a new household for the Duke and Duchess of Sussex, following their marriage in May last year. The Household, which will be created with the support of the Queen and the Prince of Wales, will be established in the spring," the royal statement begins. "The Duke of Sussex currently has his own private office, which has been supporting the Duchess since Their Royal Highnesses engagement in November 2017. This long-planned move will ensure that permanent support arrangements for the Duke and Duchess' work are in place as they start their family and move to their official residence at Frogmore Cottage."
"The Queen has given permission for the Duke and Duchess of Sussex to base their Household Office at Buckingham Palace," the statement continues. "Their Royal Highnesses will appoint new communications staff, who will form part of the Buckingham Palace communications team and report to the Queen's Communications Secretary, Donal McCabe. Kensington Palace will continue to support Their Royal Highnesses until that team is in place."
Kensington Palace also announced on Thursday that Sara Latham has been appointed to head up communications for the Duke and Duchess of Sussex, reporting directly to the Queen's Communication Secretary. Sara previously worked at communications firm Freuds, where she oversaw global corporate accounts with a particular emphasis on executive thought leadership and purpose-led campaigns.
Anthony Harvey/BAFTA/Shutterstock
Meanwhile, Jason Knauf has been appointed as Senior Adviser to William and Kate. Knauf's responsibilities will include advising the royal couple on their charitable initiatives – including work on the environment, mental health, and early childhood – and supporting a review of the charitable structures that underpin their work. Christian Jones has been appointed as Communications Secretary to William and Kate.