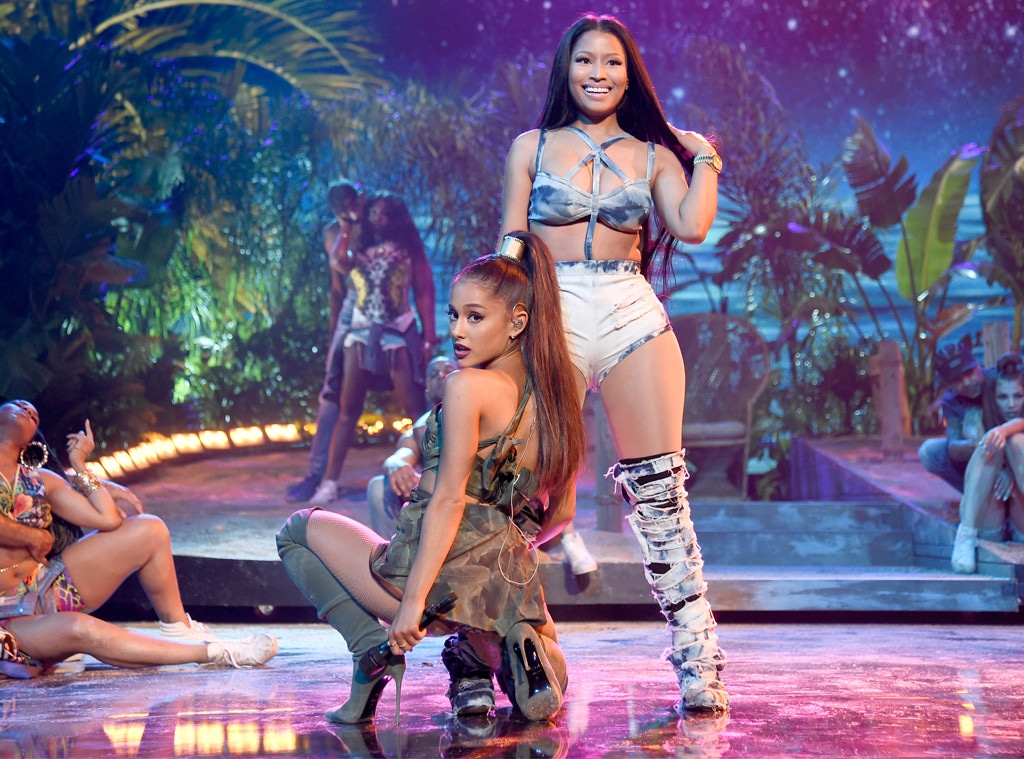 Kevin Mazur/AMA2016/WireImage
They call her the Queen for a reason!
On Monday, E! announced that Nicki Minaj will open the 2018 E! People's Choice Awards, which airs this month, and we couldn't be more excited.
We're anxiously waiting for Nov. 11 to hit, because we're just dying to see which banger Minaj will perform. After all, she's had so many hits in 2018, so there are a ton of choices.
The rapper released her fourth studio album, Queen, in August and we've been listening to it on repeat ever since, so yes, you could say we are super fans.
Minaj's hard work this year didn't only extend to her own album however, the artist also created a ton of killer collaboration tracks as well.
The songstress featured a bunch of A-listers on her own LP, but also lent some jaw-dropping verses and brilliant lyricism to other amazing artists' songs, too.
Could you imagine if Minaj was able to pull off another secret guest surprise, like the one she did at the 2015 MTV VMAs? 
We would just scream! Seriously, it would be epic.
OK, so back to the focus of this post...all of Minaj's collaboration tunes in 2018. For starters, she teamed up with fellow PCAs finalist and longtime bestie Ariana Grande...twice!
Speaking of PCAs finalists, Minaj surprised us all when she joined BTS on a new version of their single "Idol," and of course slayed her rendition.
It's a collab we never knew we needed, but are forever grateful for.
Plus, have you heard "Woman Like Me," the track she teamed up with Little Mix for? It's a total girl-power anthem that's straight fire.
The "Barbie Dreams" rapper also joined forces this year with Post Malone, YG, 2Chainz, Big Sean, Tyga, 6ix9ine, Future, Jason Derulo, David Guetta, and so many more.
So, to pass the time until Minaj takes the stage on Nov. 11, check out some of the star's best collabs from this year below.
"Bed" — Nicki Minaj feat. Ariana Grande
Did it just get insanely hot in here? Sure did. Minaj and Grande get steamy on this sexy single and it's almost too hot to handle.
"Idol" — BTS feat. Nicki Minaj
Could a song called "Idol" be any more fitting for these A-list acts? Yeah, we didn't think so.
"Woman Like Me" — Little Mix feat. Nicki Minaj
The girl group has been dying to work with Minaj for seven years. Finally, their dreams came true this year and we're so glad it resulted in this single!
"The Light is Coming" — Ariana Grande feat. Nicki Minaj
Grande and Minaj just can't get enough of each other...and we can't get enough of this perfect pair!
"Big Bank" — YG feat. 2Chainz, Big Sean, and Nicki Minaj
YG brought out the big guns for this single, adding not only Minaj's vocals on the track, but 2Chainz and Big Sean's as well.
"Dip" — Tyga feat. Nicki Minaj
The "Rack City" rapper and the Queen are quite the dynamic duo on this track. Don't you think?
"FeFe" — 6ix9ine, Nicki Minaj, Murda Beatz
We have to pick our jaws up off the floor every time we listen to Minaj's verse on this single. No joke, it's that good!
"Transformer" — Future feat. Nicki Minaj
Just a couple weeks ago, Future and Juice WRLD dropped a collaborative mixtape called Wrld on Drugs, and we were ecstatic when we learned Her Minajesty was on it!
"Ball for Me" — Post Malone feat. Nicki Minaj
We are all about this. Minaj's rapid-fire verse is the perfect contrast to Malone's rhythmic style.
"Goodbye" — Jason Derulo and David Guetta feat. Nicki Minaj and Willy William
Andrea Bocelli sample? Check. Dope DJs? Check. Minaj and Derulo together again? Check. Yup, that's the recipe for a perfect pop song.
Knowing that Minaj could pick one of these collaborations for her opening performance at the 2018 PCAs makes us even more ready for the live award show to begin this weekend. We don't know exactly what she will perform, or if someone will join her on stage, but we do know that you're definitely not going to want to miss it!
Lucky for you, the show will broadcast live on Bravo, E!, SYFY, Universo and USA Network, and will air in 161 countries, so you can't (and shouldn't) miss a moment of it when it begins next week!