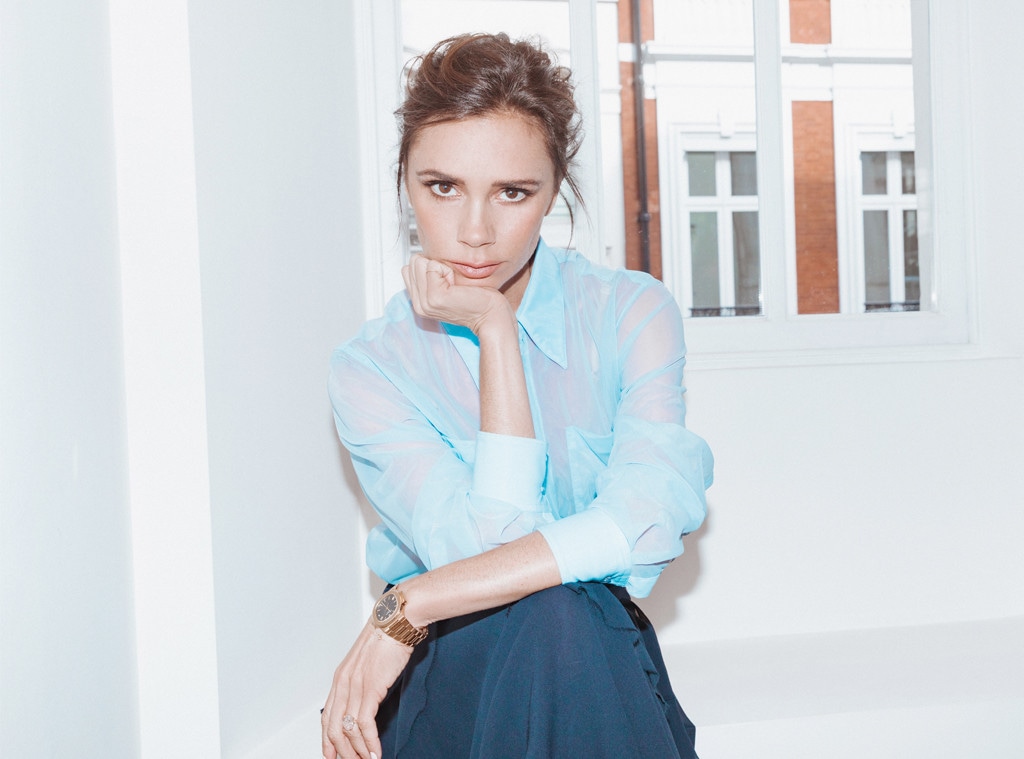 Image courtesy of Victoria Beckham
It's official: Victoria Beckham is the most fashionable woman out there. 
OK, there are a lot of stylish women in the world, but Beckham has proven year after year that she is iconic, fashionable and oh so chic, which is why she is the recipient of the first-ever Fashion Icon Award at the upcoming 2018 E! People's Choice Awards.
On Tuesday, E! announced that the 44-year-old designer, and creative director of Victoria Beckham, would be the honoree for the Fashion Icon Award at their inaugural People's Choice Awards live show next weekend on Nov. 11.
"I feel so honored to be receiving the first ever fashion icon award at the E! People's Choice Awards. This year I am celebrating 10 Years of my brand, and this is a wonderful way to mark that decade," Beckham said in a press release. "I am so grateful to be the inaugural recipient. I love what I do, and love that I have been given the opportunity to empower women through my collections. November 11 will be a very special moment for me."
Beginning with her "little Gucci dress" phase as a member of the Spice Girls, and evolving into a fashion mogul over the past decade, Beckham has proved time and time again that she's worthy of this honor.
Beckham's success as a designer, creative director and continual clout as a style icon makes her the perfect choice for this year's Fashion Icon Award.
"Victoria Beckham is a powerful businesswoman, fashion designer and true inspiration and voice for modern-day women," Jen Neal, Executive Producer of Live Events and Executive Vice President of Marketing for E! said. "Celebrating its 10th anniversary, her brand is culturally influential across the globe and we couldn't think of anyone better suited to receive the inaugural E! People's Choice Awards' Fashion Icon Award."
If we're being honest we can't get enough of Beckham's sleek, modern and sophisticated ensembles and designs, so yes, we are so excited to celebrate her at this year's show.
In 2008, the British designer launched her first collection and fans have been loving it ever since. In September of 2018, she honored her 10 years of success as a designer with the 10 Year Anniversary limited edition collection, and again her fans are thrilled with the collection.
Beckham's 10 years in the industry has amassed to four lines (stocked in 400 stores in 50 different counties), all created in her London studio, two standalone retail stores, with the flagship store at 36 Dover Street in London and past collaborations with Target, Esteé Lauder and most recently, Reebok.
Over the past decade she's also acquired a large group of celebrity followers including Eva Longoria, Jennifer Lopez, Gwyneth Paltrow, Selena Gomez, Gal Gadot and even the Duchess of Sussex, Meghan Markle.
In addition to launching her 10 Year Anniversary collection this fall, the former singer showed her Victoria Beckham Spring/Summer 2019 collection at London Fashion Week for the first time in the history of her brand.
She's been showing at New York Fashion Week for years, but 2018 marked her first runway show back in the United Kingdom and it went off without a hitch.
The only real question is, what does Beckham want to conquer next? Oh, don't worry, she already has another plan in the works and it will make lovers of the designer's work and flawless overall appearance very happy.
"I would say beauty," Beckham told E! News in September when discussing her 10 years in the fashion industry. "So for me, I learned a lot about beauty when I was working with Esteé Lauder. I will be developing makeup and skin-care, and probably fragrance."
First, she was a Spice Girl. Then, she conquered the world of fashion as a designer. Now, she wants to take on beauty and fragrance? Yes, please!
With all of her achievements in fashion and her impeccable personal style—and ability to do anything in heels—you can see why she is the perfect person to be dubbed the 2018 Fashion Icon at the E! People's Choice Awards.
To see what Beckham and the rest of this year's honorees and finalists wear when the show goes live, don't miss the PCAs airing this month on E!
(E! and NBC are both part of the NBCUniversal family).