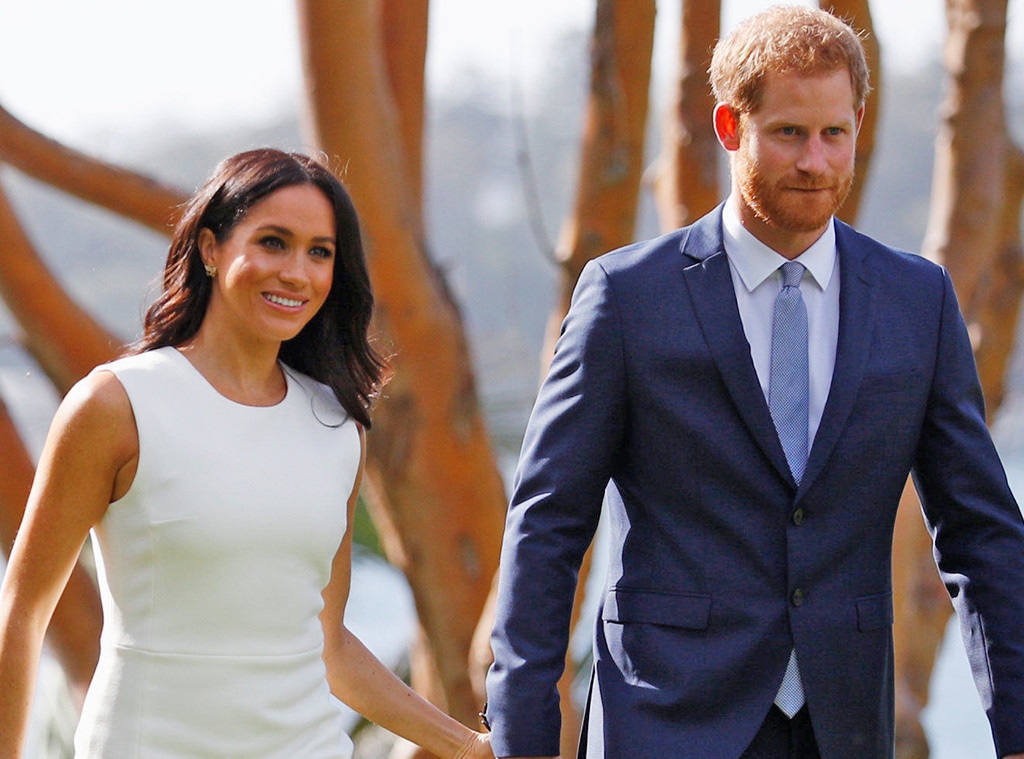 Phil Noble/PA Wire
Meghan Markle honored Prince Harry's late mother, Princess Diana, on Monday in a very subtle yet meaningful way.
The Duke and Duchess of Sussex landed in Australia yesterday to begin their first royal tour as a married couple that will take them to Australia, Fiji, Tonga and New Zealand. Just one day into their jaunt overseas, Kensington Palace announced the two of them were expecting their first child together.
Echoing the "something white" and "something borrowed" of the oft-repeated wedding day saying, Meghan stepped out in a stunning white dress made by Australian designer Karen Gee. While all eyes were on the Duchess' get-up, there was another royal shout-out in her outfit. It turns out that the trademark Markle Sparkle related to her earrings and bracelet that day, too. 
Georges De Keerle/Getty Images; PA Wire
Meghan wore Princess Diana's gold and diamond butterfly earrings, as well as her gold bracelet.
During the first stop at Admiralty House while meeting with Governor-General Sir Peter Cosgrove and Lady Lynne Cosgrove, Meghan and Prince Harry were gifted—appropriately—a stuffed animal kangaroo with a baby joey in its pouch. "Our first baby gift!" Meghan said while holding onto the fluffy animal. They also received a pair of baby Uggs, which hail from Australia.
While in the land Down Under, Prince Harry and Meghan Markle will spend time at the 2018 Invictus Games, a foundation that Prince Harry himself founded in 2014. Kensington Palace said the Games will be a "major focus" of their time in Sydney. This even includes Prince Harry climbing to the top of the Sydney Harbour Bridge and raising the flag of the Invictus Games. 
Later on in the day after leaving Admiralty House, the Duke and Duchess ventured to Sydney's Taronga Zoo, where they met a number of local animals, including a short legged echinda and a koala. The echinda apparently drooled a lot, but scientists insisted the animal was just "excited to see them."
While at the zoo, Meghan added a trench coat to her ensemble and traded her in nude Stuart Weitzman stilettos for black flats. 
According to People, they met two koalas and their babies. Photos showed Meghan and Prince Harry enjoying the company of one of koalas named Ruby, who climbed its tree and munched on some leaves. The royals spoke with conservation scientists and discussed reducing wildlife trafficking.
According to ITV News, they also received a stuffed animal koala and its baby joey. Meghan reportedly said she would put it in the baby's nursery.
Meghan's due date is Spring 2019.
Congrats to the parents-to-be!
(Originally published Oct. 15 at 5:50 p.m.)