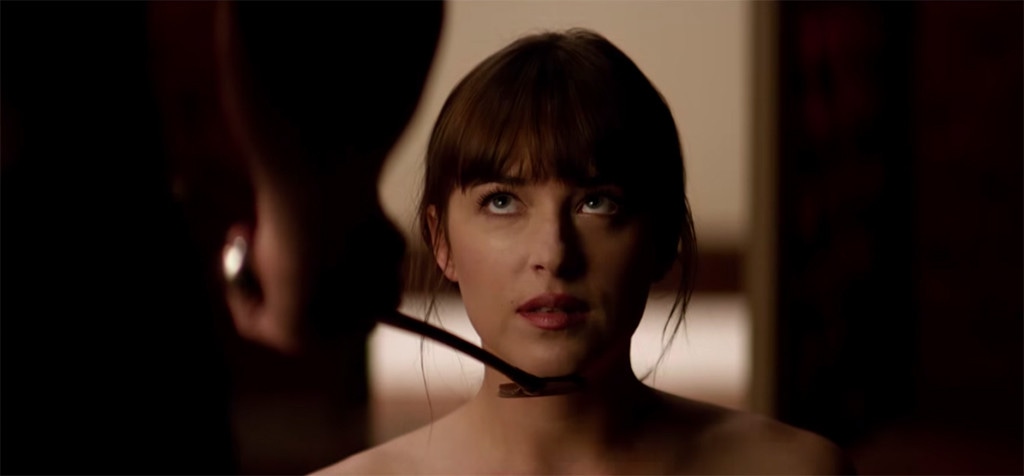 Universal Pictures
The 2018 E! People's Choice Awards are quickly approaching, and the excitement is getting our hearts racing and blood pumping!
As it turns out, that feeling we have about the upcoming PCAs is also the exact same feeling we get when watching each of the finalists for Drama Movie of 2018.
Sure, the type of adrenaline running through our bodies when we see Emily Blunt and John Krasinski try to survive a world overrun with terrifying creatures in A Quiet Place is completely different than the kind we feel while watching Dakota Johnson and Jamie Dornan get it on in Fifty Shades Freed, but it's still a total rush.
No matter which Drama Movie of 2018 you choose, when you watch them you'll definitely be on the edge of your seat...we know we always seem to be.
A Quiet Place and Fifty Shades Freed aren't the only films on the PCAs finalist list that will cause you to heat up and panic a little bit while watching...there are three more amazing contenders vying for that trophy as well.
The spy thriller Red Sparrow, for example, shows off some of Jennifer Lawrence's best action-packed moments. Meanwhile, Chris Hemsworth goes to war in 12 Strong, which is intense all on its own. And Bella Thorne struggles to fall in love and fight a medical condition in Midnight Sun.
Talk about drama!
What's even more dramatic than the plots of these films is that the last day to vote for this year's PCAs finalists is almost upon us. Voting closes on Friday, Oct. 19, so make sure you show your favorite flick some love before then!
But if you're still on the fence on which of these drama films to vote for, we've got the perfect cheat sheet for you! Keep scrolling to learn more about the finalists for Drama Movie of 2018.
Disclaimer: You're going to get hooked on the intense, white-knuckle energy from these films.
Perfect World Pictures, Universal Pictures
Fifty Shades Freed
Cast: Dakota Johnson and Jamie Dornan.
Plot: In the third and final film of the Fifty Shades franchise, Ana (Johnson) and Christian (Dornan) have gotten married, but have to navigate a rocky relationship while staying safe from Ana's stalker ex-boss.
Release Date: Feb. 9, 2018
Other PCAs Finalist Nods:  Movie of 2018 and Dornan is a finalist for Drama Movie Star of 2018
12 Strong
Cast: Chris Hemsworth, Michael Shannon, Michael Peña, and Trevante Rhodes.
Plot: The American war drama follows the U.S. Army Special Forces troop deployed to Afghanistan in the wake of the Sept. 11, 2001 attacks.
Release Date: Jan. 19, 2018
Other PCAs Nominations: Hemsworth for Drama Movie Star of 2018
Red Sparrow
Cast: Jennifer Lawrence, Joel Edgerton, Matthias Schoenaerts, and Jeremy Irons.
Plot: The spy thriller tells the story of a former Russian ballerina who is blackmailed into joining a Russian intelligence agency, where she must work with a CIA agent assigned to uncover a mole.
Release Date: Mar. 2, 2018
Other PCAs Nominations: Lawrence for  Drama Movie Star of 2018
Midnight Sun
Cast: Bella Thorne and Patrick Schwarzenegger.
Plot: In this romantic drama, a girl with a condition that prevents her from being exposed to sunlight falls in love, and must decide whether or not to be honest with the boy she's falling for, or pretend to live a normal life instead.
Release Date: Mar. 23, 2018
A Quiet Place
Cast: Emily Blunt and John Krasinski.
Plot: The post-apocalyptic film follows the Abbott Family as they try to survive a world in which sightless, indestructible monsters with hyper-sonic hearing have killed off most of the Earth's humans and animals.
Release Date: Apr. 6, 2018
Other PCAs Nominations:  Movie of 2018 plus both Krasinski and Blunt for Drama Movie Star of 2018