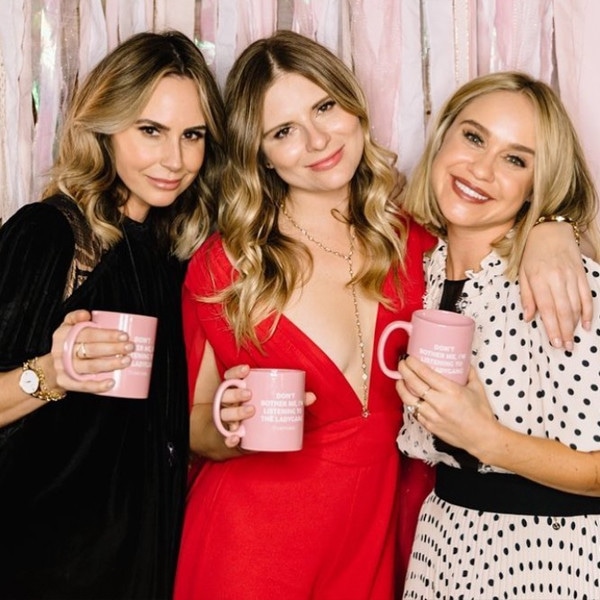 Instagram
We can't stop listening to the Pop Podcast Finalists for the 2018 People's Choice Awards! 
We love that each show brings its own unique take on covering celebrity and entertainment news and honestly, we wish we had more time to listen to each and every episode.
There's truly never a dull moment on any of these podcasts, which is why we want to make sure voters like you show your favorite Pop Podcast of 2018 show some love before the final round of voting for this year's PCAs comes to a close on Friday, Oct. 19!
LADYGANG, Anna Faris Is Unqualified, Scrubbing In with Becca Tilley and Tanya Rad, Chicks in the Office and Amy Schumer Presents 3 Girls, 1 Keith are all vying to take home the trophy. Get the scoop on all the Pop Podcast finalists below and make sure to cast your vote ASAP.
LADYGANG
Launched: 2015
Hosts: Keltie Knight, Jac Vanek and Becca Tobin
Where You Know Them From: Knight is a correspondent for CBS's Entertainment Tonight. Tobin is an actress who played Kitty Wilde on Fox's Glee and the creator of the fashion blog, JuneMoss.com. Vanek is a self-made entrepreneur and CEO of the clothing brand, Jac Vanek.
About the Show: LADYGANG is a celebrity driven podcast that dives into what Hollywood is like beyond the glitz and glamour including its signature segment, "Good Week Bad Week," where the women share the highs and lows of their lives. Celebrity guests join the show each week to help answer listeners' biggest life questions. Don't miss more of the LADYGANG when their E! show premieres later this month!
Best Guests:
Lea Michele: The ladies refer to the Golden Globe nominee as an honorary fourth member of LADYGANG. She has joined the podcast three times and has dished on everything from her latest projects to her real-life friendship with Tobin. She also answers your burning questions including her favorite fashion trends, which Kardashian she would be, and why she can't get enough of Gwyneth Paltrow and her company, Goop.
Darren Criss: The ladies have welcomed the Emmy winner twice to LADYGANG to chat about his memories of Tobin from the Glee set, his feelings about social media and his experience working on American Crime Story: The Assassination of Gianna Versace.
Derek Hough: The World of Dance judge joined the LADYGANG ladies to talk about his career and the rumors about dating his former dance partners. He also gives relationship advice to listeners.
Anna Faris Is Unqualified
Launched: 2015
Host: Anna Faris 
Where You Know Her From: Faris is an actress who stars on the CBS sitcom Mom and has appeared in movies like, Scary Movie, The House Bunny, What's Your Number? and The Dictator.
About the Show: Faris sits down with her celebrity friends and talk about what's happening in their lives. They also improvise comedy sketches or hypothetical situations and then listeners call in to receive—sometimes unqualified—advice from the host and her guests on Anna Faris Is Unqualified.
Best Guests:
Tiffany Haddish: The Night School actress takes a look back her life and career including her experience in the foster care system during her episode. Haddish reveals how she beat the odds to become a Hollywood leading lady and makes listeners laugh throughout the segment.
Olivia Munn: The X-Men Apocalypse actress shares her thoughts on female friendship, egg freezing and her unconventional first kiss, which happened while watching Forrest Gump. She also gives advice to a woman who is struggling with being single.
Chris Evans and Jenny Slate: The Gifted co-stars reveal how they became instant friends, their personal grooming preferences and their celebrity crushes. Plus, the Captain America actor talks about whether he is a butt or boob guy.
Scrubbing In with Becca Tilley & Tanya Rad
Launched: 2017
Hosts: Becca Tilley and Tanya Rad
Where You Know Them From: Tilley is a former Bachelor contestant who was the runner-up home during Chris Soules' season and returned to the show for a second time to compete on Ben Higgins' season. Rad is a a co-host of KIIS-FM's morning radio show, On-Air with Ryan Seacrest.
About the Show: Tilley and Rad are real-life best friends who dive into their latest relationship dramas, fangirl over their favorite show, Grey's Anatomy, and hang out with celebrity guests on Scrubbing In.
Best Guests:
Hillary Duff: The former Disney Channel star calls in to chat about her hit show Younger, and also talks about how she balances being a mother and an actress. All three ladies join together for a sing-a-long to their favorite song from Duff's Metamorphosis album.
JoJo Fletcher: The former Bachelorette explains how she became friends with Tilley while vying for the same guy on The Bachelor. The ladies also revealed what they are looking for in a relationship and why therapy can be beneficial.   
Dean Unglert and Peter Kraus: The former Bachelor contestants talk about their relationship statuses, marriage goals and Colton Underwood being the next Bachelor. Also, Unglert tries to convince Rad to go on a date with him.
Chicks In The Office
Launched: 2017
Hosts: Ria Ciuffo and Francesco Mariano
Where You Know Them From: They were both interns at Barstool Sports who started producing content on the company's social channels before launching their show.
About the Show: Ciuffo and Mariano break down the biggest pop culture news—especially the latest in celebrity couplings—discuss their favorite television shows and interview celebrity guests on Chicks In The Office.
Best Guests:
Tan France and Antoni Prowoski: The Queer Eye stars give their thoughts on the success of their Netflix hit, how fame has changed how they walk down the street and their favorite makeovers from the series.
Bella Thorne: The Midnight Sun actress reveals why she wanted to rap. She also discusses her new record label, clothing line and her relationship with Mod Sun.
Mike "The Situation" Sorrentino and Vinny Guadagnino: The Jersey Shore cast members dish about their return to MTV, their co-stars and how Vegas trips have changed since they were younger.
Amy Schumer Presents: 3 Girls, 1 Keith
Launched: 2018
Hosts: Amy Schumer, Rachel Feinstein, Bridget Everett and Keith Robinson
Where You Know Them From: Schumer is an actress who starred in Comedy Central's Inside Amy Schumer and movies including Trainwreck, Snatched and I Feel Pretty. Feinstein is a comedian who has had three Comedy Central specials and appeared with Schumer in Trainwreck.
Everett is a comedian who appeared on Inside Amy Schumer, Two Broke Girls, and Whitney Cummings' Bleep Show. Robinson is a comedian who was the sidekick on The Wanda Sykes Show and also appeared on Comedy Central's Tough Crowd with Colin Quinn.
About the Show: The hosts, who are also best friends, talk about love, comedy, politics and their personal lives. They are joined by a celebrity guests who weight on the show's weekly topics on Amy Schumer Presents: 3 Girls, 1 Keith.
Best Guests:
Rachel Bloom: The Crazy-Ex Girlfriend actress joins the comedians to chat about religion, love, her relationship with her husband, Dan Gregor, and pet insurance!
Murray Hill: The New York City comedian and drag king entertainer dishes on his career, being on the road, relationship baggage and unrequited love.
Yamaneika Saunders: The comedian talks about how race affects comedy, the justice system and why no matter what, it's important to be you.
We know it's tough to decide on your favorite Pop Podcast of 2018 but you need to vote for your favorite before it's too late!