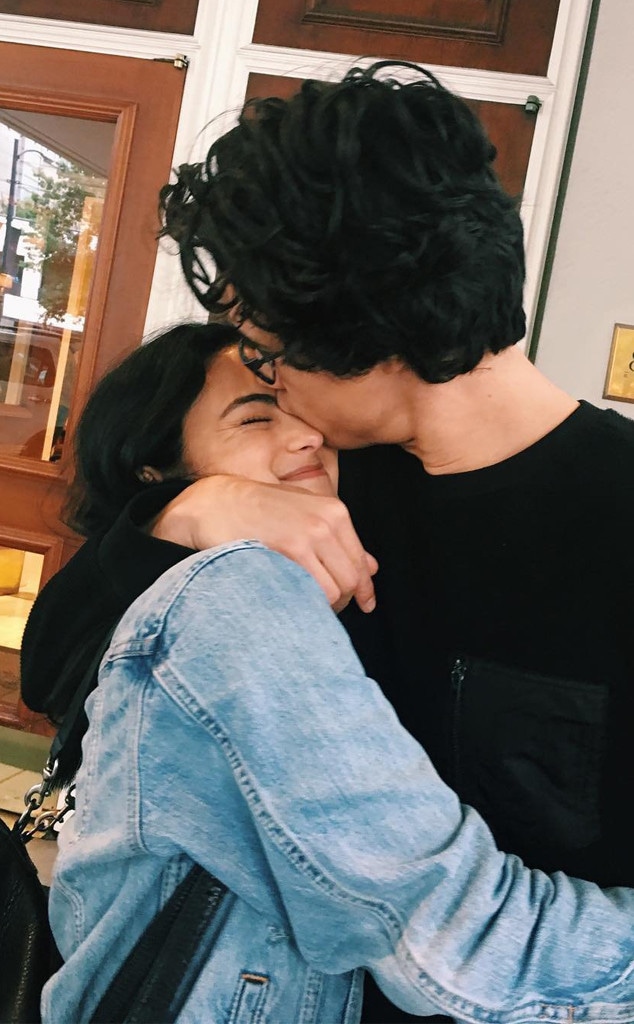 Instagram
Things are heating up in Riverdale.
Camila Mendes and Charles Melton have been sparking romance rumors as of late, and Mendes may or may not have just confirmed what all Veronica Lodge fans have been hoping for. On Sunday, Mendes posted an Instagram photo of the two of them locked in an embrace as he kisses her over her eye. She captioned the photo "Mine."
Over Labor Day weekend, the Riverdale co-stars took a brief getaway with some of their fellow actors, including Cole Sprouse. In that photo on a boat, Melton and Mendes sat on the same towel with his arm underneath her back. The two of them were also spotted at the movies in Vancouver and were kind enough to take a photo with a fan. An eyewitness told E! News that the co-stars got cozy in the theater. "Camila sat next to Charles and leaned on his shoulder. As the lights were dimming, my friend saw them kiss!" the insider shared.
Plus, there was the sexy pizza party of 2017, which they both attended.
They both make frequent appearances in each other's Instagram stories as well. On Saturday, the Reggie Mantle actor posted pictures on his Instagram story of the two of them plus Lili Reinhart after seeing the new movie A Star Is Born. They even attended Beyoncé and Jay Z's On The Run II tour in Vancouver, presumably together.
If Mendes and Melton are official, this wouldn't be the first Riverdale showmance. Reinhart and Sprouse, who play love interests Betty Cooper and Jughead Jones on the show, have been dating for quite some time now. The two of them have traveled around together and she has often posed as his muse in plenty of Instagram pictures.
Mendes is just recently single. She and her boyfriend Victor Houston called it quits in late August. According to an insider, she "realized she wasn't ready to be in this relationship anymore." 
The actress covered Nylon's July issue and dished on her dating life and why she doesn't really love the idea of being in a relationship with an actor. She told the magazine, "It's just dating people in the industry is tough. I did for a little bit. I've just dated actors. It's hard when that's your world."
Although, according to the Nylon article, Mendes' romance was in the cards—literally. She told the magazine that she visited a tarot reader in New Orleans who said she would be getting into a "significant romantic relationship soon."
Could this be it?