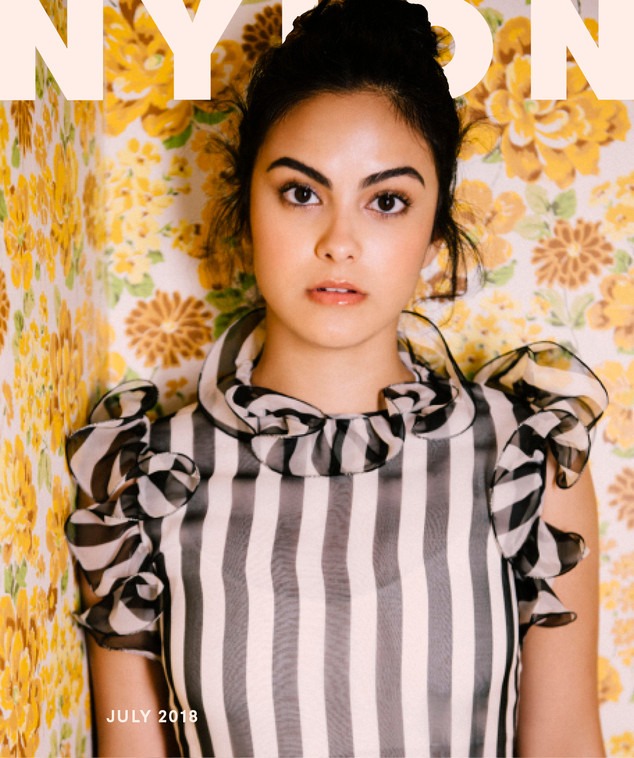 Lindsey Byrnes/Nylon
When it comes to her dating life, Camila Mendes is keeping her eyes outside of Hollywood. 
The Riverdale star recently took her new romance with Victor Houston public. As a source previously told E! News, the couple went to neighboring high schools in Florida before reconnecting recently in New York City. According to the insider, the couple has been dating for two months and just celebrated her 24th birthday together in the Hamptons. 
While the relationship is still fairly new, Mendes has avoided something that she figured out doesn't work for her—dating fellow actors. Speaking of her beau to Nylon for it's Beauty Issue, the star coyly said, "It's somebody completely out of the industry. It's funny because I'm more hesitant to talk about it because I don't want him to read this... I actually would totally talk about it right now, if I didn't feel like, Wait, he might read this."
While she told the magazine she is a "very open person," it seems she's a bit more shy when it comes to her private beau. 
Instead, the star dished on her difficult dating past in the industry. "It's just dating people in the industry is tough. I did for a little bit. I've just dated actors. It's hard when that's your world," she told Nylon. "You only meet people through work and that can be really tough, because you're not necessarily meeting people that you're similar to. It's just people that you're with because you're working on the same project."
The star said she's since learned "not to do that."
"I realize that I don't think I like actors," she elaborated to Nylon. "Actors are really emotionally complicated. You would think they would be more in tune with their emotions, but sometimes they're just not. I just really need to get out of this industry with someone who is in a stable environment."
While Mendes is navigating her new life as a famous person and all that entails, it sounds like she's embracing it on her terms by not letting it dictate her romantic life, opening up to fans about her personal struggles, bringing her version of beauty to the screen and embracing her position as a modern role model. 
"I didn't want to be a role model because I didn't feel like one. But, instead of trying to be like, 'You guys should all respect everything that I say and see me as this perfect thing,' it was more like, no, I can be a voice, because I'm going through what they go through, probably," she told the magazine. "Since I'm a real person, I'm willing to talk about it."