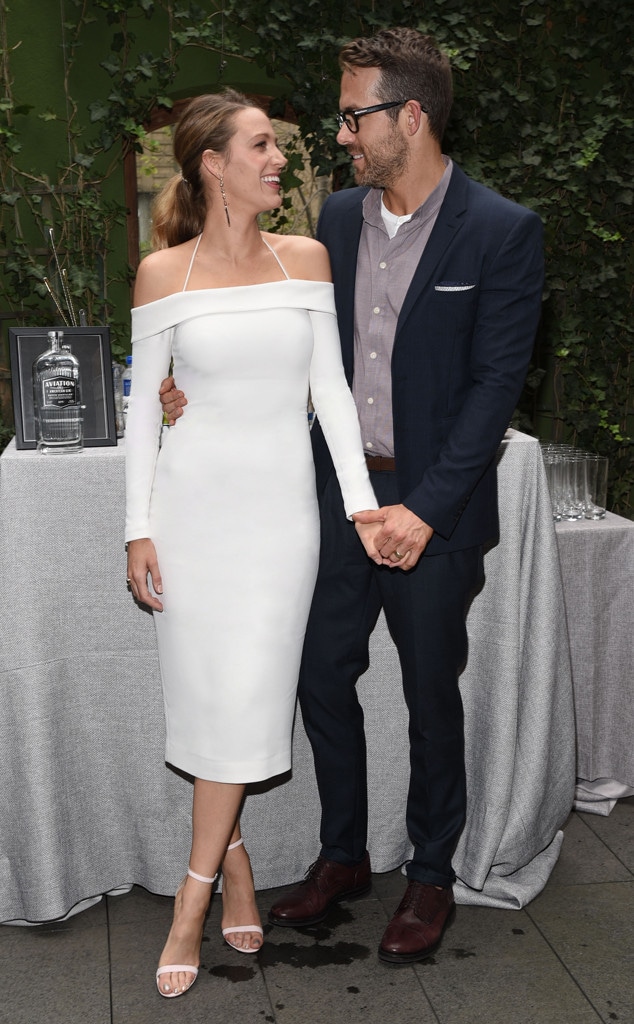 Michael Simon/startraksphoto.com
Happy birthday, Ryan Reynolds! The Deadpool star just turned 42!
While we can't say we know exactly how the actor is celebrating the special day, there's a good chance he's spending time with his wife, Blake Lively, and their two daughters, James and Inez. While Reynolds and Lively are very private when it comes to their family life, they've been openly trolling each other on social media in recent years. From teasing each other in Instagram comments to cropping each other out of photos, these two love a good social media sparring session.
"We're people that don't take ourselves too seriously," Reynolds recently said on the Sunday Sitdown with Willie Geist podcast. "The only people I really love to make fun of is us."
So, in honor of Reynolds' birthday, we're looking back at some of his and Lively's best trolling moments. Let's take a trip down social media lane below!
George Pimentel/WireImage
1. Reynolds' Playful Birthday Message to Lively: To celebrate his wife's 30th birthday last year, Reynolds decided to playfully troll Lively on social media.
"Happy Birthday to my amazing wife," Reynolds wrote alongside a photo of him and Lively on the 2014 Met Gala red carpet...in which Lively is mostly cropped out!
LOL.
But Lively didn't miss a beat when it came time for Reynolds' birthday a few months later...
2. Lively's Birthday Revenge: Lively got the ultimate revenge for Reynolds' 41st birthday last year. "Happy Birthday, baby," Lively wrote alongside a pic of Ryan Gosling and a cropped out Reynolds at the Critics' Choice Awards in 2016.
So what did Reynolds have to say about Lively's post? In the comments of the pic he replied, "Awesome."
3. When She Poked Fun at His Bromance With Hugh Jackman: Back in May, Reynolds posted a photo with his pal Hugh Jackman to Instagram, captioning the post, "Ran into this guy at his coffee shop, @laughingmancoffee. And by 'ran into' I mean I followed him there."
After seeing the pic, Lively poked fun at the duo's bromance, commenting on the social media snap, "Is the extra distance between you supposed to convince me that you DONT love him more than me?? Nice try."
4. When He Joked About Needing More "Me Time" Away From Lively: Earlier this year, the couple was the subject of divorce rumors, with one report stating that Reynolds and Lively were "struggling to spend quality time" together.
Reynolds' response? "I wish," he jokingly tweeted. "I could use a little more 'me time.'"
Ryan Reynolds/Aviation Gin
5. When He Used His Out-of-Office Email to Poke Fun at Divorce Rumors: And when the divorce rumors continued, Reynolds used his Aviation Gin out-of-office email to poke fun at the unconfirmed reports.
Back in September, Aviation Gin owner Reynolds, who previously gave out his company email on The Tonight Show, set up a hilarious out of office reply which showed his schedule for the week of Sept. 10.
Reynolds devoted much of his Monday that week to gym, tan and laundry. That night, he attended a screening of Lively's movie A Simple Favor at the Museum of Modern Art in New York City. The planner noted, "No divorce jokes!!"
An hour later though, Reynolds scheduled himself to, "Sneak out of MOMA screening to regroup. It can't all be about you. This is her moment. Get it together, asshole."
6. When She Trolled His Aviation Gin Post: After seeing his Aviation Gin ad on a truck, Reynolds took a photo and posted it to Instagram. "Turns out the driver really doesn't carry cash. But he DOES carry pepper spray... and a s--tload of @aviationgin #Aviationowner," he captioned the picture.
And Lively just couldn't help but note how "huge" she thought Reynolds looked in the photo.
"Who needs a mini van?! I'm driving this from now on," she commented on the post. "Subtle, gorgeous, and OHMYGAWDYOUREHUGE."
7. When He Caught Her Getting a Little Too Close to Someone Else: "He seems nice," Reynolds commented on the risqué A Simple Favor promotional photo above.