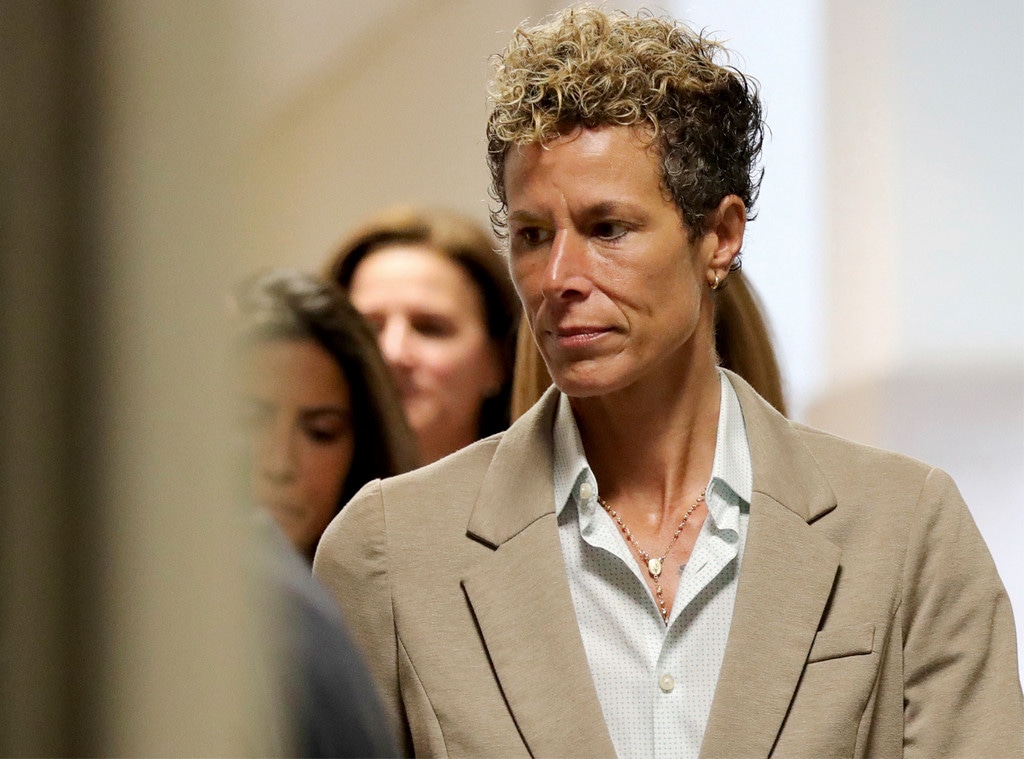 David Maialetti/The Philadelphia Inquirer via AP, Pool
14 years and two trials later, Andrea Constand has spoken at the sentencing of Bill Cosby.  
As the television star awaits Montgomery County Court Judge Steven O'Neill's decision regarding his sentencing, Constand addressed the court in Morristown, Pa. on Monday during the first day of his sentencing hearing. Hours earlier, she took to social media, citing a Bible passage. "Be wrathful, but do not sin; do not let the sun set while you are still angry; do not give the Devil an opportunity. Ephesians 4: 26," Constand tweeted early Monday. 
By the afternoon, she had briefly taken the stand. "I testified...[The] jury heard me," Constand said. "All I am asking for is justice as the court sees fit." Constand  submitted a longer victim impact statement that was not read during the hearing. 
Andrea's mother Gianna Constand also took the witness stand and read her letter to the court as she detailed the pain and suffering Cosby caused her family, including how the incident changed Andrea and how Gianna deals with her own trauma on a daily basis. She further claimed the actor used everything to destroy them and protect his reputation. 
Andrea's father Andrew Constand also read his victim impact statement to the court, in which he explained how his daughter's demeanor changed and how she seemed depressed after the incident as well as his own transformation after the event, noting he now takes Adavan to help him sleep as what happened to his daughter is like a "dark cloud" over his head. 
Diana Parsons, Andrea's sister, then read her own statement, describing their uplifting childhood together and her "honest, strong, compassionate" sister. After the incident, Diana recalled the shock and helplessness she felt for her sibling and the trauma they have experienced as a family. As Diana concluded, she wondered how Andrea has coped with how she has been treated through this situation, how she had the courage to come forward and how she will trust again. 
In Constand's full victim impact statement, which was later released, she chronicled her life before the assault as a college basketball player and later as a Director of Operations for the women's basketball team at Temple University and how her life changed after.
"Nothing could have prepared me for an evening of January 2004 when life as I knew it came to an abrupt halt," she wrote, describing herself as paralyzed and powerless during the assault. Following the incident, Constand felt shame, self-doubt, confusion and isolation. She noted she continued to do her job and was forced to interact with Cosby, who was on the Board of Trustees at the school. 
While recalling the civil lawsuit she initially filed against Cosby, Constand wrote, "The psychological, emotional and financial bullying included a slander campaign in the media that left my entire family reeling in shock and disbelief. Instead of being praised as a straight-shooter, I was called a gold-digger, a con artist, and a pathological liar. My hard-working middle-class parents were accused of trying to get money from a rich and famous man."
She went on to describe a traumatizing deposition, in which she said Cosby made jokes and attempted to degrade and diminish her, as well as the two stressful trials that followed years later. 
"When the sexual assault happened, I was a young woman brimming with confidence and looking forward to a future bright with possibilities. Now, almost 15 years later, I'm a middle-aged woman who's been stuck in a holding pattern for most of her adult life, unable to heal fully or to move forward," she continued. "Bill Cosby took my beautiful, healthy young spirit and crushed it. He robbed me of my health and vitality, my open nature, and my trust in myself and others."
Prior to Constand addressing the court, Judge O'Neill denied a motion from Cosby's attorney, Joseph Green, by ruling that the Pennsylvania Sexually Violent Predator assessment is constitutional. Green argued that having a Sexually Violent Predator Assessment hearing before sentencing is unconstitutional and having Cosby subjected to the hearing and potential sanctions should not proceed. Prosecutor Tracy Piatkowski argued that the Sexually Violent Predator hearing is not punitive and is required as it is designed to prepare law enforcement and protect communities from the threat of sexual offenders. 
Psychologist Kristen Dudley, a member of the Pennsylvania Sexual Offenders Assessment Board, testified for the prosecution that Cosby is a sexually violent predator and argued he could reoffend and has possibly met someone who could become a potential victim. While Cosby chose not to be part of his assessment, Dudley read testimony from the women who came forward against him. The defense questioned Dudley's assessment, citing the actor's age, blindness and lack of misconduct allegations since 2004. 
Gilbert Carrasquillo/Getty Images
In mid-April, the 81-year-old actor was found guilty on three charges of aggravated indecent assault in a retrial after a deadlocked jury resulted in a 2017 mistrial. Constand's allegations at the center of the case stemmed from January 2004, when, then an administrator for the women's basketball team at Cosby's alma mater, Temple University, she visited Cosby's Philadelphia house for career advice. It was there, she testified, that he drugged her and sexually assaulted her. "I was kind of, um, jolted awake, and felt Mr. Cosby on the couch behind me, and my vagina was being penetrated quite forcefully," Constand previously testified in April. "I felt my breasts being touched. And he took my hand, and placed my hand on his penis, and masturbated himself with my hand. And I was not able to do anything about it."
Cosby has long denied the allegations and claimed the encounter was consensual. 
Cosby's sentence is expected to be handed down this week. State prosecutors have asked for 5 to 10 years of state incarceration as well as a $25,000 fine and costs of prosecution. Green denied his client is dangerous and begged the question of how an 81-year-old blind man will do in prison.