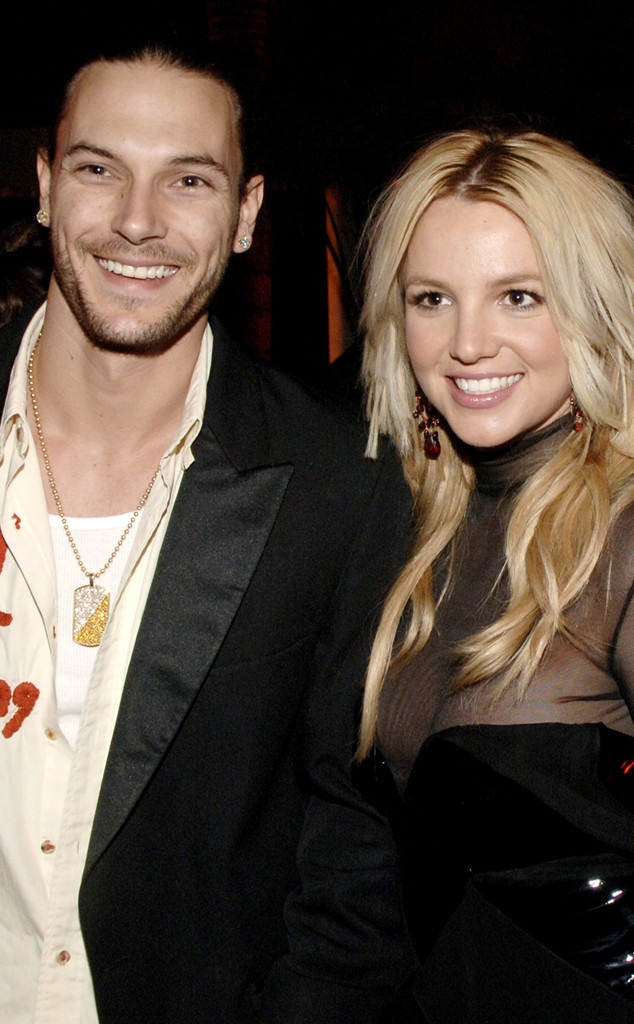 Larry Busacca/WireImage.com
"I just thought it would be too much if we had done it when we were supposed to. It became this huge thing and I was like, 'What are we waiting for? We know this is the real thing, why not just do it now?' That's why I wanted to sneak and do it our little way."
That's what Britney Spears had to say for herself in the pages of People after surprising family, friends, and fans around the world when she and her back-up dancer beau Kevin Federline ditched the plans for their lavish October wedding in favor of something akin to nuptials-by-ambush on the evening of September 18, 2004.
Held at the Studio City residence of wedding planner Alyson Fox, the princess of pop exchanged "I do"s with a dude nicknamed "Meat Pole" as groomsmen wearing white Juicy velour tracksuits with the word "Pimp" scrawled across their backs and some surely baffled family members looked on. The reception? A night out at the clubs.
The couple had only known each other a matter of months. It wasn't even the singer's first marriage that year. It was doomed from the start.
Though we had no way of knowing at the time, 2004 was the beginning of some truly challenging times for Spears. After a handful of years spent dominating the charts, all the pressures that come along with success and stardom of that magnitude were clearly beginning to get to her and the wheels began to fall off while she was all of 22 years old. First, there was the head-scratching decision to marry hometown friend Jason Alexander in Vegas only to annul the union a whopping 55 hours later. Then came the knee injury that, once re-aggravated during a June music video shoot, forced her to cancel the rest of her Onyx Hotel Tour and spend four months resting. With nothing but time on her hands and a fortune at her disposal, she and new beau Federline—whom she'd swiped from ex Justin Timberlake's troupe of dancers to join her on that doomed tour—did what any young lovers would do: Film themselves incessantly and jump into an ill-advised marriage.
To say that Spears' attachment to Federline was concerning to those on the outside from the jump was an understatement. First, there was the fact that when they met, he had a kid on the way—his second with Moesha actress Shar Jackson. "It wasn't like just breaking up a relationship," she told People when rumors of Spears' involvement with her back-up dancer first began circulating that April. "It was like breaking up a family." Not exactly the most auspicious of starts.
But young love often ignores all reason, especially when fueled by hard partying and a burgeoning mental health crisis. Spears was enamored and there was no stopping her.
"I want to be a young mom," she told People just two days after the surprise wedding, although she was unable to say with certainty that she wasn't with child at that exact moment. "I can see us as parents," she added. "I can see myself as a mom. Next year at 23, I am so there."
And she got her wish. The following April, she announced to her fans that she was expecting, writing on her blog, "The time has finally come to share our wonderful news that we are expecting our first child together. There are reports that I was in the hospital this weekend, and Kevin and I just want everyone to know that all is well. Thank you for your thoughts and prayers."
A month later, all those home movies they'd been cultivating the year prior was cobbled together to become a UPN docu-series with an unbelievably accurate title, Britney and Kevin: Chaotic. Over the course of five episodes full of shaky, poorly lit footage that culminated with their wedding, the pair left a concerned public wondering if their impending parenthood was such a good idea. And when Sean Preston arrived that September, those worries only grew.
First came the infamous paparazzi shot of Spears behind the wheel with five-month-old Sean not in a car seat, but sitting in her lap. Two months later, the singer faced a second line of questioning by the Los Angeles Department of Children and Family Services after Sean fell out of his high chair at home. In May, just days after announcing on The Late Show With David Letterman that she and Federline were expecting again, she was caught nearly dropping Sean on the streets of New York City.
As Spears sat down with Matt Lauer on Dateline that June to defend her parenting skills, she was also battling persistent tabloid rumors that her relationship with young marriage was already on the rocks. Though she told the former NBC newsman that things with Federline were "awesome" and he was an "amazing" husband, it would soon become clear that there was some truth to the rumors.
On November 7, 2006, nearly two months after welcoming second son Jayden James into the world and just days after the release of Federline's critically-reviled debut album, Spears filed for divorce, petitioning for full custody. She notified Federline via text message.
Cliff and Malia Sobel/Splash News
"That time of my life, there's so many different, like, pieces missing because of everything that was going on," Federline mused in 2016 during an appearance on VLAD TV when asked if he saw the split coming. "That was at the, like, height of everything and you're thrown into this thing and you're thrown into that thing and the in-between stuff. I know it happened. I know why it happened. That's pretty much all that I'm going to say."
Though she'd freed herself from the marriage—if not from Federline entirely, thanks to the divorce proceedings that carried on into July of the next year and their eventual custody agreement—the worst was still to come for Spears. Her hard-partying ways, which involved cameos from Paris Hilton and Lindsay Lohan, lead to numerous attempts at rehab, the equally infamous head shaving and umbrella attack instances, the public parting of ways with most of her team, and, eventually, the temporary loss of custody of her children on October 1, 2007.
As her quest to regain custody rights continued on through the rest of the year, Spears' continued struggles with substance abuse sabotaged her at every turn, culminating in two hospitalizations in January 2008 on 5150 psychiatric holds, with the court placing her under the conservatorship of her father Jamie Spears and attorney Andrew Wallet. With all of her life's decisions in the hands of people looking out for her best interest, Spears began to rehabilitate her image and rebuild her career.
J. Merritt/Getty Images for GLAAD
"I was going through so much artificial stuff with my kids and Kevin at the time. He'd just left me and I was devastated," Spears explained later that year in Britney: For the Record, an MTV documentary chronicling her return to the industry as she worked on her new album, Circus. "People thought that it was me going crazy and stuff like that, but people shave their heads all the time. I was going through a lot, but it was just kind of like me going through a little bit of rebellion, or feeling free, or shedding stuff that had happened, you know?"
Miraculously, and with quite a bit of hard work, Spears was able to come out of the storm still standing. She regained primary custody of her children. She kicked off a trend of pop star Las Vegas residencies with her wildly successful four-year run at Planet Hollywood. She's dating the hunky co-star of one of her most recent music videos. She's endeared herself to legions of fans for her commendable ability to not just survive such dangerous lows, but thrive in the face of them. And yet, all these years later, she's still got Federline to contend with.
After years of relatively peaceful co-parenting, Federline—currently married to Victoria Prince and the father of six children in total—reopened the wound when he sought to see the $20,000 in child support he'd been receiving each month since 2008 increased. The request kicked off a months-long battle that has only just been resolved. Just last month, Spears was ordered to hand over $110,000 to her ex-husband to help cover his legal "costs and fees." And now, the pop princess has reportedly agreed to pay her ex "thousands more a month."
"They are not happy and think the settlement is ludicrous," a source told E! News regarding Spears' team's reaction to the new agreement. "But they wanted to make an agreement so that they could move on."
Our source told us that Spears is "very unhappy" about her new normal, but she realized it was "in her best interest" to try and move on the legal turmoil. "She was tired of fighting about it and is ready to get on with her life and put this behind her," the insider added.
Though the war may be over—for now—it stands as a stark reminder that not all troubled pasts can be left behind completely. She may have survived him, but she'll never truly be free. Luckily, she's managed to get herself protected by the sort of security—emotional, mental, and otherwise—that'll at least ensure the damage is as minimal as possible. (Even if it is expensive.)
(Originally published on Thursday, Sept. 20 at 8:00 a.m. PST.)