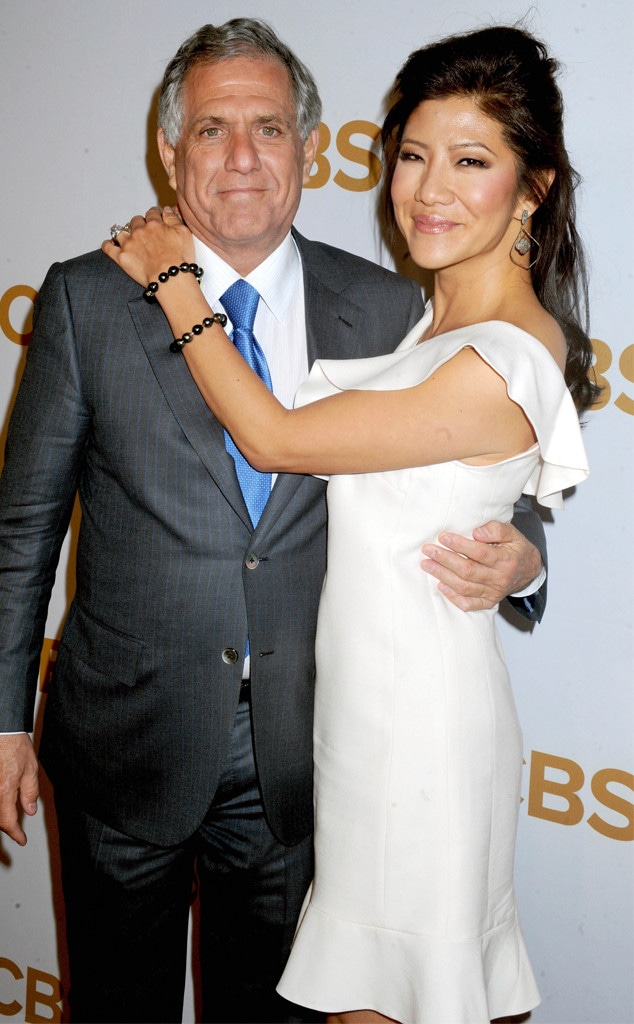 Dennis Van Tine/STAR MAX/IPx via AP Images
Julie Chen once described her approach to dealing with marital conflict.
"I won't even be in the room for you to ask what's the matter," she shared on Larry King Now in 2016. "I will ice you out."
Chen was referring to what happened the one time her husband, Leslie Moonves, overstepped during an argument.
Asked what the secret was to their enduring marriage, Chen recalled, "Very early on my husband said to me, 'Let's never say something to the other person where—just know anything you say, you can't take it back.' So never hit below the belt, no matter how emotional you're feeling, or vulnerable, or hurt, or angry. And we really don't fight. We don't fight.
"I'm a very easygoing person," she continued. "I wake up happy. And my husband, he has learned how to count to 10 backwards in his head. He says, 'you have no idea how many times I bite my tongue.' Because the one time he didn't—he doesn't respond well to ice cold. I will shut off and shut down."
When The Talk returned for its ninth season in September, the day after Moonves stepped down from his post as CEO and chairman of CBS in a cloud of sexual misconduct allegations, Chen stayed away—and ultimately never went back.
"Right now, I need to spend more time at home, with my husband and our young son," the veteran TV star said, stoic as ever, in announcing via video that she'd be leaving the CBS daytime show on Sept. 18. "I want to thank everyone at the show for the wonderful years together. I will always, always cherish the memories we shared. Most important, I want to thank you, the viewers, for allowing me into your home every day. It was a privilege that I will forever be grateful for. To everyone behind the scenes—"
The emotion started to creep in so she smiled even more brightly to staunch the tears.
"...I send you my love. I will miss you all very, very much." 
Carrie Ann Inaba has since been named as Chen's full-time replacement.
"Julie has been nothing but supportive," Inaba told People earlier this month. "When she learned that I got the job, she sent me the most beautiful floral arrangement. She's like, 'I'm always in your corner.' Woman to woman, that's amazing."
As many people (especially comedians) have said, since October 2017 there has been no scarier sentence for showbiz's most powerful men than "Ronan Farrow is calling."
After Farrow's first story for The New Yorker about Moonves was published in late July 2018, detailing allegations of sexual harassment and intimidation from six women going back to the 1980s, Chen stood by her husband, whom she married in 2004.
"I have known my husband, Leslie Moonves, since the late '90s, and I've been married to him for almost 14 years," Chen said in a statement tweeted Friday, July 27. "Leslie is a good man and a loving father, devoted husband and inspiring corporate leader. He has always been a kind, decent and moral human being. I fully support my husband and stand behind him and his statement." The couple are parents of a 9-year-old son, while Moonves has three adult children with his first wife, Nancy.
The following Monday on The Talk, Chen said she stood by her statement "today, tomorrow, forever."
CBS Corp. stood by Moonves too, at least to the extent that they were awaiting results of an internal investigation before taking action and he was negotiating a massive severance package before Farrow's second report—in which six more women came forward with allegations—was published on Sept. 9. Moonves  resigned, with no agreed-upon compensation, several hours later.
"It's never a good sign when you're the subject of a Ronan Farrow double dip," Stephen Colbert quipped on CBS' The Late Show the next day.
Not surprisingly Chen decided to skip The Talk's season premiere, since the first topic of conversation on the show (as it was on many shows) was Moonves. However, on Big Brother that Thursday night, the show's only host since its 2000 premiere signed off for the first time ever as "Julie Chen Moonves."
"The appalling accusations in this article are untrue," Moonves stated in response to the second New Yorker story. "What is true is that I had consensual relations with three of the women some 25 years ago before I came to CBS. And I have never used my position to hinder the advancement or careers of women," Moonves responded. "In my 40 years of work, I have never before heard of such disturbing accusations. I can only surmise they are surfacing now for the first time, decades later, as part of a concerted effort by others to destroy my name, my reputation, and my career."
After the July New Yorker story, Moonves also categorized any past unwanted advances as regrettable mistakes and apologized for making anyone feel uncomfortable.
"But I always understood and respected—and abided by the principle—that 'no' means 'no,'" he added, "and I have never misused my position to harm or hinder anyone's career. This is a time when we all are appropriately focused on how we help improve our society, and we at CBS are committed to being part of the solution."
Vanity Fair then published a story on the heels of the New Yorker's in which a source identified Moonves as the previously unidentified "VIP patient" who twice grabbed and tried to kiss Dr. Anne L. Peters, who detailed the alleged encounter in May in Annals of Internal Medicine, during a routine exam in 1999. Moonves told Vanity Fair: "The appalling allegations about my conduct toward a female physician some 20 years ago are untrue. What is true, and what I deeply regret, is that I tried to kiss the doctor. Nothing more happened."
Calling it a "bittersweet" day on The Talk, Sharon Osbourne said after Moonves stepped down that she'd never been nervous in her life but she was nervous right then. They first flashed to how other morning shows were covering the story, including on CBS This Morning (the second time the show had to report on the ouster of one of their network's own), ABC's Good Morning America and NBC's Today, which weathered the firing of co-anchor Matt Lauer after 20 years on the job in November 2017.
"First of all, I want to say that whatever times of hardship I've had over the last eight years, Julie has always been there for me," Osbourne said. "She's been a friend, she's somebody who I admire and respect greatly, and it's very embarrassing and upsetting to have to talk about her husband, but we do. We feel it's right. I personally knew Les Moonves in a superficial way. It was 'Hello, how are you?' Nothing more, I know nothing about the man other than he's Julie's husband and was head of the biggest network in the world, and the most powerful man in TV.
"I was asked a couple of months ago to make a statement supporting Leslie, which I felt I was as diplomatic as could be with the statement that I made," Osbourne continued. "But now, after seven more women have come out, these stories are so similar, the pattern is so similar, that for them, it's—he's not been convicted of any crime, but obviously the man has a problem."
More than anything, no matter what happened to The Talk once new management settled in, Osbourne said, she was concerned for the fate of the workers among them who weren't wealthy and famous.
Larry Busacca/Getty Images for NARAS
Gayle King, who had to report in real time on the firing of her co-host Charlie Rose in 2017, was absent from CBS This Morning that first Monday but was back Tuesday and took the network to task after it was reported that CBS wouldn't be releasing the results of its investigation into the allegations against Moonves.
Acknowledging that Moonves had denied assaulting or harassing anyone, King added, "It's been my experience that women don't come out and speak this way for no reason. They just don't. They just don't do it. And so I don't know how we move forward if we don't—we at CBS—don't have full transparency about what we find...In our own house we must have full transparency."
"I feel for Julie Chen today," King also said. "She's in a very difficult position. And Les Moonves has done wonderful things for this company, and we can't forget that either. So, it's just a bad situation all the way around."
Chen hasn't said a word about her husband since putting up that initial united front, but she proceeded to host the rest of Big Brother's 20th season as if nothing was amiss, and then she had her new children's book, When I Grow Up, to promote. 
"Had the BEST time today reading my book #WhenIGrowUp to the @YMCALA #preschool in downtown #LA," she tweeted in mid-October, at the time her only non-Big Brother-related tweet since leaving The Talk. "Such amazing programs and I'm so honored that I had the opportunity to see & visit. Happy #Friday!"
And it's been business as usual for her, as far as the eye can see, at CBS.
Chen will be in her usual post as host of Big Brother: Celebrity Edition when its second season premieres tonight and she's been tweeting excitedly about it.
Again, as if nothing is amiss and CBS hadn't determined in December that Moonves wouldn't see a penny of the potential $120 million severance package that had been in negotiations.
Moonves' attorney called the board's decision "foreordained and without merit" and promised to fight it—which he is, with CBS announcing last week that Moonves, whose compensation as CEO in 2017 was $69.3 million, had exercised the right in his contract to "demand binding arbitration, according to the Los Angeles Times.
CBS also announced in December that it would be spreading $20 million in donations among 18 groups that support the #MeToo movement and gender equality in the workplace, including Time's Up Entertainment and Women in Film Los Angeles.
Earlier last month, a rep for Chen told Page Six in a statement, in response to rumors that the veteran TV star was having a hard time: "Julie remains committed to her marriage and is focused on her family. In fact, this has drawn Julie and her husband as well as their entire family closer than ever. As for recent media reports, they are based on leaks that can't be responded to."
A source added a few days later that, with Chen not having The Talk to do and Moonves' schedule newly much clearer, the couple were spending a lot of time together. "They have a small child," the source said. "She's very loyal and is very supportive. She's a fighter and she sticks by her man."
They were splitting time between their homes in New York and Los Angeles and Page Six reported that they spent New Year's on David Geffen's yacht in St. Barts. (Geffen didn't respond to their request for comment.)
Patrick McMullan/Patrick McMullan via Getty Images
While the other powerful woman whose fortunes were ostensibly tied to her husband's who immediately comes to mind is Georgina Chapman—who announced she was leaving Harvey Weinstein after 10 years of marriage on Oct. 10, 2017, five days after the New York Times detailed decades of alleged misconduct and just hours after Farrow's New Yorker story detailing allegations of rape and other disturbing behavior was published—Chen doesn't seem to be in as horrifying of a place. (Weinstein has pleaded not guilty to criminal sexual assault charges in New York, as well as denied all allegations of non-consensual sex. Since he'd been married, a model accused him of groping her in 2015 and he was questioned by police; no charges were filed.)
Chapman, incidentally, returned for the newest season of Project Runway All Stars, which is unfolding now on Lifetime. She broke her silence in the pages of Vogue last spring, sharing, among other things, that she had been seeing a therapist and that what happened had initially left her "so humiliated and so broken."
"It's still so very, very raw," the Marchesa co-founder and mother of two said. "I was walking up the stairs the other day and I stopped; it was like all the air had been punched out of my lungs." 
Not that saying "at least Les didn't..." means anything at all, particularly to the women who say he assaulted or otherwise mistreated them, but when you get down to timing (the reported allegations against Moonves all occurred before 2004, when he married Chen), it could make a difference to the couple personally.
Chen's first professional brush with CBS came in 1990 when the New York native was an intern—along with Andy Cohen—on CBS Morning News. "She was a little bit of a wallflower, and I barely remember her because I was the star intern," Cohen joked on The Talk in 2011. "And then she blew up into this glamour bomb and she's like, the Chenbot all of a sudden."
"Chenbot" being the nickname she has from her role as the longtime host of Big Brother, on which she primarily appears to the housemates as a face on a screen, beamed in from the outside world into their sequestered enclave. When she first started, she was a bit on the stiff, robotic side, but has long since eased into the role—and her robotic seriousness is part of the fun.
Evan Agostini/Getty Images
She anchored CBS Morning News and was the news reader on The Early Show (now CBS This Morning) from 1999 until 2002. Network boss Les Moonves was still married—albeit separated, according to the official narrative—when they started dating. Nancy Moonves filed for divorce in 2003 after almost 25 years of marriage, citing irreconcilable differences and seeking 50 percent of his assets, a week after he signed a five-year deal to become CEO and chairman of CBS.
"Neither I nor our children have watched [CBS] in years," Nancy told the New York Daily News in June 2004. "I don't want to see [Chen]. It's not healthy for me or my kids." She continued, "I knew our marriage would end eventually. But the way it happened was not correct, it was not moral."
From the beginning, Chen—who went on to co-anchor The Early Show until 2010—and the network had to brush aside speculation that her rise at CBS had something to do with her personal relationship with Moonves.
Chen told Larry King that, while she was on his radar, she didn't know Moonves yet when she was offered the Big Brother gig by her bosses at CBS News—and she initially refused, because it would end her dream of continuing on in news and one day joining 60 Minutes. Meanwhile, she recalled, the guy offering her the job said that "technically" they could assign her Big Brother and to refuse would be considered "insubordination."
"I was 29 years old, I had just started [at] the network, I didn't know what to do," Chen said. "So I had to take the job and it changed my whole life. When I talk about marriages come out of [Big Brother], I got married afterwards too."
"I did say, 'How about Julie Chen? She's young, she's pretty, she's hip, and she's a newsperson," Moonves told BuzzFeed News in 2015. "I don't know if she wants to do it—because I didn't even know her at the time. I just knew her as somebody working at CBS News."
And 17 years later, she and Moonves still watched Big Brother together. "He gives me notes sometimes," Chen told King.
"She's unbelievably accessible, very smart, and delivers a great deal of trust, yet you feel like she could be your friend," Moonves told BuzzFeed. "She's someone you want to hang out with."
Lest you feel as alarmed for her thwarted aspirations as that story might suggest, Chen insists she doesn't regret leaving hard news.
"I look at my life outside of [work] and my family is so important," Chen also told BuzzFeed. "I could never see having the life I have now at home with my son and my husband and being a foreign correspondent. I can't imagine being a mother of sound mind who is thousands of miles away from her child. I couldn't do both things well. So I am more than fine not being a 60 Minutes correspondent because I'm pretty lucky to have what I have."
Jim Spellman/WireImage for Tony Awards Productions
Chen and Moonves married on Dec. 23, 2004, in a private ceremony in Acapulco, Mexico, in front of only 30 guests—13 days after his divorce was finalized. The bride wore Reem Acra and the newlyweds then reportedly honeymooned at Las Ventanas resort in Cabo San Lucas.
He was "the first person in my life who doesn't annoy me," Chen quipped, according to TVGuide.com, at the Television Critics Association press tour in July 2010 while promoting the upcoming premiere of The Talk, CBS' answer to The View.
Moonves, despite his wealth and position of utmost power as head of the most-watched television network, was the more private of the two, rarely bothering to personally address petty gossip and sticking to corporate business in interviews. He maintained a playful presence on The Late Show With David Letterman, where he was occasionally heard on speaker phone talking to Dave, and when The Talk premiered in October 2010 he was one of the hosts' respective loved ones who recorded a message for the show's debut.
"There are two reasons why I want this show to work," Moonves said. "The first is that I love my wife so much, and the second is that if it doesn't work, I'll cancel you. See you at home dear."
A 2005 New York Times profile noted that a feng shui expert had consulted on his New York office decor. "My wife believes in feng shui, and I can use all the luck I can get," Moonves said. "Even with all the changes at this company, creating a schedule with hit shows is still the center of my job.''
On another rare personal note, he told Newsweek in 2011 that a rumor that Chen was pulling the my-husband-will-fire-you card to hold sway over her co-hosts on The Talk was ridiculous.
"Anybody that knows my wife knows she would never say that," he said.
After the initial New Yorker report about Moonves came out, The Daily Beast reported that Chen's professional behavior was again under the microscope as speculation grew that her husband may be close to stepping down.
"I never saw any behavior that was disrespectful," a former colleague told the site. "Could she be stern? Did she know what she wanted? You bet. Did she feel emboldened? Maybe… Julie suffered no fools gladly." At the same time, the source added, "I completely buy that there are people who've been waiting for this moment for either or both of them. I can't tell you how many people think she got the projects she got because of Leslie… There's no doubt her marriage to him was the elephant in the room."
"I was waiting for the mask to drop," said Aisha Tyler, who co-hosted The Talk for six seasons and considers Chen a dear friend, "but it never did."
"I haven't interacted with her over what's going on right now," the Criminal Minds star said. "I don't know many women who have a stronger sense of self and direction than Julie. She's going through this in a way that only she can. She's incredibly capable and self-aware. I don't really worry about her."
Rob Latour/REX/Shutterstock
In September, talking about the first New Yorker report, Sharon Osbourne—who along with Chen and executive producer Sara Gilbert is the only co-host who's been on The Talk since the beginning—said on The Howard Stern Show that while she adored Julie and socialized with her, she barely knew Les. Her husband, Ozzy Osbourne, didn't know Les at all, Sharon added.
On the Stern show together in 2015, Chen and Osbourne said that both of their husbands had pleaded with them not to discuss their personal lives—or at least not their sex lives. However, Chen did admit—when directly asked—that being with such a powerful guy was, "I'm not gonna lie, it's pretty good." Asked if she thought she could've married a regular guy, she said, "I never thought I was going to get married." And, answering Stern's question, "probably not, to be honest."
But, Chen added, "it's not about power, I need a strong personality, so whether that translates into power in the business world, I don't know. But I need someone who's not going to take my crap... I find it attractive that there's a part of me that's kinda like, I'll listen to him. 'Cause I...don't listen to a lot of people, I want to be the one calling the shots. There's a part of me that likes having someone to call the shots instead of me doing all the work." At home, "I let him be boss."
"Sex has to be there, but you have to be a partner," she also said (again, answering what was even racier question from Howard). "You have to be equal partners."
Chen told Larry King that, five years into their marriage, she still didn't think she wanted to have kids, but Moonves had a feeling she might regret it if they didn't try. "He pushed for it, and he was right," Chen recalled. "He knew me better than I knew myself." Motherhood, she said, is "the only thing in life that is not overrated."
On Howard Stern, Chen surmised, "In many ways, Ozzy and Leslie are very similar. They're the same age..." Howard then interrupted with other questions, and ultimately Chen divulged that her husband went to bed at around midnight and a vodka on the rocks was his preferred aid for winding down.
Asked what Les' worst habit was, Chen deadpanned, "Everything he does is perfect."
"I'll tell you how they're similar," she pressed on. "Sharon and I go out years ago [to the Polo Lounge at the Beverly Hills Hotel] and two people who shall remain nameless came up to us and they were like, 'hey, hey, hey.' And as soon as these two guys walked away, I said to Sharon, 'We better get home, because our husbands are going to be very jealous,' even though Sharon's been married 30-plus years, me over 10 years. I said, 'I bet you we're going to get crap when we get home.'"
Not that Ozzy (whom Sharon has left multiple times and almost left for good a couple years ago over his chronic philandering before ultimately renewing her vows with him instead) or Les really thought they were going to cheat, Chen explained.
Rather, "the women and guys out there, you know it. Us women, we don't do anything...just being polite—you get in trouble for being polite."
Asked if Moonves was ever the type to make breakfast for his wife, Chen cracked, "He doesn't know where the kitchen is."
Les was too busy, she added, running CBS.
Chen's contract runs reportedly through the current season of Celebrity Big Brother, premiering tonight at 8 p.m., plus one more season of the regular edition, though CBS has not yet officially renewed it for a 21st season. She told people at the network last fall that she wanted to keep the job, according to Deadline.
Talking to Larry King, Chen said that Moonves would joke to her about having to figure out their summer vacation around her Big Brother schedule. They had just been renewed for another two summers, through season 20.
"I said, 'yes,'" Chen added, "'but you are the one dictating my work schedule.'"
"Doesn't he renew it?" King asked.
"Yes!" Chen said, smiling. "It's like a blessing and a curse. Look, one day it'll end. And until then, as long as people still want it I'm happy to do it."
 (Originally published Sept. 11, 2018, at 2:24 p.m. PT)